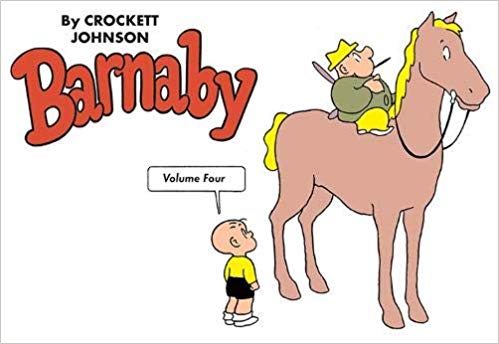 Where is the fourth volume of Crockett Johnson's Barnaby (co-edited by yours truly and Eric Reynolds)? Wasn't it supposed to be out a year or two ago? What happened?
In 2017, I submitted my Afterword and notes, Trina Robbins gave us her Foreword, and Jared Gardner contributed his Introduction. We hoped the book would be out in 2018, but delays at Fantagraphics pushed the publication date forward to 2019 and now I am told that… Fall 2020 is the release date. So, mark your calendars!

The above strip – shown in its unrestored form, but which, like all of the strips, has been restored to pristine condition for the published volume – directly refers to the politics of 1948 and 1949. But such strips are more rare in this volume. Why? Well, here's a sneak peak at my Afterword – specifically, its opening paragraph –
What do you do when the political culture shifts, exchanging hope for fear, abandoning evidence to embrace innuendo? Crockett Johnson faced this question when, in September of 1947, he returned to writing Barnaby. He and his characters inhabited a different landscape than they had at the end of 1945 – when Johnson gave up his role as the strip's sole creator and, for twenty months, served primarily in an advisory capacity. As Anti-Communism replaced the Popular Front, his support for progressive causes now marked him not as a patriot, but as a person of interest. In 1948 and 1949, his comic strip is less directly confrontational, and – though there are moments of specific, acerbic satire – typically gestures towards this new culture of paranoia indirectly, such as when O'Malley observes (in August of 1949), "Barnaby, your Fairy Godfather sometimes wonders about people. How they can believe in Sea-Serpents is beyond me." After all, there's "not one shred of scientific evidence to prove that Sea-Serpents exist." Or, in November of that same year, O'Malley says, "I'll never understand, m'boy, how intelligent people like your parents can make these broad generalizations about Pixies. Or people– There are good Pixies and bad Pixies. Just as there are good people and bad people." Pixies are not Communists, and Sea-Serpents are not Progressives. (Johnson was affiliated with the Progressive Party in the 1940s and the Communist Party in the 1930s.) But it's notable that O'Malley presents both as examples of poor reasoning, or of assuming that each individual embodies all characteristics of an entire group. The illogic has real-world parallels, even if the metaphor lacks a specific real-world referent. During 1948 and especially 1949, Barnaby moves towards expressing its politics mostly (though not exclusively) through metaphor. This choice is notable because these years provided what might otherwise have been irresistible targets for Johnson's satire.
In addition to my Afterword, you also get some draft material and other art by Crockett Johnson, the Foreword by Trina Robbins, Introduction by Jared Gardner, and notes by me! For example…


We can enjoy the above strips without knowing the specific "SOCIALIZED MEDICINE" reference, but if any readers are curious they can turn to the back of the book for my note:
SOCIALIZED MEDICINE (18 Jan.). Johnson was a strong advocate for national health care. In support of the Wagner-Murray-Dingell Bill (which appeared in several versions between 1943 and 1946), he even illustrated For the People's Health (1946) – the Physicians Forum's pamphlet advocating for passage of the bill. That effort failed. President Truman's surprising election in 1948, which included restoring the Democratic Party's control of Congress, seemed to augur well for the creation of a National Health Insurance System. As would later be the case in America's most recent debates on the subject (2009-2010s), opponents caricatured socialized medicine as a dangerous government takeover of health care that would deprive doctors of freedom and limit patients' choices of physician. The month prior to this strip's appearance, the American Medical Association retained a publicity firm to continue its campaign to (in the words of its general manager) "alert the American people to the danger of a politically controlled, compulsory health system" ("Medical Association Moves Against Socialized Medicine"). Johnson here refers to political cartoons that caricatured socialized medicine as a dragon.
That's the news, posted on the 113th anniversary of Crockett Johnson's birth. So, find the nine kinds of pie you like best, cut yourselves some slices, and let's wish Barnaby's (and Harold's) creator a very happy birthday!
---
Crockett Johnson birthday posts from previous years
Harold and the Deluxe Edition (20 Oct. 2018). In the second of two birthday posts from 2018, an announcement! Harold's Imagination, a collection featuring three Harold stories, plus an illustrated Afterword by Yours Truly… featuring a photograph of Johnson's nephew Harold!
Donald and the Golden Crayon (20 Oct. 2018). In the first of two birthday posts from 2018, an interview with the author and publisher of Donald and the Golden Crayon – the first book-length political satire inspired by a Crockett Johnson book.
Crockett Johnson Tells the Story of Money (20 Oct. 2017). A look at the very first children's book that Johnson illustrated – Constance Foster's This Rich World: The Story of Money (1943).
How to Read Harold (20 Oct. 2016). A short excerpt from a book I'm working on – How to Read Harold: A Purple Crayon, Crockett Johnson and the Making of a Children's Classic.
Harold is 60. So is his purple crayon (20 Oct. 2015). On the occasion of Johnson's 109th birthday, tributes to Harold from Lane Smith, Bob Staake, and others.
Harold Around the World (20 Oct. 2014). Harold and the Purple Crayon has been published in many languages. Here are some of the covers.
Happy 107th Birthday, Crockett Johnson! (20 Oct. 2013). A photograph of Johnson laughing, plus news of contemporary Johnson exhibit and talk.
Crockett Johnson in New York: A Walking Tour, in Honor of His 106th Birthday (20 Oct. 2012). The childhood homes of Crockett Johnson.
A Title Is to Read (20 Oct. 2011). Announcing the title of my biography of Crockett Johnson and Ruth Krauss.
Happy Birthday, Crockett Johnson! (20 Oct. 2010). Newspaper ad for Johnson's Barnaby and Mr. O'Malley (1944).