For Crockett Johnson's 116th Birthday, here is the signed first edition of Harold and the Purple Crayon that he gave to Maurice Sendak.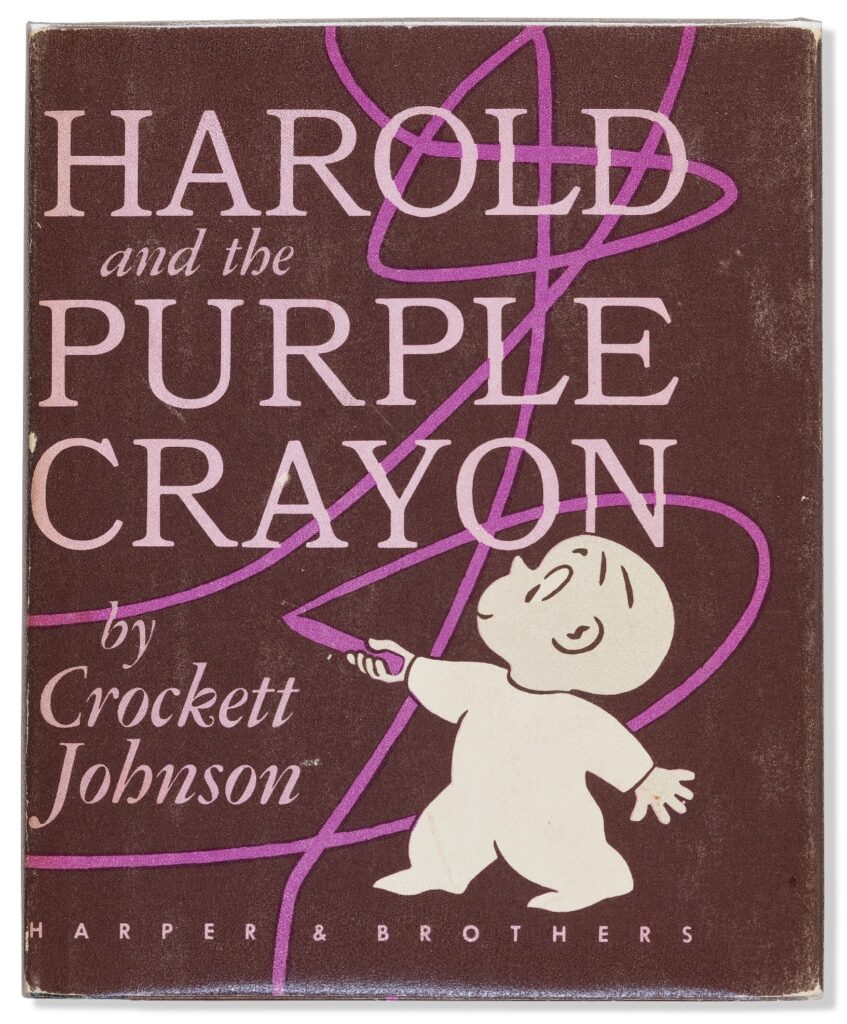 During this period, he was spending many a weekend at the Rowayton home of Johnson and Ruth Krauss, working on her children's books. Between 1951 and 1960, Sendak illustrated 8 of Krauss's books. He considered them his mentors and his "weekend parents." He was only in his 20s then! Krauss and Johnson called him "Maury," though (to my knowledge) no one else did.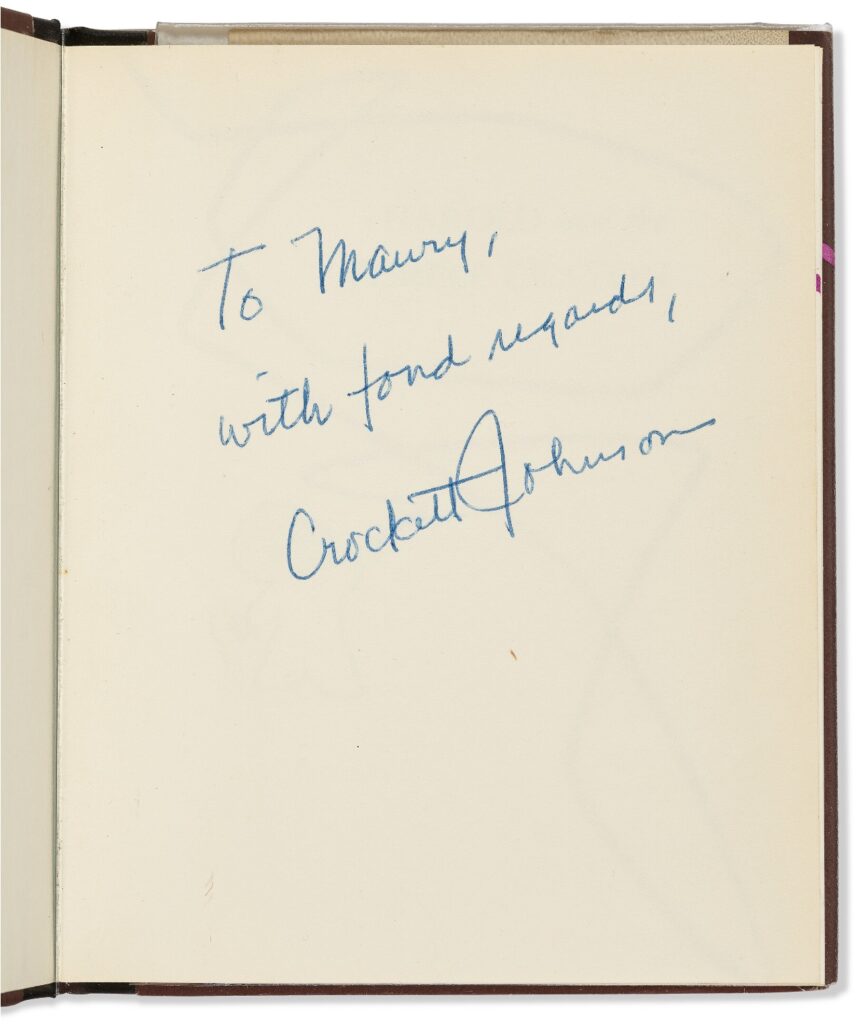 This book was sold at auction in April of this year for $20,160.00. Since the low end of the estimate was $500.00, I considered bidding, but, well, 20K is far beyond my price range. At least we can see these two images.
JOHNSON, Crockett (1906-1975). Harold and the Purple Crayon. New York: Harper & Bros., [1955].

Presentation copy of the first edition, inscribed for Maurice Sendak on the front free endpaper: "To Maury, with fond regards, Crockett Johnson." The dust jacket shows the price of $1.50 and correct codes, indicating the first edition. Johnson (pen name of David Johnson Leisk) was married to the children's book author Ruth Krauss. Eight of Krauss's books were illustrated by Maurice Sendak, beginning with A Hole is to Dig in 1952. This work was published just three years before Harold and the Purple Crayon and is the book which launched Sendak's career.

12mo (147 x 119mm). Illustrated throughout. Publishers' cloth-backed pictorial boards, spine lettered in white (light rubbing at edges); pictorial dust jacket (mild wear at extremities). Provenance: Harry Bacon Collamore.
How was such a valuable book sold, you may ask? And why? The Rosenbach Collection made the deeply immoral decision to break up Maurice Sendak's collection of books. I say "deeply immoral" because Sendak entrusted the Rosenbach with his book collection, and he wanted them to remain together. I know this because I talked with Maurice about this, personally. They violated his trust.
As Sergio Ruzzier wrote at the time of the sale, "It's a real shame that such a unique collection will be dismantled, unless someone buys it all and keeps it whole, which is unlikely. It shows closed-mindedness and no respect for Maurice's life."
I realize that this post is a bit of a downer — especially for a birthday post! But fret not: I hope soon to have some happier Harold and the Purple Crayon news (of my own) to announce. And if you're interested in adaptations of classic children's books, a live-action Harold film is expected in 2023, and a Harold musical is expected to open on Broadway in 2024.
---
Crockett Johnson birthday posts from previous years
The Lost Film Footage of Crockett Johnson (20 Oct. 2021). The challenges of finding Johnson on film, and a still image that might be him.
Barnaby Vol. 4 is here! (20 Oct. 2020). Barnaby, Volume Four: 1948-1949 was published in 2020.
Barnaby, Vol. 4: 1948-1949 (20 Oct. 2019). More on this book.
Harold and the Deluxe Edition (20 Oct. 2018). In the second of two birthday posts from 2018, an announcement! Harold's Imagination, a collection featuring three Harold stories, plus an illustrated Afterword by Yours Truly… featuring a photograph of Johnson's nephew Harold!
Donald and the Golden Crayon (20 Oct. 2018). In the first of two birthday posts from 2018, an interview with the author and publisher of Donald and the Golden Crayon – the first book-length political satire inspired by a Crockett Johnson book.
Crockett Johnson Tells the Story of Money (20 Oct. 2017). A look at the very first children's book that Johnson illustrated – Constance Foster's This Rich World: The Story of Money (1943).
How to Read Harold (20 Oct. 2016). A short excerpt from a book I'm working on – How to Read Harold: A Purple Crayon, Crockett Johnson and the Making of a Children's Classic.
Harold is 60. So is his purple crayon (20 Oct. 2015). On the occasion of Johnson's 109th birthday, tributes to Harold from Lane Smith, Bob Staake, and others.
Harold Around the World (20 Oct. 2014). Harold and the Purple Crayon has been published in many languages. Here are some of the covers.
Happy 107th Birthday, Crockett Johnson! (20 Oct. 2013). A photograph of Johnson laughing, plus news of contemporary Johnson exhibit and talk.
Crockett Johnson in New York: A Walking Tour, in Honor of His 106th Birthday (20 Oct. 2012). The childhood homes of Crockett Johnson.
A Title Is to Read (20 Oct. 2011). Announcing the title of my biography of Crockett Johnson and Ruth Krauss.
Happy Birthday, Crockett Johnson! (20 Oct. 2010). Newspaper ad for Johnson's Barnaby and Mr. O'Malley (1944).