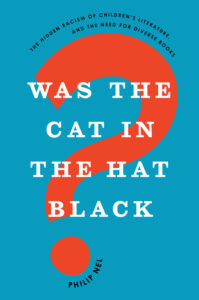 And now,… presenting a 45-minute illustrated lecture of my Was the Cat in the Hat Black?: The Hidden Racism of Children's Literature and the Need for Diverse Books.
Indeed, here are two versions, one in English and one in Spanish (which is also delivered via sign language).  Both versions were recorded in the past couple of months – the English-language one in Mountain View in July 2017, and the Spanish-language one in Santiago in August 2017.
The English-language version comes courtesy of Talks at Google.

Thanks to (ex-Googler) Tyler Shores for making the Google connection, and to David Barry and everyone at Google for their hospitality! I had a great visit to the Mountain View campus this past July.
---
La versión en español es cortesía de Chile's Ministerio de Educación. Mi discurso comienza a los 34 minutos del video. Esta versión dura unos 10 minutos más: estoy hablando más lentamente para ayudar al traductor a mantener el ritmo.
Muchismas gracias a Mónica Bombal Molina por la invitación, y a Mónica, Andrea Casals, y Catalina Landerretche por su hospitalitad. ¡Me gustó mucho mi visita a Santiago!
---
Related posts (on this blog unless otherwise indicated), including glimpses of the work in progress: