So, as racism is on the rise, people seek examples of anti-racist thought to share. Â This is helpful! Â We need models from the past and present to guide us through these perilous times and (let us hope) towards a better future.
Dr. Seuss is one of the people who is often quoted and shared. Â He's a useful example, although not always in the ways that people think. Â Seuss often gets portrayed as someone whose thinking on race evolved. Â And to come clean here, I myself am personally responsible for promoting this belief in my earlier scholarship on his work. Â The problem is that this is only half true: his thinking on race did change, but it also didn't.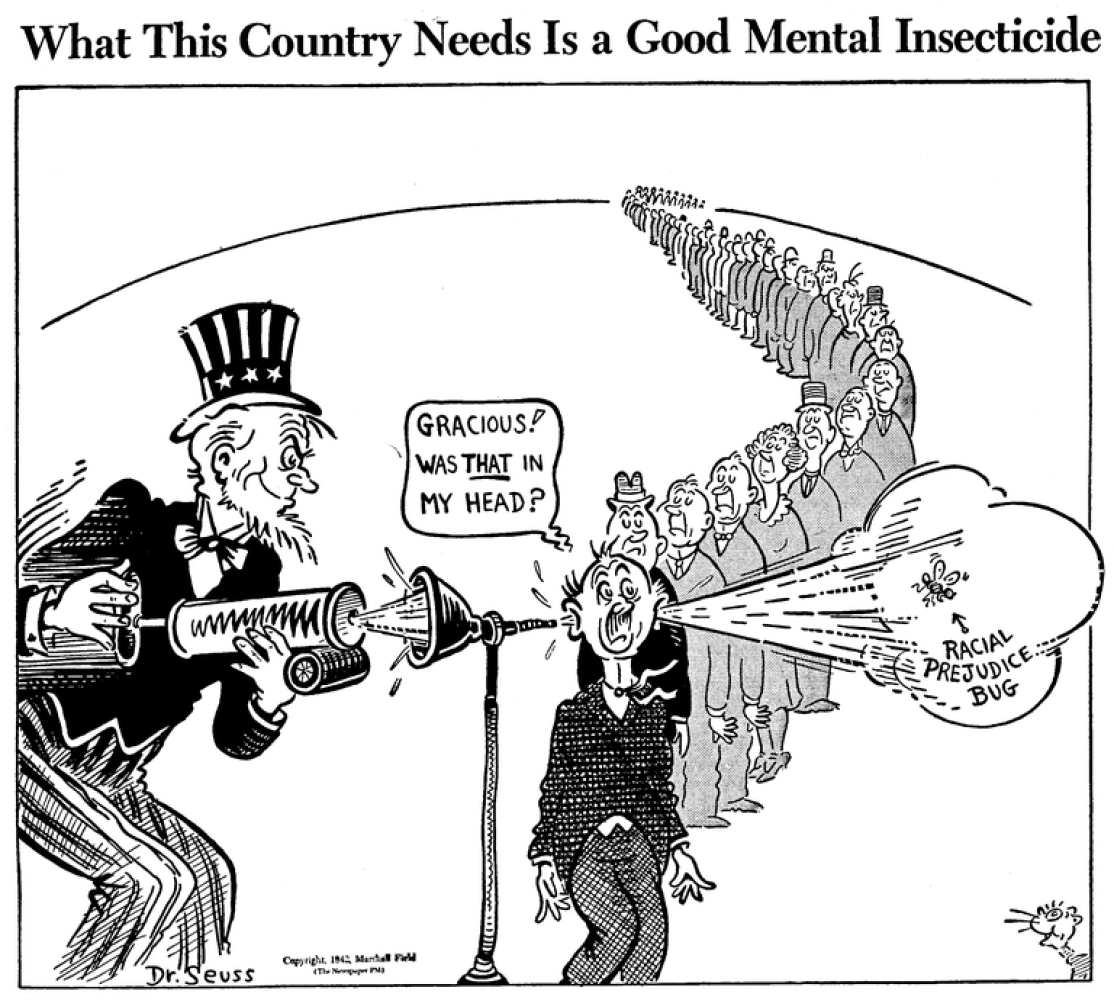 This evening, seeing the Seuss "racial prejudice bug" cartoon shared again (in the wake of white supremacist terrorism in Charlottesville) inspired this impromptu Twitter essay. Â It seemed worth sharing with a wider audience – so, I've gathered my Tweets into this blog post.
1. I see this cartoon going around a lot. It's a nice sentiment. But it fundamentally misunderstands racism, and misrepresents Seuss. https://t.co/BW9o2fmnuM

– Philip Nel (@philnel) August 13, 2017
2. At the same time Seuss was writing cartoons against the "racial prejudice bug," he was also writing cartoons like this. pic.twitter.com/w6Q6HJXyIZ

– Philip Nel (@philnel) August 13, 2017
3. How is Seuss doing both racist AND anti-racist work at the same time? Well, contrary to his cartoon, racism is not a bug. It's a feature.

– Philip Nel (@philnel) August 13, 2017
4. Racism is not aberrant. It's ordinary. It's embedded in institutions, and in culture – such as the cartoons and books of Dr. Seuss.

– Philip Nel (@philnel) August 13, 2017
5. (Thanks, Brian! Please know that I appreciate the intent of sharing the cartoon. Will explain why, as I go…) https://t.co/iHirzq6SEg

– Philip Nel (@philnel) August 13, 2017
6. I see your point, here, Brian, but "evolve" isn't the verb I'd use. I'll explain. https://t.co/GAnpjc8HHW

– Philip Nel (@philnel) August 13, 2017
7. Seuss wrote books actively critical of racism, but his visual imagination remained steeped in racist American culture, & perpetuated it.

– Philip Nel (@philnel) August 13, 2017
8. For instance, in the 1950s, Seuss wrote a great critique of racist humor. https://t.co/ntL7KVSCPu

– Philip Nel (@philnel) August 13, 2017
9. He wrote the first version of "The Sneetches" (Redbook, 1953), and Horton Hears a Who! (1954) – anti-discrimination classics.

– Philip Nel (@philnel) August 13, 2017
10. But, in If I Ran the Zoo (1950), for example, Seuss's hero takes us to "Zomba-ma-Tant with helpers who all wear their eyes at a slant." pic.twitter.com/l7f7ck0wmV

– Philip Nel (@philnel) August 13, 2017
11. In that same book, he also takes us to the African Island of Yerka, featuring racial caricatures of Africans. pic.twitter.com/V5Hd1ZHUUj

– Philip Nel (@philnel) August 13, 2017
12. So, this cartoon on the "racial prejudice bug" represents Seuss trying to be anti-racist but also misunderstanding how racism works. pic.twitter.com/AXGaWfhukn

– Philip Nel (@philnel) August 13, 2017
13. Racism is what Raymond Williams would call a "structure of feeling": it shapes our daily responses to the world, often unconsciously.

– Philip Nel (@philnel) August 13, 2017
14. People–especially, though not exclusively, white people–can perpetuate racism without meaning to & without realizing they're doing so.

– Philip Nel (@philnel) August 13, 2017
15. Seuss didn't understand that. And I get why he didn't understand. Racism conceals itself from its beneficiaries.

– Philip Nel (@philnel) August 13, 2017
16. All whites are beneficiaries of white supremacy, irrespective of whether we want to be. Our unearned privileges remain invisible to us.

– Philip Nel (@philnel) August 13, 2017
17. Or, to put that another way, our complicity in oppression remains invisible to us. Here's what I mean by that:

– Philip Nel (@philnel) August 13, 2017
18. As beneficiaries of white supremacy, we whites are unwitting accomplices. Our privilege is built on others' oppression. Period.

– Philip Nel (@philnel) August 13, 2017
19. And that's why I find Seuss so fascinating–& why I am grateful to @brianjayjones for sharing the cartoon & his willingness to discuss.

– Philip Nel (@philnel) August 13, 2017
20. Seuss exemplifies the sneaky resilience of racism: he's doing anti-racist work & racist work at the same time. He changes and does not.

– Philip Nel (@philnel) August 13, 2017
21. Seuss is the well-intentioned white activist who isn't as "woke" as he thinks he is. I could go on and on. And I already have. pic.twitter.com/e2ant0PRO9

– Philip Nel (@philnel) August 13, 2017
22. Thank YOU, Brian. Your Henson bio. is masterful! And thanks for letting me build a little essay on your tweet. https://t.co/rcXeUDhrpH

– Philip Nel (@philnel) August 13, 2017
23. @DrIsaacCates: To get at the taxonomies & nuances of racist thought, yes. But main feature of both is stealth. https://t.co/a0M3pzEPdX

– Philip Nel (@philnel) August 13, 2017
24. Racist tropes (even subtle ones) are vehicles for racist ideologies, & influence us without our being aware of what we're learning.

– Philip Nel (@philnel) August 13, 2017
25. That, yes. And brain (especially young brain) is a sponge, absorbing & integrating cultural knowledge. https://t.co/7I8Hi2WUrj

– Philip Nel (@philnel) August 13, 2017
---
There are many other posts on this blog tagged Seuss. Here's a selection:
From time to time, I get asked to talk about Dr. Seuss: