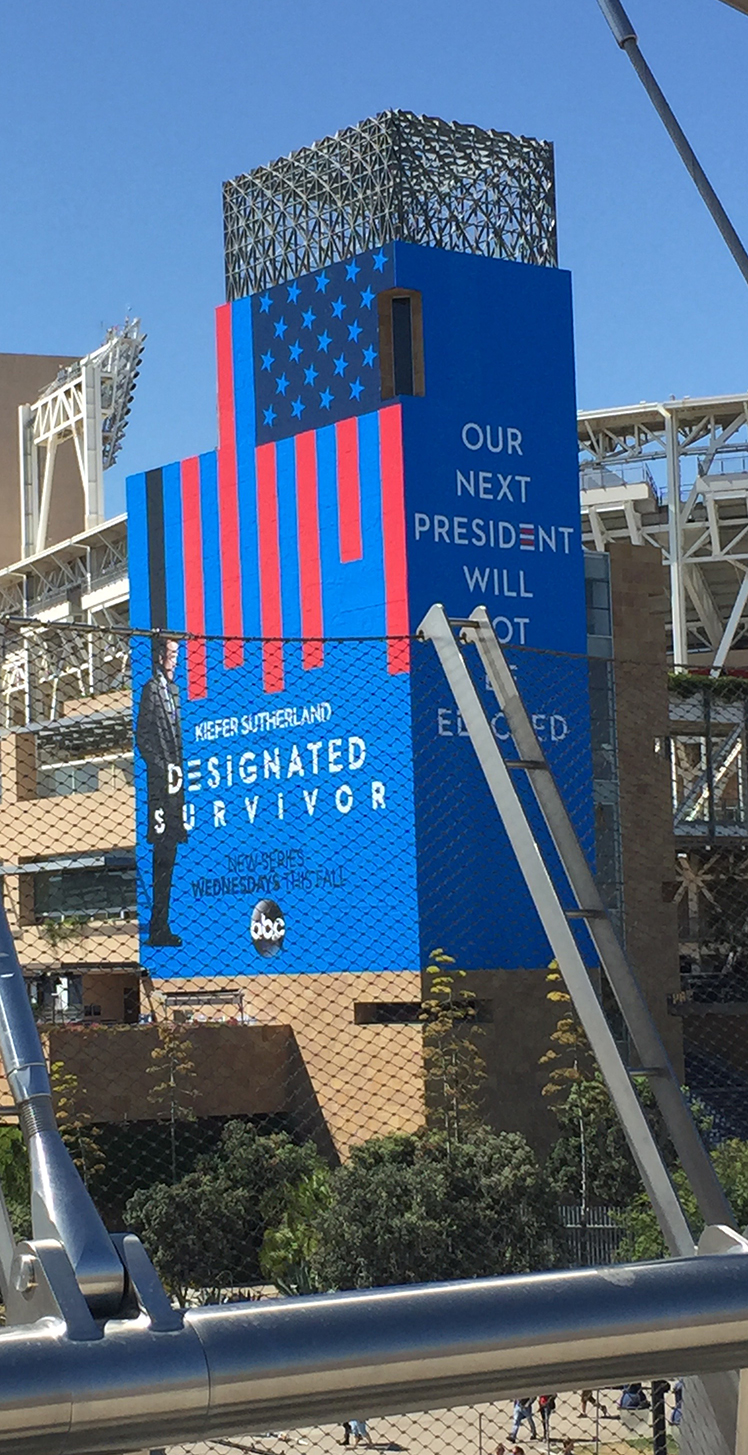 [Taps microphone.] Greetings, fellow nerds, fans, and affiliated wanderers! If I may interrupt the daily (hourly?) reports of chaos and pain that saturate your newsfeed, I'll bring you what I hope is a satisfying report from this year's Comic-Con. Yes, while the Republican National Convention was busy opening a hellmouth in Cleveland, I was in San Diego, learning and talking about comics. In some wonderful ways, Comic-Con is the opposite of our contemporary dystopian moment. Â In other ways, it's also symptom of that same moment.
Sure, I'm aware that Comic-Con is now an entertainment-industry promotion-palooza (also featuring comics). I know that every available surface entices us to consume (watch the new show, buy the action figure, get the Lego set, etc.). And I'd love it if it comics were more of a central focus than they now are.
But to accentuate the positive for a moment, Comic-Con is a community of nice people –Â whether they're comics people or TV-and-film people, whether they're immersed in a fandom or not, whether they're cosplaying or dressed as civilians. (I cosplay as a middle-aged English professor. This is my third Comic-Con, and my, er, costume is getting more convincing every year, if I do say so myself.)
So, read on for G. Willow Wilson, Jeff Smith, Kate Beaton, tips on teaching with comics, random observations from yours truly, and more!
---
WEDNESDAY
Temperatures Rising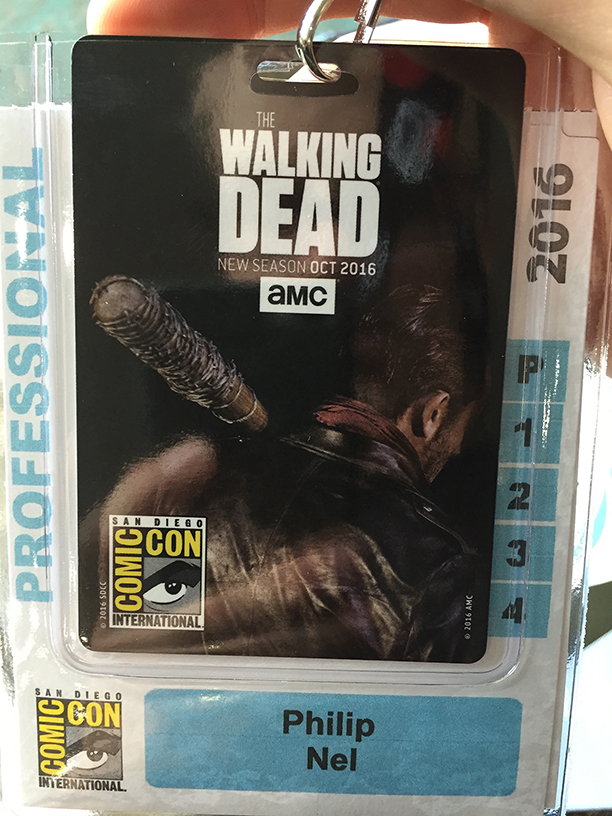 Situated on the coast of southern California, San Diego's weather is predictably pleasant. Usually. After landing midday on Wednesday, I took the bus to several blocks from my hotel, and walked… getting hotter and hotter. Daily, temperatures edged into the upper 80s Fº (above 30º C), a trend that will become normal as the climate changes. In response to more imminent existential threats, this is the first year that Comic-Con no longer uses paper badges in a plastic sleeve. Each person's badge has a unique ID card that must be scanned every time she or he enters or leaves the convention center. Conference sponsor The Walking Dead was on this year's badge. Enjoy that metaphor because it will return.
Teaching with Comics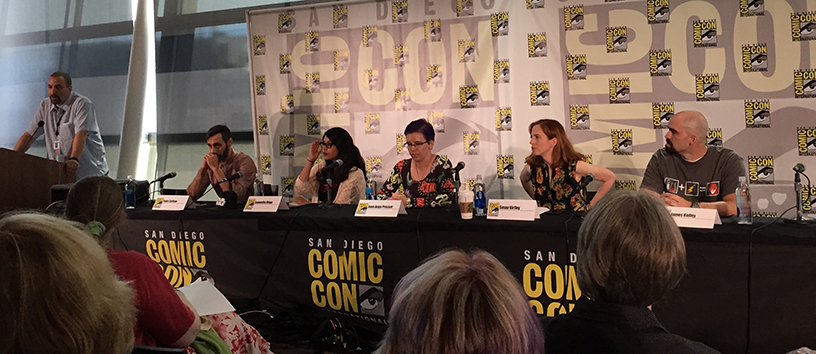 I started my Comic-Con by drawing pictures. From 4 to 6 pm, at the San Diego Central Library, Peter Carlson (Green Dot Public Schools), Antero Garcia (Colorado State University), and Susan Kirtley (Portland State University) led a workshop featuring classroom educators Samantha Diego, James Kelley, and Jenn Anya Prosser.
Susan Kirtley (a 2013 Eisner-winner for her book on Lynda Barry) asked us what comics are, which is always great because there are so many different definitions. After people offered some answers, she highlighted the answers of Will Eisner, Scott McCloud, Dylan Horrocks, though of course we could bring in others (as I expect she would have, had she more time) such as Thierry Groensteen, Charles Hatfield, or Hillary Chute.
Her comments reminded me, also, that some people face resistance to teaching classes on comics.  She told us that if people are skeptical of why you're teaching comics, to tell them you're "teaching graphic narratives as a way to promote multimodal literacy." Resistance to studying comics interests me because it's one of the most complex narrative media ever invented. There is so much to say about it.
She also took us through a few exercises.  One was this, which is inspired by Ivan Brunetti's single-panel comic exercise in Cartooning Philosophy and Practice.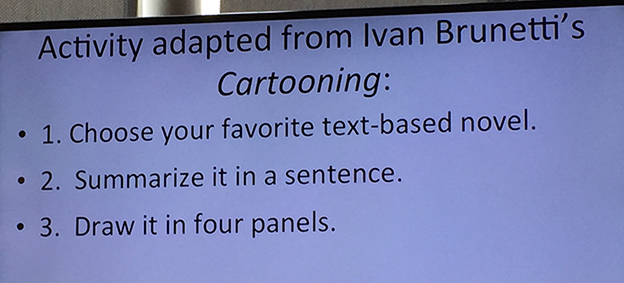 We had 1-2 minutes to do this.  Here's what I came up with for Guus Kuijer's The Book of Everything.
She then had us all do a one-panel version.  In Cartooning Philosophy and Practice, Brunetti does a single-panel Catcher in the Rye.  It's brilliant.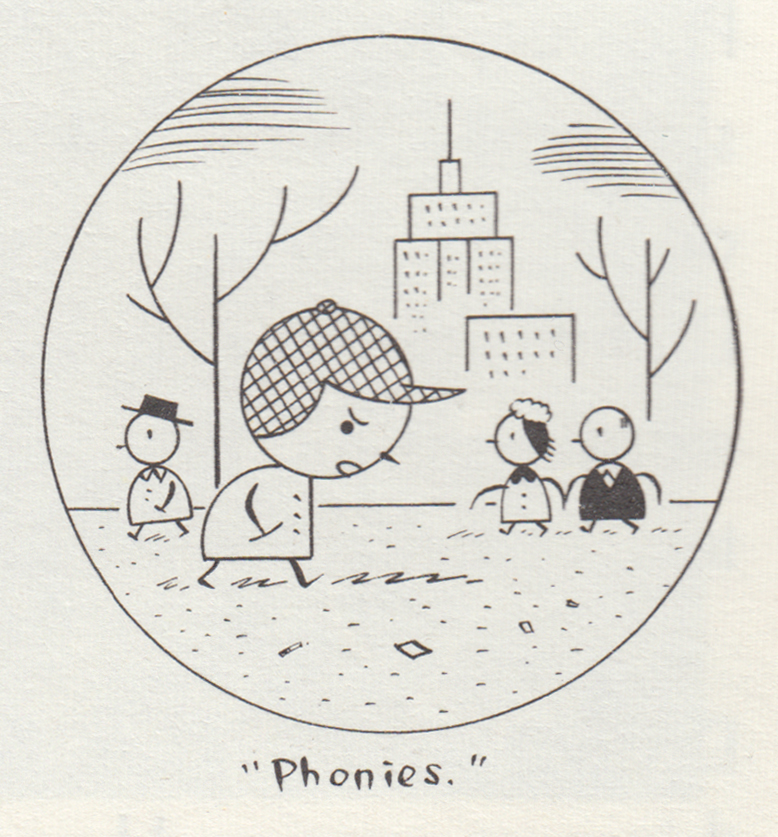 Mine – done in 1 minute – for The Book of Everything is not brilliant. Obviously.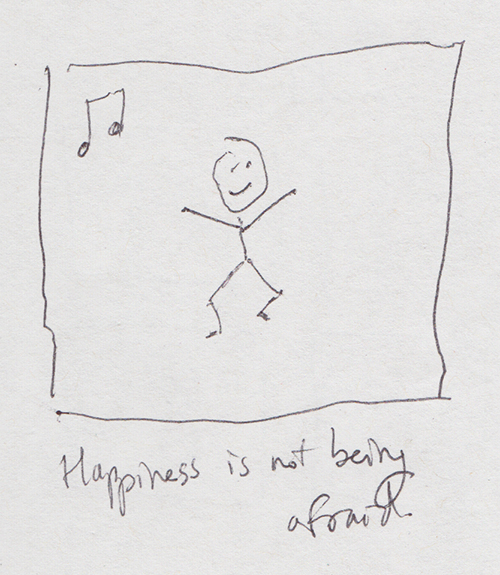 But this brings me to another key part of her pedagogy. She does these exercises with her students. "I do it when they do it," she says, because that levels the critical plain.  She also encourages us teachers to reward students' risk-taking at moment of assessment: "Make it OK for students to fail – and don't penalize them for that." Susan builds in rubrics that take into account the entire process. I like this.
Peter Carlson and Samantha Diego spoke on "Engaging Readers, Empowering Writers, Creating Communities: Civic Superheroes," via the idea of the superhero.  They asked us:
What superpowers do you want?
Why?
Those questions elicit an array of profound responses. One grade-school student had told them invisibility to prevent the other kids from making fun of her appearance.  In our older crowd, answers included persuasion, and healing.  I and at least one other audience member chose healing as our superpower.  When I talked with Susan afterwards, she said that this superpower – healing – really appealed to her, too.  This makes sense. As we age, mortality looms larger. In the Dallas airport, en route to Comic-Con, I read a 43-year-old friend's (likely) final column for her local paper. Aided by an unrelenting brain tumor, death will likely claim her before the year is out. As I've written elsewhere on this blog, we all must face the inevitability of our own deaths. I don't conceive of the healing superpower as an end-run around death, but a way to alleviate suffering on that journey towards the moment when our time finally runs out. For her, perhaps the superpower could buy her more time or at least enable her to retain her cognitive abilities. Even superpowers have limits, I know.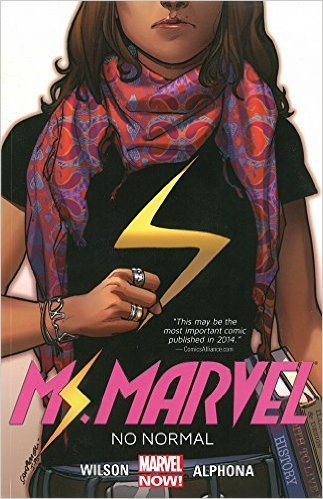 Returning to the exercise, some follow-up questions from Carlson and Diego:
What would you do with those powers?
Where would you go?
Who would you become?
They also suggested that the first issue of a comic –Â say, Ms. Marvel or Storm –Â can be a good way into these discussions.
Jenn Anya Prosser had us close-read some panels, but I failed to take notes on that (since it's something I already do). Antero Garcia and James Kelly addressed why we should teach science and English together, and suggested that comics can be a great way to have these conversations.  Comics ask big questions:
What does it mean to be human?
What does it mean to be mutant?
What does it mean to be other?
What does it mean to be?
Science addresses these questions, too. They can also help students think about genetics, viz: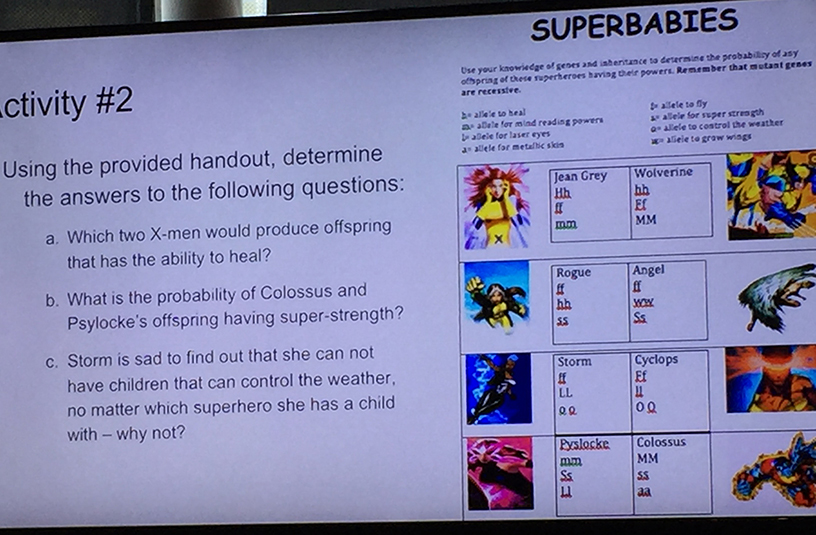 Preview Night
Afterwards, it was Preview Night!  Though we could have gone to watch previews of not-yet-released shows, Susan Kirtley and I instead zeroed in on the comics sections of the exhibit hall, where I squandered aimlessly – well, not entirely aimlessly. As usual, I bought more than I should – both that night and on subsequent days. But accumulating books is an occupational affliction.  And, hey, it's good to give your spine a workout, right?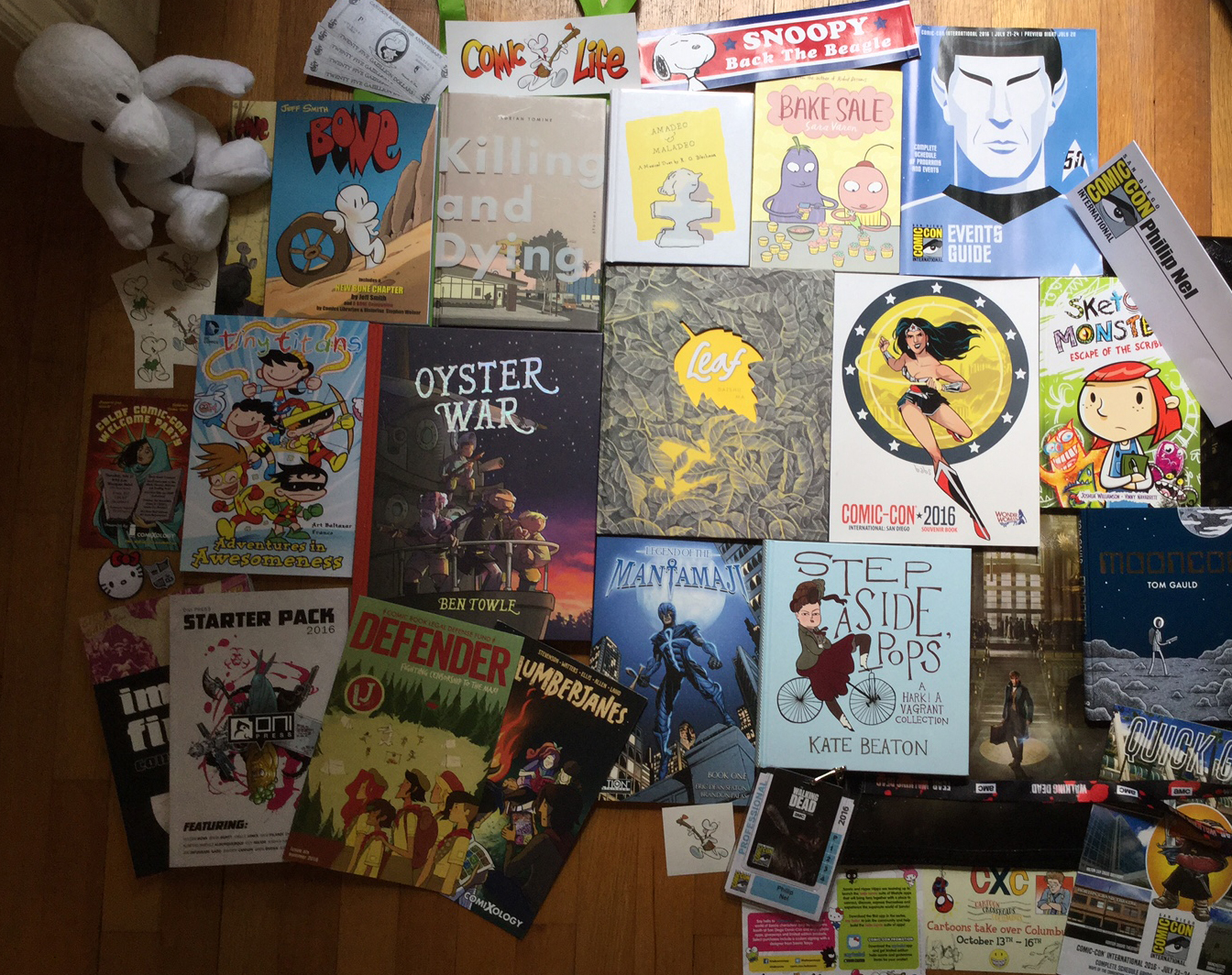 Also, on Preview Night, the crowds are not as thick as they become on subsequent days.  But the hall is always something of a sensory overload.  I sometimes think that Comic-Con should have strategically placed sensory deprivation chambers where Con-goers could sit and decompress for five-to-ten minutes at a time.  There's a lot to take in.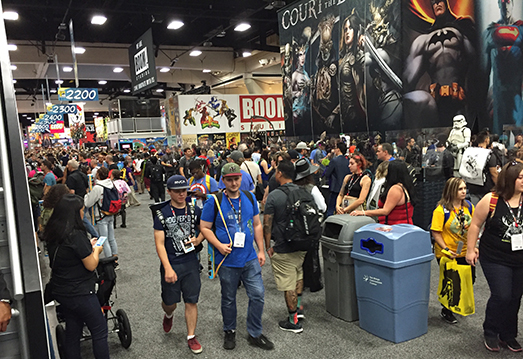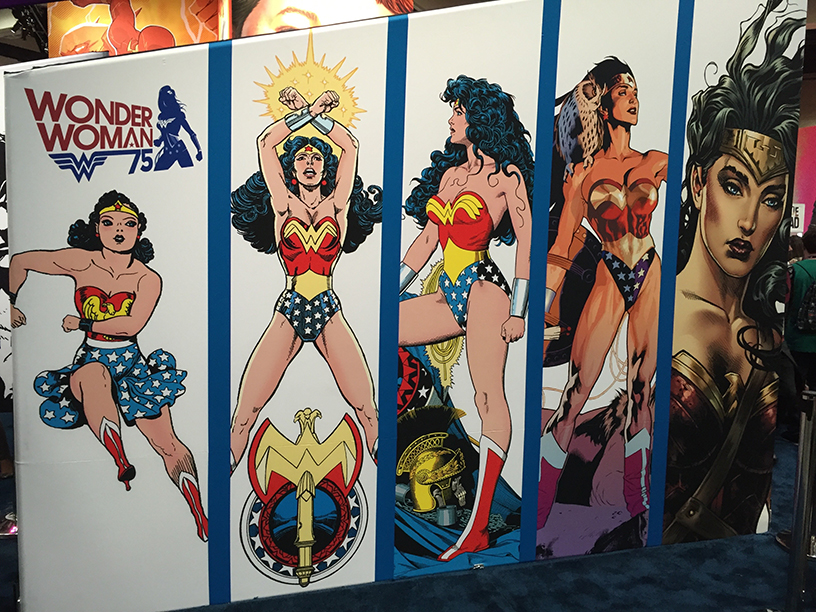 From the MAD magazine booth: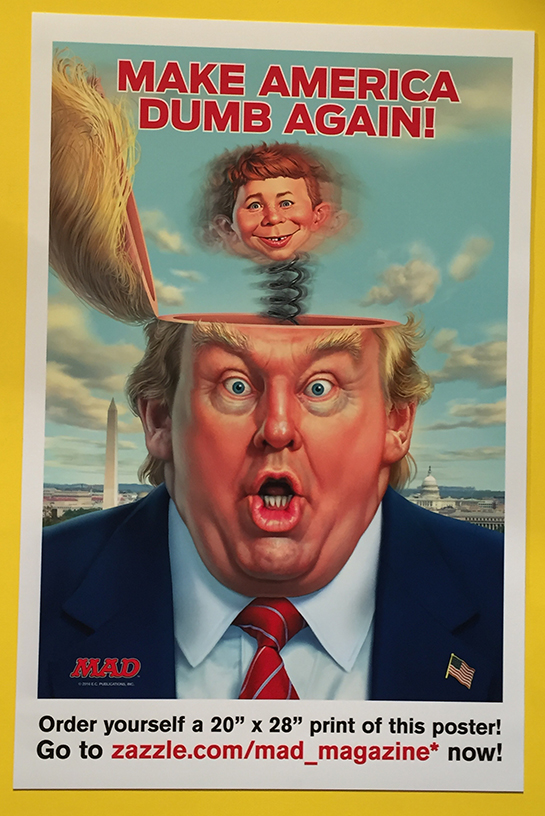 I chatted with some of my Fantagraphics pals, as well as folks I didn't know at other booths. Susan and I also met Snoopy –Â who, to my delight and surprise, did not attempt to sell us any insurance. Then we went off to dinner & had a great chat! (By "we," I mean Susan and me. Snoopy declined our invitation. Presumably, that round-headed kid had already fed him.)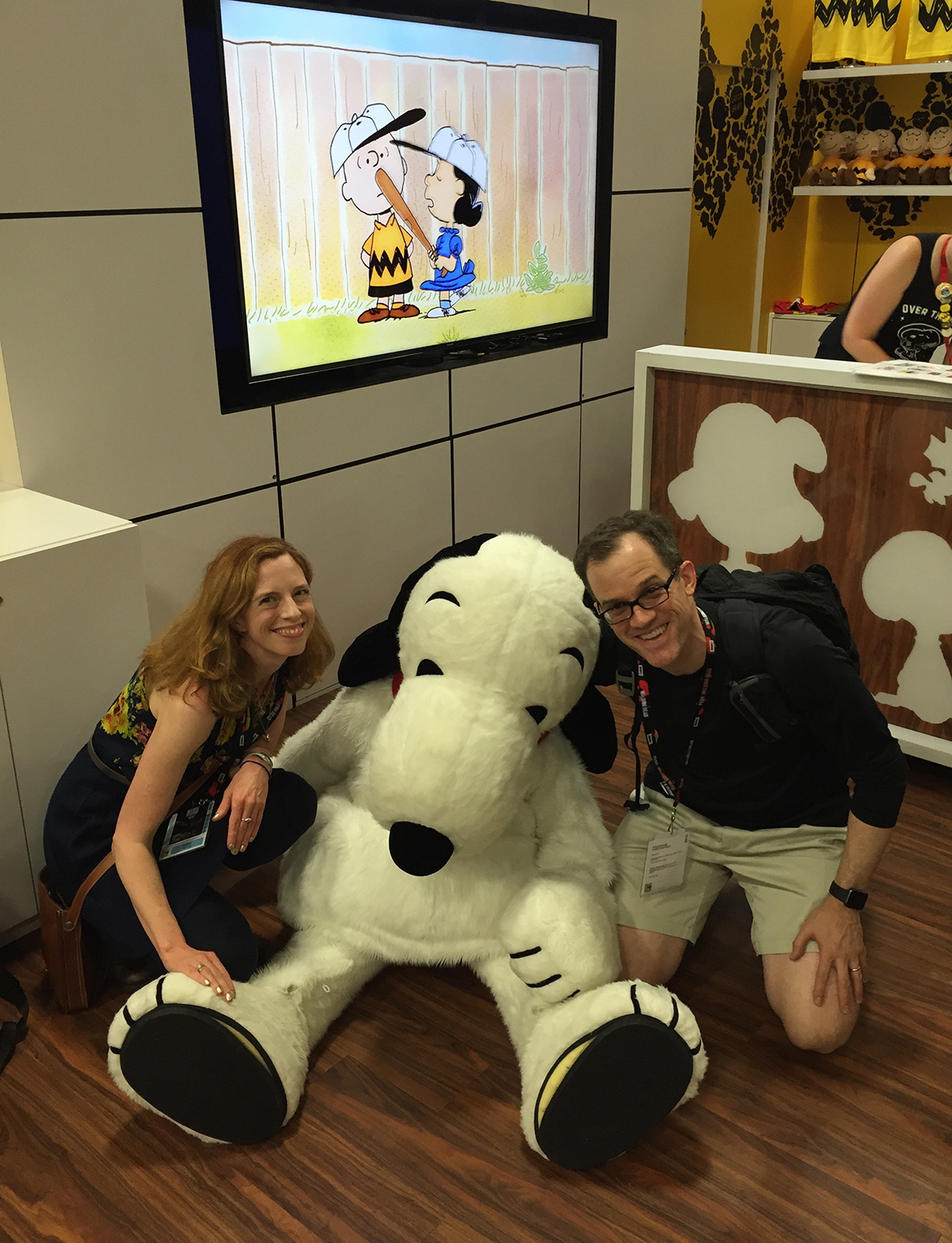 ---
THURSDAY
The Jogging Dead
Balboa Park is a few blocks east of the Holiday Inn Express I stayed in. So, first thing Thursday morning, I thought: great, I'll just jog east, find my way into the park, and have a good run! A helpful person at the hotel's front desk assured me that there were many ways into the park, and pointed me in the right direction.
However, and unlike New York City, San Diego's streets and signs offer guidance to cars, not pedestrians or runners.  Though Park Boulevard runs along the edge of the park, it offers few points of access to the park itself, and then (when you finally get in) the park has signs promising trails that turn out to dissipate suddenly. As a result, for part of my journey back, I ended up running in the bike lane along Route 5. Like all places in downtown San Diego, I was never far from the city's robust homeless population – encamped at the edges of city sidewalks, against a fence in the shade of trees on Park Boulevard, and just off the edge of the highway. Luckily for me, they (and other walkers) had beaten a path from Route 5 back to the city streets I sought.
Part of the Comic-Con experience is always the contrast between the shiny abundance promised within the event and the privation of those who live on the streets outside. Whether silently holding a sign asking for help or sound asleep on the ground, San Diego's homeless are both politely invisible and a vivid reminder of how America actively neglects its most vulnerable.
At first, I thought our Walking Dead ID cards an apt metaphor for the homeless among us, but now I think them a better metaphor for the conference-goer – walking past suffering, declining to admit that we are seeing what we know we're seeing. I gave one sign-bearing man $5. I think, in future, I should carry small denominations and just give them to each person begging. I honestly don't know. But I do know that we do need investment in mental health facilities, affordable housing, and job retraining for those down on their luck.  OK, getting off my soapbox and back to the con….
G. Willow Wilson; or, Ms. Marvel Fans Embiggen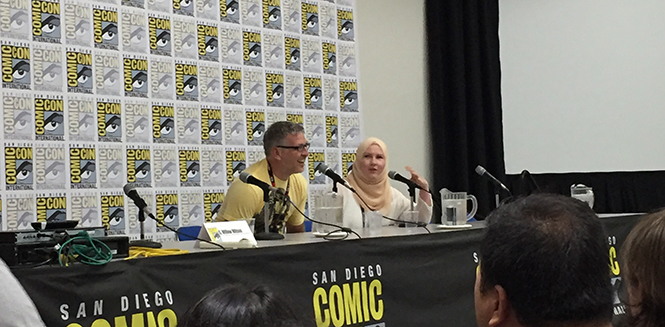 To a full room that included at least nine people dressed as Ms. Marvel, Ms. Wilson introduced herself: "I'm Willow Wilson. I tell people: 'the G is silent.'" Interviewed by her friend Josh (I didn't get his last name), she told us about herself –Â which was great because, though I know her Ms. Marvel comics, I did not otherwise know much about her.
Wilson was born in New Jersey, but grew up in Colorado. As for religion, she said, "I was raised an atheist, but I was never very good at it. When I was a teenager, I realized that I was a particular kind of monotheist, but I was embarrassed about it."  Indeed, when she did convert to Islam, she did so in secret – not telling anyone until later.
She studied Arabic for two years at university, and then at the age of 19 left for Cairo, where she would live for the next five years. Upon arriving, she realized that the Arabic she had learned was classical Arabic, which, she says, "would be like learning how Shakespeare speaks." So, she had to learn modern Arabic. Which she did. While working there as a journalist, she met her future husband Omar.  They and their two children now live in Seattle.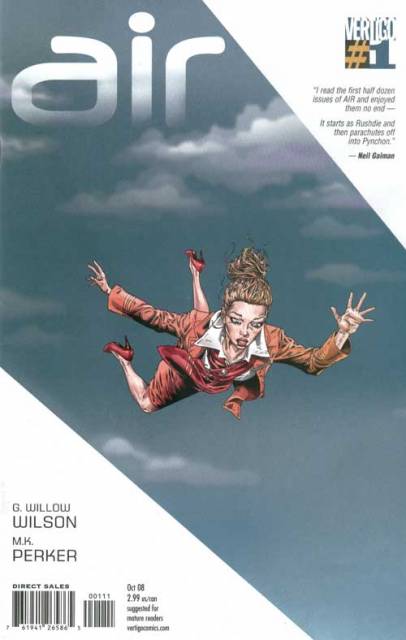 She and Sherman Alexie share a publisher, and live about 12 blocks from each other. When she was starting out (having published, I think, Air, and Cairo), she was headed to a conference. Her publicist advised her: when you get on the plane, look for Sherman Alexie and share a cab after you get there. So, she's walking through First Class on her way to coach, and Alexie spots her.
Alexie: Are you G. Willow Wilson?
Wilson: Yes.
Alexie: I loved Air!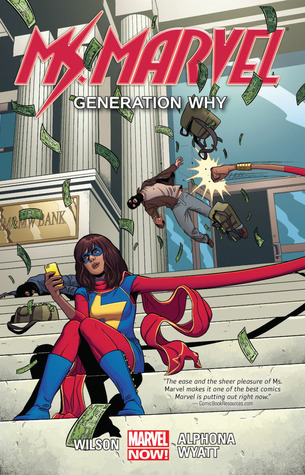 Of all that she said during her conversation, this struck me as the most profound: "You are sometimes able to get to people through fiction what you cannot get through to them through the nightly news."  Her Ms. Marvel is, I think, the embodiment of this very idea.
When Marvel asked her to do Ms. Marvel, Wilson says her "first thought was 'no' because there'll be all kinds of blowback." She figured she would get lots of hate mail, just as she had gotten for previous work. But, she said, "when Marvel comes to you and says they'll put their weight behind a project like this, you have to say 'yes.' I said 'yes.'"  Writing the Kamala Khan Ms. Marvel comics were "a cool opportunity to shed positive light on a community that does not get a lot of positive attention."  When the first one was published, she thought: "Brace for impact!" But the impact she expected never really materialized. Sure, there was a little hate mail, but response was mostly positive. She concludes, "It was one of the most life-affirming things I have ever done."
She concluded her session by reading Chapter One of The Bird King, a new novel set in 1491. As she said before she began, "You guys will be the very first people to hear it who are not paid to like it"
Homework! #SDCC2016 pic.twitter.com/QNc9t1BfTe

– G. Willow Wilson (@GWillowWilson) July 21, 2016
There was only time for two questions at the end.  Here they are.
First question was: Advice for women creators who want to get into the industry? Wilson: "The good news is this is now a discussion we can have without people losing their jobs. People are now taking subjects like harassment, equal access to corridors of power more seriously. But there's a lot of work to be done."
Second questioner referenced the fact that there are no black women comics writers (at Marvel or DC), and asked "How does that make you feel when you're writing one of the most nuanced and awesome [characters of color]"?  Wilson replied, "We need to be in the business of recruiting more people.  I love Ta-Nehisi Coates.  Sitting in the Marvel writers' room, with him across from me, was one of the highlights of my career. But you shouldn't need to have a MacArthur Genius grant to get hired to write comics."
Note: The very next day, Roxane Gay tweeted that she has been hired by Marvel to co-write a comic with Ta-Nehisi Coates.
So. I am writing a comic book series for Marvel. https://t.co/adcBWBtThT

– roxane gay (@rgay) July 22, 2016
But the greatest thing about this panel were all the people who dressed as the Kamala Khan Ms. Marvel. After the panel was over, they all gathered with Wilson to embiggen!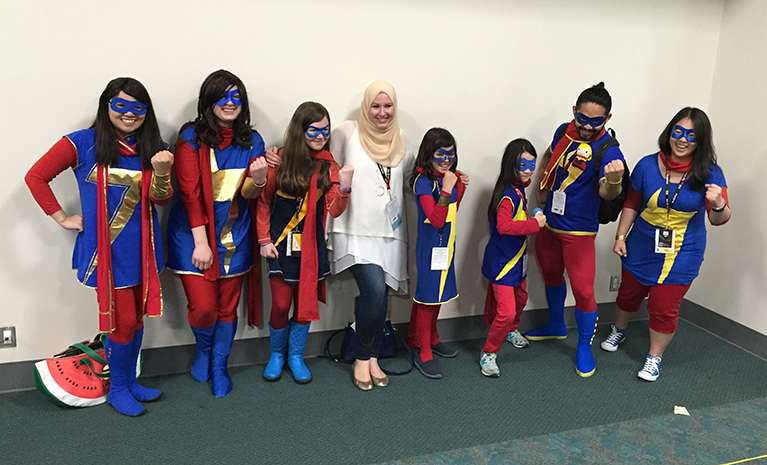 Cushlamochree! Or, The Kindness of Strangers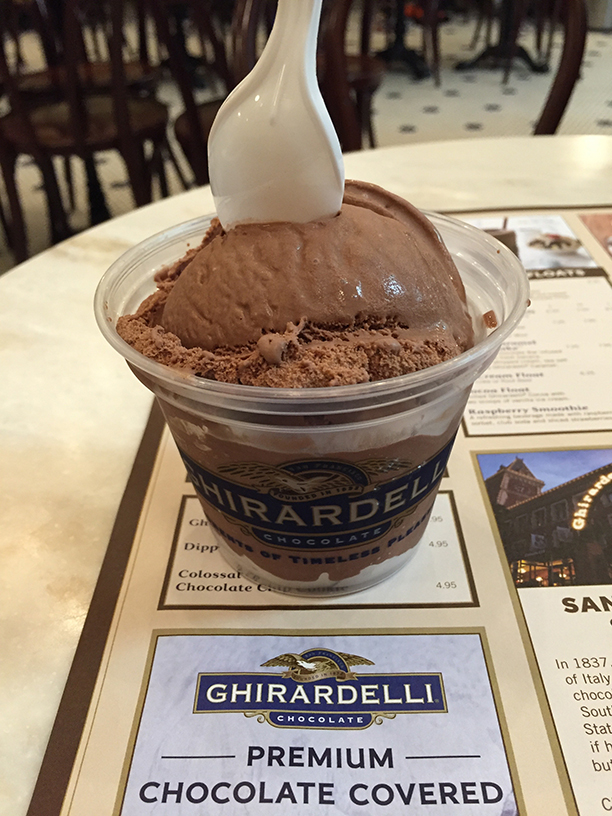 After lunch, I stopped into the Ghirardelli shop because, well, chocolate.  I had a chocolate ice cream, and reviewed the notes I'd made that morning. In a few hours, I would be appearing on a panel devoted to Crockett Johnson's Barnaby (1942-1952), which I'm co-editing and Fantagraphics is publishing. (The third volume just came out.)  Typically, I tend to perform a script, or to at least consider the possible questions in advance. But this panel was mostly unscripted, and so I was a little anxious.
A young couple walked past my table, and then walked back, and the young man asked if he could use the plug next to me. I said of course! And I moved over so that he could sit where I had been sitting, and his girlfriend could sit opposite him. He asked what I was doing. I told him. He said: OK, pitch it to me. And… I did. This person who I have never met before listened, offered a little feedback, and helped me talk through the presentation.
I learned a little about him, too. He said, "Not to brag, but I'm the nerdier of us two." I love that "nerd" is now a term of approbation. When I was his age (a phrase I never used while talking with him), one would not brag about being a nerd! He and his girlfriend are both seniors at San Diego State University: he's a music major (jazz drummer, in particular). She's a graphic design major. They were both working for Comic-Con because it grants them a free pass to the conference, and it's fun to go to Comic-Con. I think her name is Morgan; his name has, unfortunately wandered away from me. If you two happen upon this blog post, thank you!
Encounters like this are what make Comic-Con a welcome respite from the news. There is kindness and generosity in the world. Not enough, but it is out there. It's our job to make more of it. To quote Ram Dass, "We're all just walking each other home."
After that, it was back to the exhibit hall, a quick coffee and a chat with Eric Reynolds, and then…
Crockett Johnson's Barnaby: What Makes a Great Comic Strip.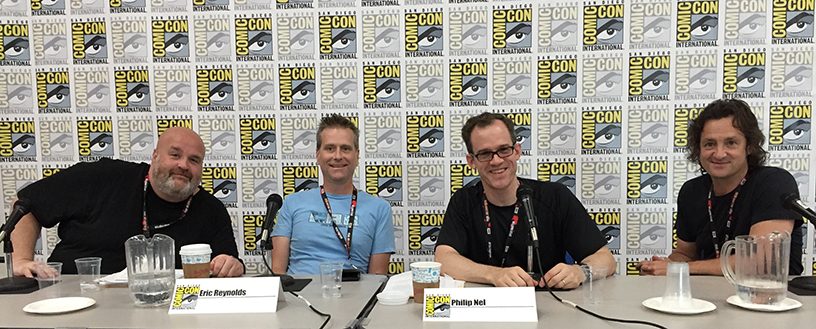 This was why I came to Comic Con – to be on this panel!  In the photo, from left to right, that's The Comics Reporter's Tom Spurgeon, Fantagraphics Associate Publisher Eric Reynolds (my pal, and co-editor on the Barnaby books), yours truly, and… Jeff Smith!
Whatever anxiety I'd had vanished instantly. The panel was a delight. As you may already know, Smith is as nice a guy as you would expect the creator of Bone to be. I'm also grateful to him for lending his celebrity to our quixotic endeavor. I'm sure that half of the small audience appeared simply to see him. (There were only about 25 people in a room that seats more like 300.) I hope our conversation – led by Tom Spurgeon –Â helped move a few copies of Barnaby.
You see, Barnaby is the last great comic strip that has never been collected in full. Its admirers include Charles Schulz, Art Spiegelman, Chris Ware, Jules Feiffer, Seth, and Daniel Clowes (who designed the books, and would have been on the panel if he'd been on an earlier flight). Told in Johnson's elegant clear line, Barnaby tells the adventures of its five-year-old title character and Mr. O'Malley, his loquacious, bumbling, endearing con-artist of a fairy godfather. O'Malley is a great character of possibility, allowing Johnson many opportunities to satirize politics, business, or (coming in volume 4) the emerging medium of television. The strip is both topical and a Calvin-and-Hobbes-esque fantasy. Just as only Calvin sees the reality of Hobbes, the children of Barnaby all see the fairy-world characters, but – also like Calvin and Hobbes – Barnaby's adults fail to perceive the reality of fantasy. We readers, however, know that O'Malley and friends are real. Barnaby is a beautiful and influential strip, but –Â like Krazy Kat –Â it was never a popular strip. At its height, Barnaby was syndicated in a mere 52 papers. By contrast, at the same time, Chic Young's Blondie was running in 850 newspapers.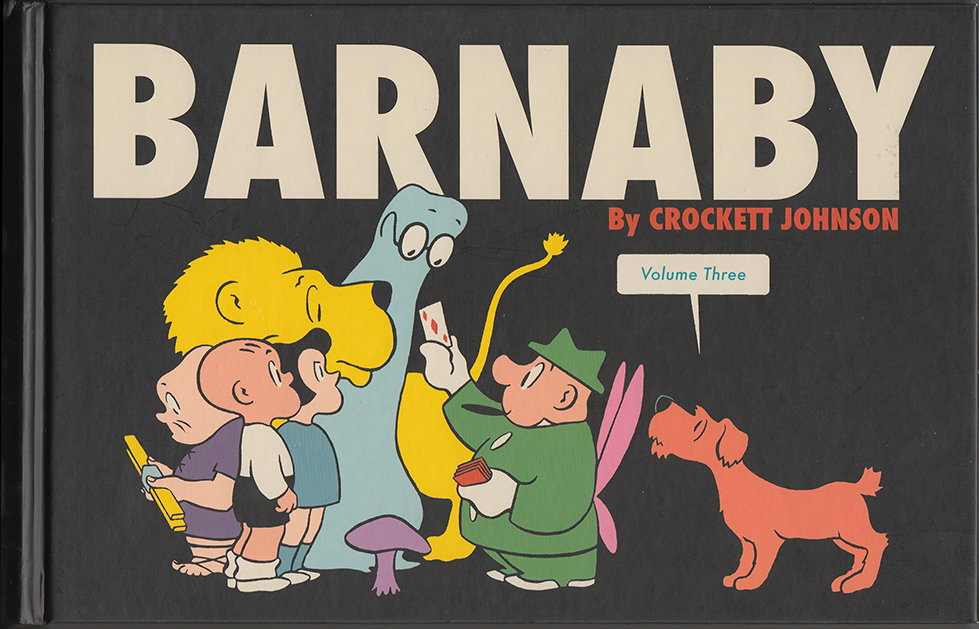 Fantagraphics is committed to bringing out all five volumes of Barnaby, and I love them for that. I also wish we could help find a larger audience. So, if you're reading this, why not pick up a copy? Encourage your local or college library to pick up these, too, along with Fantagraphics' many beautiful editions of classic comics (notably Krazy Kat and Peanuts).
---
FRIDAY
Breakfast with Ebony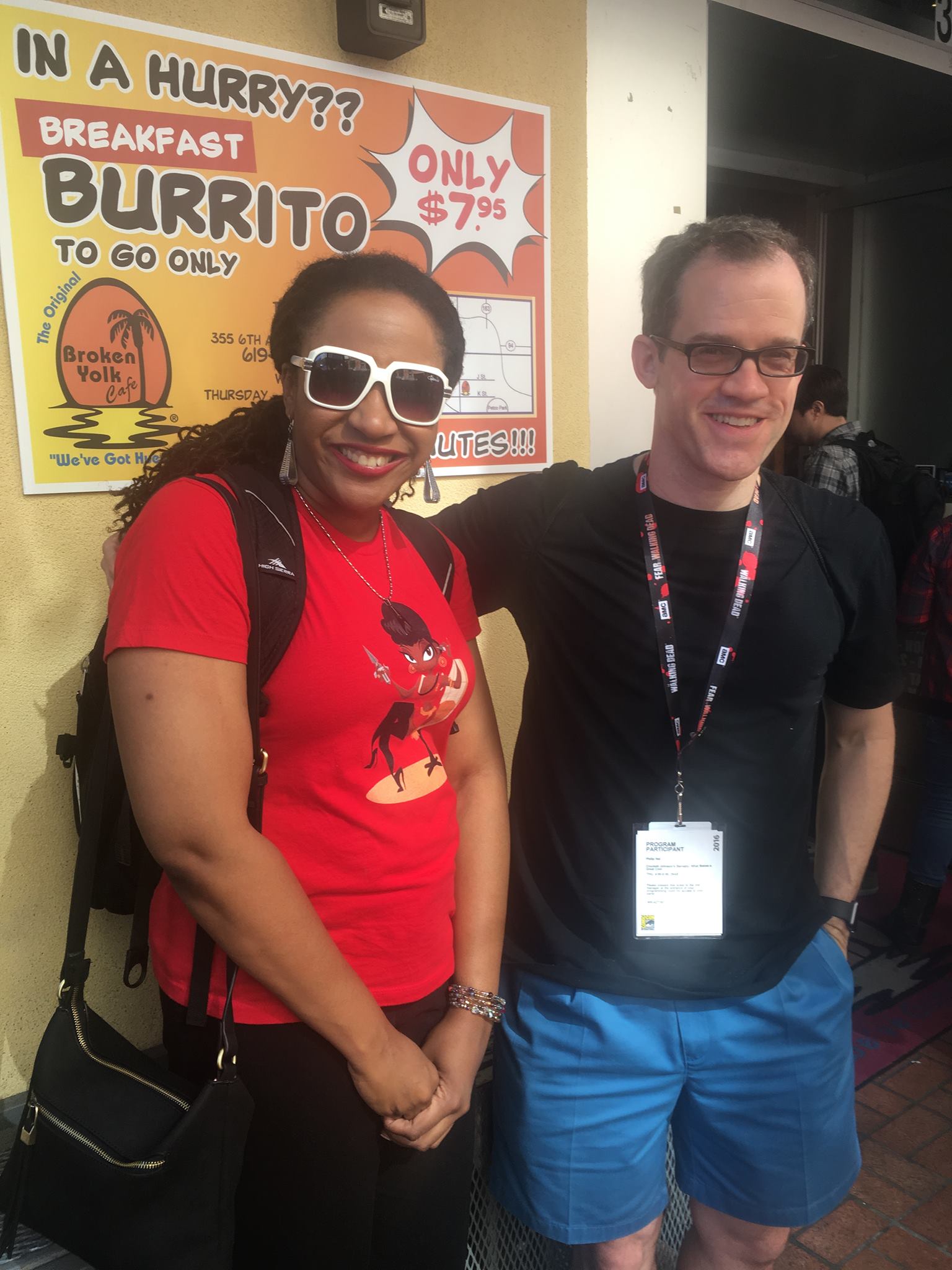 Friday began at the Broken Yolk, where I had breakfast with Ebony Thomas –Â whose book The Dark Fantastic should see print in (I am hoping) the next year or two. It's a really smart way of thinking about how the dark other functions in fantasy. (Make a note of it now, and pick it up when it comes out!)
I actually met Ebony at my very first fan conference – Nimbus 2003, in Florida, thirteen years ago.  I'd written a small book on the Harry Potter series, and they invited me to give a keynote. In this respect, I think our aca-fan (Henry Jenkins' term for "academic fan") trajectories are opposite. I went to academic conferences before ever appearing at a fan one, whereas my sense is that she had more fan conference experience prior to becoming an academic.
Part of the fun of conferences – whether academic or fan – is seeing friends, and making new ones.  So, good to see you, Ebony!  Hope you enjoyed the rest of the con!
Keeping It Short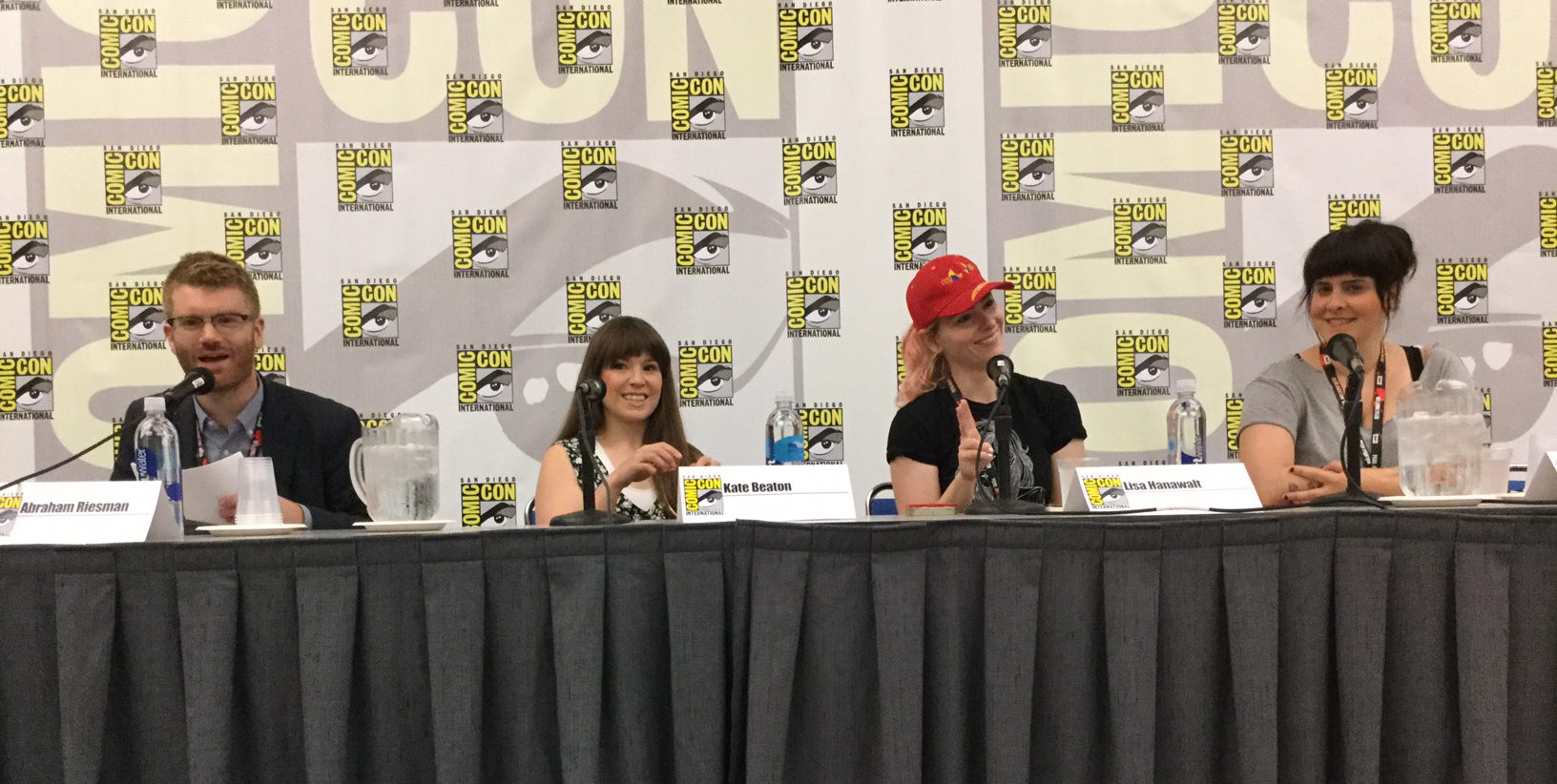 Moderated by Abraham Riesman, this panel featured Kate Beaton, Lisa Hanawalt, and Emily Carroll. Â Though the panel was on short comics, my notes are actually, um, a bit longer than expected.
Abraham Riesman: What short form comics did you read growing up?
Kate Beaton: Sherman's Lagoon
Lisa Hanawalt: Garfield, Calvin & Hobbes, adult cartoonist B. Kliban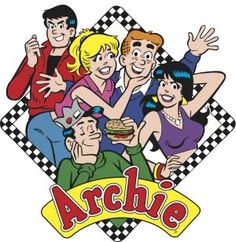 Emily Carroll: All newspaper strips. I read every one every morning, even if I didn't like it – I read Rex Morgan every morning. I read a lot of Archie comics, which at the time had no continuity.
AR: What spoke to you about Archie?
Emily: The only comic that had really pretty girls in it.
Lisa: Me, too.  Did you like Betty or Veronica?
A discussion ensued on who preferred Betty, and who Veronica, but I didn't note it all down.
AR: What does an average workday look like?
Kate: Some cartoonists work 9-5 with lunch breaks, but…
Lisa: I fuck around until 3 every day at least. But usually until 7.
Kate: It might take all day to get into that, until something is actually working.  [Kate then recalled 2 aunts coming to visit at around lunchtime, thinking she'd have a lunch break. That led her to imagine herself saying the following sentence to her aunts.] I just stare at the wall all day until something comes and you ruin my flow?
Emily [adding to Kate's imagined comment]: Now I have to start wasting time all over again?  I try to start before the afternoon or else I feel bad. But early afternoon is when I start.
AR: How much planning before you draw the finished product?
Emily: I start drawing right away.  Whether it's the beginning or end — just because I need to see it materializing.
Lisa: For me, it depends. If there's a narrative, then I have to plan that out. But I also do improv comics. I did some corporate slogans, and the first draft is what got published because it was funniest. Because if I try to make it neater, it'll be less so.
AR: I love "just fucking do it"
Nike rejects pic.twitter.com/YUNiIvkvY4

– Lisa Hanawalt (@lisadraws) August 2, 2013
Kate: I write a lot in my head. So, especially, if it's a three or four panel gag, I have it all in my head.  So, you get a nugget – that's the angle I'm going to use. And you sort of tumble it around, until you get the right combination of things. If you work too hard on the drawing, it ruins it. I try to go for the energy that comes in the first few lines.
AR: How do you keep the emotion in the artwork?
Emily: My first thought is I only have a few emotions anyway. I either feel angry or guilty or I'm Ok.  …But my general thought is what [I failed to note the rest of her answer]
Kate: You're not telling people how to feel. You're showing them how you feel.
AR, to Kate: Any jokes you had to abandon?
Kate: Sure. Not all history is hilarious. You try to bring in a topic that isn't funny, but should be shared.
AR, to Lisa: what's funny about birds?
Lisa: What isn't funny about birds? I just like looking at them – they're hilarious.
AR: What's the funniest thing about birds?
Lisa: When a toucan eats a bunch of fruit it [Lisa mimes action of toucan eating fruit, throwing it up into the air, gulping it down. Everyone laughs. She then adds an additional funny bird behavior:] When they sit on their nests.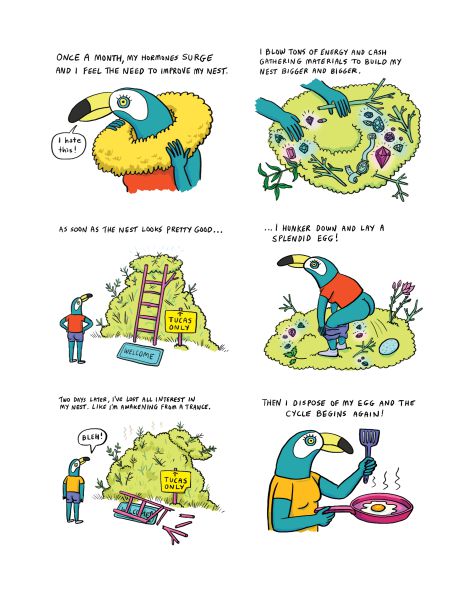 Kate then offered a short discourse on fecal sacks. The young birds, who cannot yet leave the nest, poop in sacks. This allows the adults to throw their young's waste out of the nest.  She recalled a grackle who lived near her, and used to decorate her car with these fecal sacks. Her car was blue, the grackles assumed that since it was blue, it must also be water.  Lisa found this story fascinating.  (I did, too.)
AR to Emily [re: earlier question on emotions]: You didn't mention fear?
Emily: Oh yeah, that's true.
AR: 'Cause you write horror. How often are you afraid?
Emily: All the time. Every day.
AR: How much of Anne Herron is true?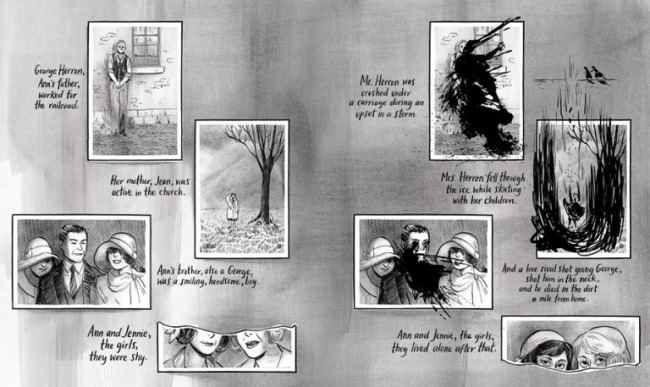 Emily: Anne by the bed?
AR: Yes.
Emily: None of it.  I made it all up.  But it turns out there is an unsolved mystery of an Anne Heron (with one r).
AR: When I interviewed you a few months ago, Kate, you said that cartoonists are horrible to be significant others with at a party because they're always there drawing.  Is that true for the two of you?
Lisa: I hardly do it anymore. But I used to because I was shy, and I thought it would be an ice breaker.
Emily: I don't really go to social gatherings. [Laughter from audience.] So, that's not an issue. I draw less now than I did before.
AR: How much does doodling influence your work?
Kate: Less and less.  Now, you're like: I really need a different hobby.
All panelists agree that they now do less drawing for fun.
AR: How do you know how to represent time?
Led by Emily's response, all panelists agree that they go by instinct, and then go back and edit — if it reads too fast, they'll go back and put in something else to slow it down (says Emily).
All panelists addressed unpublished or unfinished work. All have work that they've decided not to publish, nor to continue.
AR: How often to you look at your finished old work?
Lisa: I look at it every couple of years. I go back, and think oh, hey, this is actually pretty funny.
At this point, Kate mentioned she wasn't feeling well.  She apologized, and left for the washroom.
AR: Is your work ever misunderstood?
The answer to this question (which I failed to record) led to the next one.
AR: How often do you check Twitter, look at comments, or avoid them?
Lisa: I look at everything.  I really should stop.  I even read the Goodreads reviews.
AR: Oh, you shouldn't do that.
Emily: Oh, I can't look at those. I do, sometimes.
Did you ever read that Guardian essay about the person who gave bad reviews?
Lisa: Totally obsessed with that. Totally understand. Once I was at a convention, and a lady picked up one of my books, and threw it back down on the desk and ran away. I think about that all the time.
Emily: A few months ago, I just deleted all of my follows except for my wife and the library. So, that way, I couldn't go and check all my follows. I'm becoming increasingly reclusive, I guess.
Lisa: That [not being on Twitter] sounds nice.
Emily: I realize that even the nice comments didn't make me feel good!
At this point, Kate returns!
Kate: I'm doing much better.  I had my hair tied back, all ready to rumble.  But it was just poop.
Kate apologizes for including those bodily details.
AR: You're sitting next to Lisa.
Lisa: I'm like in love with you right now.
Kate [explaining]: I've moved to the country, recently, and I don't drink much any more….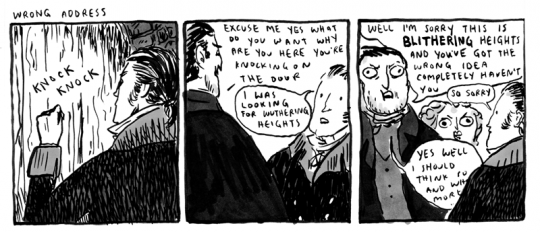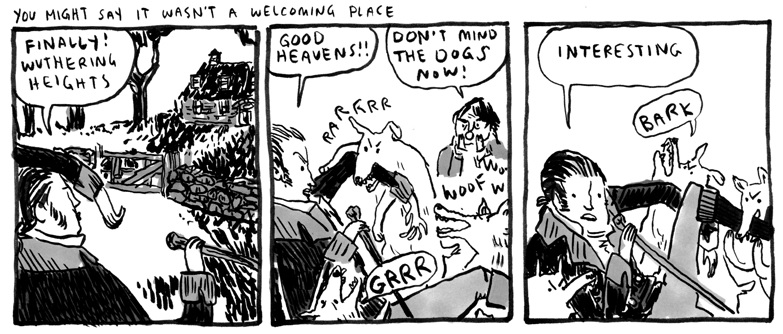 AR: How often do you think about Wuthering Heights?
Kate: A lot. I never finished that comic.  I need to.  Anyone ever been to the Bronte parsonage?  I feel like haunted by Branwell [brother of Charlotte, Emily, Anne].  In a family portrait, there's a weird person-shaped hole because he painted himself out.
AR: Don't we all feel like a person-shaped hole?
Kate: I did just a few minutes ago.  [Kate then comments on Branwell, who was alcoholic…]  In these [Bronte] books, characters like these brooding frustrated men – like Heathcliff – make me think of Branwell.
In the Q+A, I asked Kate how her process of her picture book The Princess and Pony was different than comics.
Kate said that working closely with an editor was a big difference.  The book is much more polished than her cartoons.  Also, she said, it's not just a gag. It has a story, and that had to make sense.
In response to a question about (I think) favorite horror narratives, Emily responded, "I like horror that's really long and boring and nothing happens, and then something maybe happens and then it's done."
Questioner asked if they had a reader they trusted who they could turn to for feedback.
Lisa: For me, it's my partner Adam. But also guys like these — I have a lot. Of cartoonist friends.
Emily: My wife will read over my work. She'll say it's too fast or too slow, and I'll say you don't understand my process and vision! And then I fix it.
Kate: Don't read Amazon or Goodreads. [Quoting reviews] "I think there are secret gay people in the book."  Or "I don't want to expose my children to farts."
30 Minutes to Go; brief conversations with Beaton & Sousanis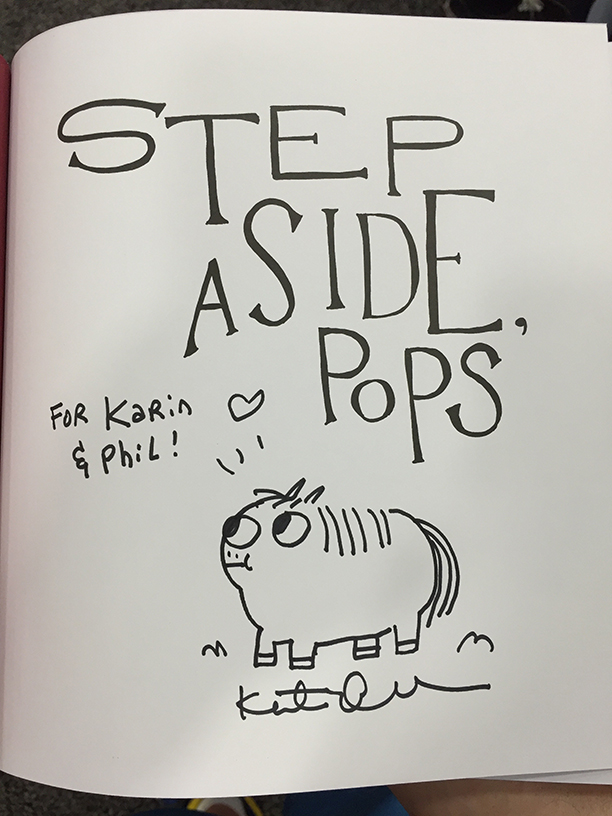 After the panel, I had only 30 minutes before I had to leave. So, I dashed down stairs to the convention hall, where I hoped to meet up with Eisner nominee Nick Sousanis – who'd just arrived earlier that morning – and to say goodbye to the Fantagraphics gang.  Said my farewells to all but Eric (who was moderating a panel), texted back-and-forth with Nick, and decided, well, yes, I could buy just one more book. So, over at the Drawn & Quarterly I bought Kate Beaton's latest, Step Aside, Pops, which she inscribed and decorated.
I also thanked her for The Princess and the Pony because it's great to be able to give my princess-obsessed niece a book about a warrior princess. Kate recommended Cherie Priest's I Am Princess X (2015) and Jeremy Whitley's Princeless (2012-). I said "Emily's 5. Would these…?" She said that they'd be for when she's a bit older. Looking at them on-line, now, I see that I Am Princess X is a YA hybrid comics/text, and that Princeless is marketed to kids from ages nine to 12, which (I think) means that Princeless could be something she's interested in sooner than that.
Nick arrived when only had about 5 minutes left. I stayed for 10, we chatted, parted, and – along the way back – I realized that, yeah, I really did need the full half hour to walk back to my hotel. Jogging a bit of the way, I narrowly made noon check-out and the shuttle to the airport.  (I had to leave because I'm scheduled to give a keynote at a picture books conference at Kent State on Monday. I'm leaving for that first thing tomorrow morning. Update: American Airlines cancelled my flight. So, I'm now scheduled to leave first thing tomorrow afternoon. Fingers crossed!)
The End?
So, I still worry that America is slouching towards fascism, that state-sanctioned murder threatens people of color every day, that extremism festers and erupts here (Make America White Again!) and abroad (most recently: Nice, Turkey, Munich, Kabul).  But, for a few days in San Diego, glimpses of a different possible future emerged – a future where people do not fear each other, but care for each other. A future where our interests bring us together. Yes, despair lingered at the edges of the Comic-Con experience, as it always does. However, the con was mostly a respite from the violence and hopelessness that afflicts us. And I'm grateful for that.
My previous years' reports from Comic-Con: