Happy Birthday, Dr. Seuss!  To celebrate the 113th anniversary of Theodor Seuss Geisel's birth, here are two things Seussian.
1. The True Story of Horton Hatches the Egg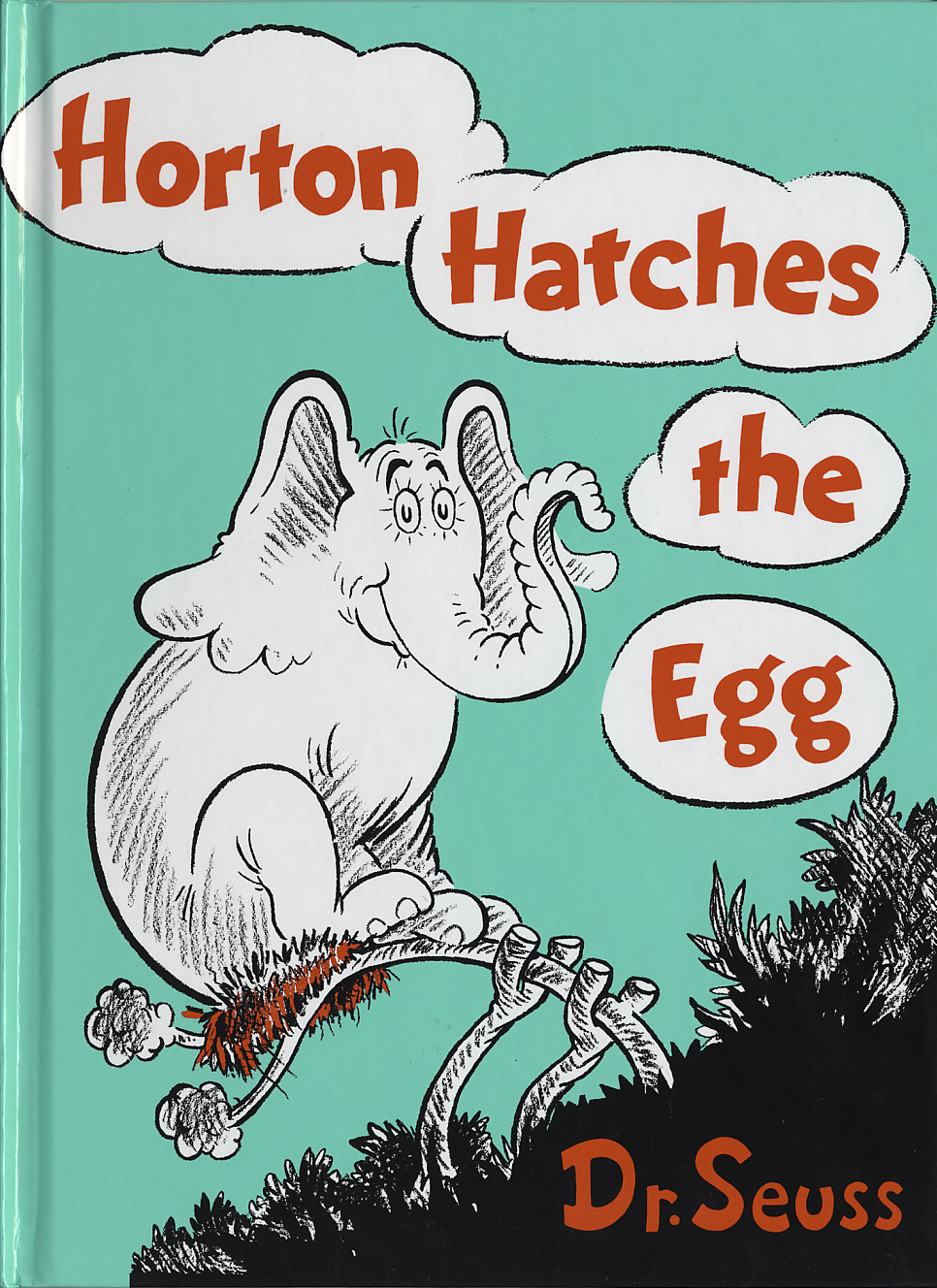 When asked how he came up with the idea of Horton Hatches the Egg (1940), Seuss would often give an answer like this (from a September 1972 interview):
Horton Hatches the Egg was a lucky accident. I was in my New York studio one day, sketching on transparent tracing paper, and I had the window open. The wind simply took a picture of an elephant that I'd drawn and put it on top of another sheet of paper that had a tree on it. All I had to do was to figure out what the elephant was doing in that tree. I've left my window open for 30 years since that, but nothing's happened.
That's a delightful story, but it's not true.  Not only do earlier accounts contradict it, but in a 1938 issue of Judge magazine, Seuss published "Matilda, the Elephant with a Mother Complex." In that story, an elephant also hatches an egg – but it does not turn out happily. Matilda's egg hatches, the bird sees her, and it flies off in terror. In contrast, Horton's baby elephant-bird chooses him over its biological mother, Mayzie.
This past December, Southebys attempted to auction some original art of Matilda – though not precisely the art used in that Judge story. It seems to be an earlier version of the art, but it's not clear how much earlier. Its provenance suggests it could be over a decade older.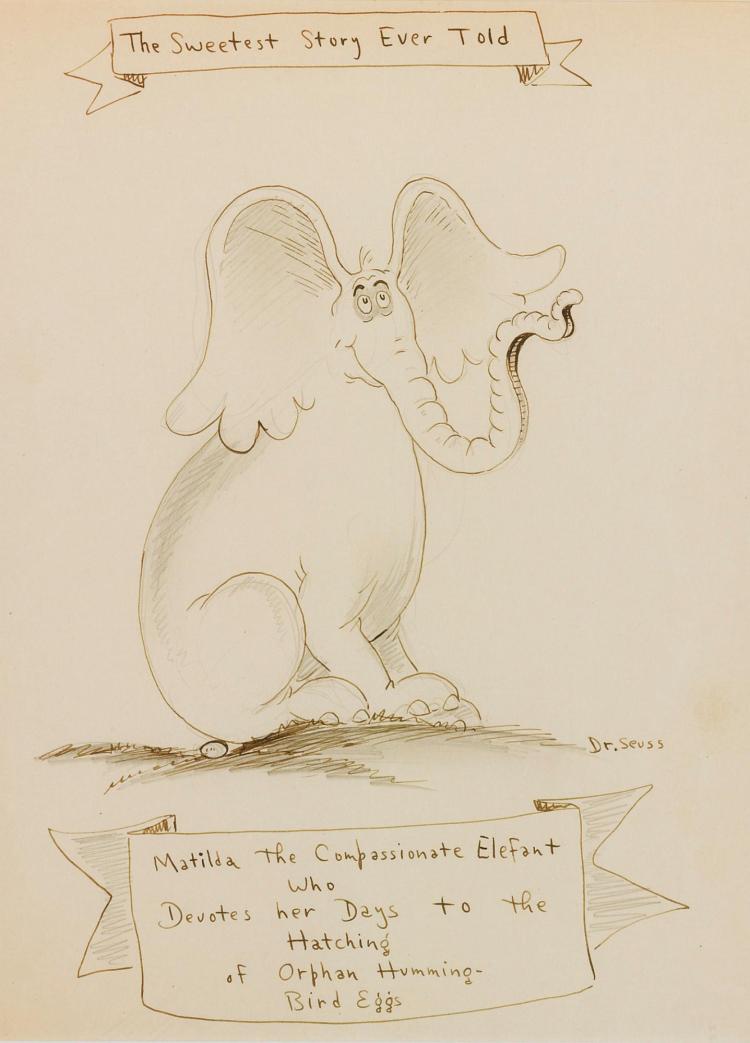 The auction described the piece like this:
ESTIMATE: $30,000 – $40,000
DESCRIPTION: signed Dr.Seuss pen-and-ink drawing on paper 10 1/2 x 6 1/2 inches; 11 x 8 1/2 inches (267 x 165 mm; 279 x 216 mm) Executed circa 1938.
CATALOG NOTE: A delightful original drawing comprising the earliest known version of Dr Seuss's beloved character Horton (here a femaile [sic] elephant, Matilda), looking very pleased with herself, seated on a small egg, with captions written on banners above and below the image.
The catalogue offers other information, some of it accurate and some of it less so. Â But let's skip ahead to the provenance:
PROVENANCE: Given by Geisel to Harvey Poe, Jr (born in 1916) while the artist was vacationing in Brookline, Maine (Harvey Poe, Sr managed the Mountain Ash Inn & Cottages, where the artist stayed). Mr Poe believes it was given to him when he was about 9 (i.e. 1925) and while this is of course possible, it seems more likely the drawing was given to him well after Geisel's return from Europe, probably soon after the similar design appeared in Judge magazine (April 1938).
Is the piece really from 1925? It could be. On June 23rd, Geisel graduated from Dartmouth, and two months later left for Oxford, England.  He was in the U.S. for most of 1925, and not far from Brookline, Maine.  In addition to New Hampshire (where Dartmouth is), Geisel was also in Springfield, Massachusetts (his hometown). Prior to then, he had been drawing cartoons for Dartmouth's Jack-o-Lantern.  Stylistically, however, this piece looks closer to his art from a decade later.
Priced at $30,000-$40,000, the original "Matilda" drawing failed to sell. Â To the best of my knowledge, it is still being held at Southebys. So, if you have that sort of cash lying around (I don't!), try bidding on next time it goes up for auction.
2. Me, talking about Seuss, yesterday on The Joy Cardin Show.
I was on for the entire 8 o'clock hour of yesterday's show.  Did I have anything interesting to say?  You be the judge.  Listen here.
---
To continue your celebration of Seuss's birthday, you may enjoy perusing other posts tagged Seuss. Here's a selection:
From time to time, I get asked to talk about Dr. Seuss:
---
Though the website design impedes its utility, Random House's Seussville's author section includes a bio. and timeline I wrote – the former heavily influenced by Judith and Neil Morgan's excellent Dr. Seuss & Mr. Geisel.  (If you read only one book about Dr. Seuss, the Morgans' bio is the one I'd recommend.) Happy Read Across America Day!*

---

*Each year on or near March 2nd (the birthday of Theodor Seuss Geisel, a.k.a. Dr. Seuss), the National Education Association sponsors Read Across America, designed to promote literacy. This year, it's being celebrated on Wednesday, March 2nd. Read more about it at the NEA's website.
---