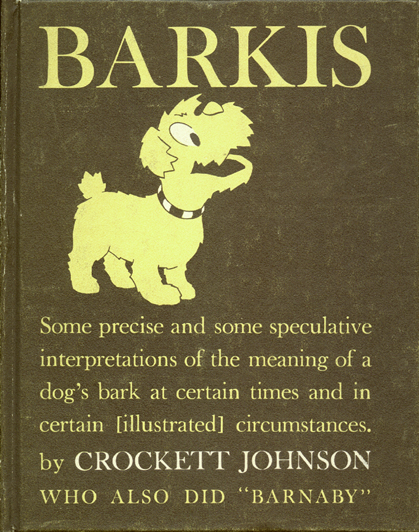 Immersion in the thoroughly copy-edited manuscript has prevented me from getting more cuts up here, but there are plenty to share.  As noted in the post from earlier in the week, the copy-editor was also charged with reducing the length of Crockett Johnson and Ruth Krauss: How An Unlikely Couple Found Love, Dodged the FBI, and Transformed Children's Literature (coming from UP Mississippi in September 2012).  So, the editing is quite… extensive.
She's very thorough and, while I do not agree with all of her suggestions, our collaboration is producing a much stronger manuscript.  It forces me to reconsider each choice, every word, everything I'd decided to include.  Sometimes, a cut is easy to make.  For example, I had no trouble following her recommendation to cut this paragraph from a chapter on Crockett Johnson's (a.k.a. Dave's) childhood:
The Queens of Dave's youth strained under its rapid growth.  Between 1910 and 1925, Corona experienced a housing boom that ended only when there was no more land on which to build. Public School 16 opened in 1908, was already overcrowded by 1911, and siphoned off its excess population when Public School 92 opened in 1913 – about a year after Dave began attending P.S. 16. Although the development was great news for someone in the lumber business (as Dave's dad was), the unpaved streets were treacherous for automobiles, and the absence of both speed limits and mandatory drivers' licenses made crossing the road dangerous for pedestrians.
Other examples convey the urbanization of Queens; this one is less interesting than the others. Â So, away it goes.
What I find most difficult are those I've come to think of under the heading "The Dog Problem." Â These are examples that, while still somewhat contextual, nonetheless inform our sense of who Crockett Johnson or Ruth Krauss were, or of what their work meant. Â I call them the "Dog Problem" because the copy-editor has thrown out all stories concerning Johnson's dogs — or, at least, all of them through Chapter 17 (I've not finished going through all of the manuscript). Â He was a dog person, and so dogs were a major part of his life and hers. Â As a result, I'm uncomfortable with these omissions. Â It's not enough to note that they had dogs (a fact which she does retain). Â On the other hand, how many of these dog stories does the book really need? Â My compromise, at this point, has been to restore the 1947 dog story, to relocate the early 1940s story to The Complete Barnaby Vol. 1Â (coming from Fantagraphics, June 2012), and to omit this one, from Johnson's first marriage:
Mary Elting and Franklin "Dank" Folsom found them great company, full of humorous stories. Dave and Charlotte had two dogs, one smart and the other not. They used to leave their screen door unlocked ("nobody locked doors in the Village in those days," Mary says), allowing the dogs to go out into the garden when they pleased. The smart dog figured out how to open the door to come back inside, but the dumb dog did not. When it was raining, the smart dog liked to dash inside, and close the door behind him, leaving the other one out in the rain. Dave chuckled at the antics of his pets.
Johnson's experience with dogs inform the creation of Gorgon (Barnaby's dog), Barkis (from his short-lived, single-panel comic), and other dog characters. Â They're less of an influence on Krauss's work, but very much a part of her daily life. Â So, the book ought to have at least one dog story… and now it does!
One "Dog Problem" I'm struggling with right now is from Chapter 17. Â She's marked this paragraph for deletion:
Ruth and Dave also befriended psychiatrist Gil Rose, his wife Ann and their children, after they moved to Rowayton in 1955. An aspiring writer of children's books, Ann admired Ruth's work.  Gil enjoyed talking about psychology with Ruth, and often went sailing with Dave on the Five Mile River. One day, as they set out on the river, Dave said, "You know, this river is exactly five miles long."  Gil, thought, ah, what a wonderful congruence of truth and language: the river is named Five Mile River because it's five miles in length. After a few moments, Dave added, "Of course, that wasn't the original name. The original name was, after the fact that there were five mills on the river, it was called the Five Mills River." In other words, Gil says, "so much for language and truth."  That, he notes, was typical of Dave's sense of humor – "iconoclastic, pithy."
The book contains other examples of Dave's wit. Â Does it need this one? Â Well, in the sense that there are other examples, no, I don't suppose it does need it. Â On the other hand, in the sense that it sets up a later sailing story (that I'm definitely going to retain), it is important. Â The anecdote also helps create character, which is good. Â Dave's reticent tendencies have made him particularly hard to bring to life. Â Ruth was much more outgoing, outspoken, lively. Â As a result, she's much easier to animate on the page. Â So, I've marked this one with a post-it note. Â I'm thinking about it, and will return to it later. Â Should you have any thoughts on whether or not to retain it, do feel free to share them in the comments section, below.
---
If you failed to find this post unbearably dull, you might also enjoy posts tagged Crockett Johnson or Ruth Krauss or Biography.  Indeed, if you have read this far and yet remain conscious, why not try reading some of these related posts?  Go on.  I dare you.