For a week in February of 2011, I blogged exactly what I did each day – the goal being to show precisely how academics spend their time. Starting today, I'm beginning the summer edition of the same experiment. From today through Friday the 18th, I will publicly keep track of how I use my time as a Professor of English at Kansas State University… who is ostensibly on "summer vacation."
My motive? Professors often hear, "How nice that you get summers off!" It is true that we do not teach in the summers – if we elect not to teach, and there are plenty who do teach.  One gets paid for teaching, and if you've received no raise in (for example) 5 years, then that's a way to pick up "extra" money.  I elect not to teach, and instead continue the unpaid work of service and research.  I say "unpaid" because I do not receive a salary from the university in the summers. But I do other work.  And, since I gave my last final yesterday, today would be the first day of my summer.
Saturday, 12 May 2012.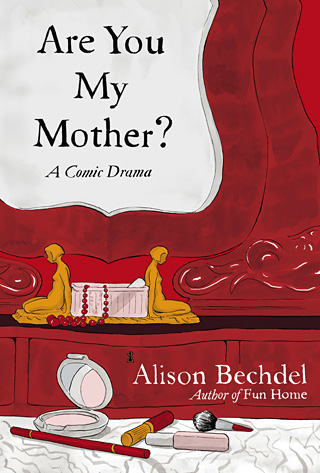 12:00 – 12:45 am.  Preparing for bed.  In bed, started reading Alison Bechdel's Are You My Mother? (2012), which is great — and, incidentally, connected to my field (I teach and study children's literature and comics/graphic novels).
12:45 – 8:00 am. Asleep. First time I've gotten over 7 hours of sleep since — well, since the previous weekend. Â Night before, I only got 4 hours. Â 5, the night before that.
8:00 – 8:15 am. Â Up, checking weather. Â Light rain. Â Run or not? Â While dithering over that question, checked into Facebook.
8:15 – 8:30 am. 50 jumping jacks, pre-running stretches, dressed for running.
8:30 – 9:15 am. Â Ran 4 miles (I'm not very fast), during which I also stopped at a playground for a set of what I call upside-down push-ups (keeping body in plank position, head facing up, do chin-ups on bar close to ground) and one set of chin-ups. Â Especially pleased about the latter: it's the first time I've been able to do them since injuring my left hand in a bicycling accident on the 1st of the month. Â (I seemed to have pulled/bruised some muscles in the hand. It's recovering, but slowly.)
9:15 – 9:30 am. Drank water, read email, wrote the preceding.
9:30 – 9:45 am. Â Post-running exercises. Â Restricted myself to abdominals. Since injuring left hand, have been avoiding the push-ups. Â Think I might be able to manage them again, but am wary of exacerbating injury. Â Decided to reintroduce them after Monday's run.
9:45 – 10:00 am.  Breakfast!  Also read Gail Collins' "The Anatomy of a Jokester" (found article via Facebook feed, HT to Toni Tadolini).  Though Mr. Romney changes his political positions with the shifting political winds, I think he may be telling the truth when he says he doesn't remember bullying people in high school.  People on the receiving end of power remember acutely the injustices done to them; powerful people can more easily forget the injustices they inflict.  The bullied have longer memories than the bullies.
10:00 – 11:30 am. Â Shower, shave, dress, recycling, lamp, talk. Â To explain the last half of that, despite its population of over 50,000, Manhattan Kansas has neither municipal trash service nor recycling pick-up. Â We (as do most residents) pay an independent company for trash pick-up, but take in the recycling ourselves. Â "Lamp" = "took in lamp to be repaired," and "talk" = "chatted with Karin, who had returned from graduation" (as Dept. Head, she is obliged to attend).
11:30 – 11:35 am. Â Answered email (business).
11:35 am – 12:45 pm. I intended to finish grading my last finals yesterday (this final took place yesterday afternoon). Â I did start grading them, but I instead got involved with other business (professional emails & my blog, mostly). Â So, first task is to finish this last set of finals.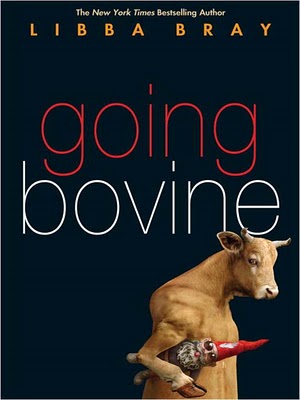 12:45 – 1:40 pm. Brought in supplies (purchased by Karin), read to her from Libba Bray's Going Bovine, which is just entering its "road trip" phase.  If you haven't seen the trailer for this book, you should go and watch it.  With lunch, we caught up on the Colbert Report – Wednesday's episode.
1:40 – 2:40 pm. Lissa Paul and I are invited speakers at a children's literature conference in Oslo, late August. Â I've been meaning to buy my plane tickets (for which the conference will reimburse me) since… February. Â Assisted by Karin, I've got the tickets, which also includes a visit (prior to the talk) to my 1-year-old niece and her parents (in Basel, Switzerland). Â Always a challenge plotting travel from Manhattan Kansas to, well, to anywhere. Â Also contacted conference organizer with my travel, and tried to see if Lissa and I had made notes for a description of our talk (it's on Keywords for Children's Literature, which she and I co-edited).
2:40 – 3:00 pm.  Checked into Facebook, read about Gov. Brownback's plans to bankrupt the state, allowing him to further cut funds to public schools and social services. Also read this great piece on a company that makes toys based on children's drawings (hat tip to Brian Herrera).  Couldn't find notes for talk, so dropped Lissa a line re the talk description.  Emailed my sister re above-mentioned travel plans.
3:00 – 5:20 pm. Â Resumption of grading. Â Music: Buddy Rich Quintet & Max Roach Quintet's Rich vs. Roach (1959). Â Those drums keep me awake and focused! Â Also listened to a "Different Rhythms" mix-in-progress of drum-based music. Â And finished grading.
5:20 – 5:40 pm. Â Calculated final grades, entered final grades, checked them, and then submitted them for this. Â (Turned in grades for other two classes on Thursday.) Â Also helped Karin cart in the groceries. Â So, excepting the odd complaint, that's it for the term! Â I'm hoping there are no complaints, but — since the gradebook is electronic — students have been this week kvetching about their grades, sending me emails. Â Perhaps that's gotten it out of their systems. Â I don't know.
5:40 – 6:10 pm.  Re-read some of Maurice Sendak's books: Where the Wild Things Are (1963), Hector Protector and As I Went Over the Water (1965), Alligators All Around (1962), What can you do with a shoe? (words by Beatrice Schenk de Regniers, 1955), How Little Lori Visited Times Square (words by Amos Vogel, 1963).  Recently, I decided that I should, over time, collect the Sendak books I didn't have.  A couple of months back, I picked up a used copy of Marcel Aymé's The Wonderful Farm (1951, though my copy is a 1994 reprint): that's the first book he illustrated for Ursula Nordstrom, who would be his editor for so many of his greatest works.
During this period of time, I also responded to a professional email.
6:10 – 7:10 pm.  Read Karin Going Bovine during dinner prep.  Watched a Daily Show with dinner.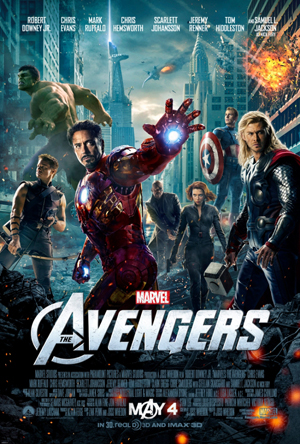 7:10 – 10:10 pm.  To the movie theatre for… The Avengers!  A clever adaptation.  Joss Whedon's script supplies ample wit, and his direction brings the action.  SPOILER ALERT: I want to read the death of the fan (Agent Phil Coulson, played by Clark Gregg) as a comment on the fans who've threatened to boycott The Avengers over Marvel and Stan Lee's poor treatment of those who actually created the work.  You know: Kill the fans!  But I suspect I'm locating themes that Whedon didn't weave into it.  The film was a great example of its genre.  I wouldn't say that it fully overcame the limitations of the contemporary superhero film, but it did a fine job working within those confines.  Whedon understands the characters, their relationships, and gave Black Widow a real role in the film; she was an equal with the other Avengers.  Oh, and since I teach and write about comics, I could officially count this as "work"!  Ha!  Often, I think that the lack of a boundary between my professional life and personal life can be a problem.  In this instance, I'm actually quite delighted.
10:10 – 10:30 pm. Â Wrote the preceding and watched the CBS Sunday Morning profile on Whedon.
10:30 – 11:15 pm. As liaison between the Children's Literature Association and the Modern Language Association, I was asked to send in a report (to the former) this past Monday – the beginning of exam week, likely the busiest week of the term. Â The other cause for my delay is that I no longer have time to execute my duties as well as I would like: I manage to get all essential stuff in on time (i.e., MLA deadlines are met), but I'm otherwise just too overwhelmed. Â When I started in 2007, I could keep up. Â Now, I find that impossible. Â Unfortunately, my term as liaison doesn't end until 2013. Â BUT my larger point is: I worked on the report. Â Tried and failed to locate my notes from the meeting; have contacted Executive Committee of MLA Children's Lit Division, since they will have meeting notes. Â I've asked if I can step down before 2013 (when my term ends), but I've been told that I cannot.
11:20 – 12:00 pm. Â Wrote up some of the preceding (I've been keeping track all day). Â Noodled around on a mix. Â I make mixes for fun. Â This one is a gift for a friend. Â (Ain't sayin' who!)
Total work time: 6 hrs, 40 min. Â I didn't include The Avengers, but I did include ten minutes each time we read Going Bovine, and the re-reading of Sendak. Â Thinking about and reading children's literature (& culture) is my job.
For the previous "What Do Professors Do All Week?" experiment, I used a children's book for each day of the week; this, time, I'll include a song. Â Here's the Godfathers' "Birth, School, Work, Death" (1986)

If you found this post tedious, then you certainly won't enjoy:
The full "What Do Professors Do All Summer?" series (May 2012): Sunday, Monday, Tuesday, Wednesday, Thursday, Friday, & Summertime, and the Living Is Busy (the final post).
The full "What Do Professors Do All Day?" series (Feb. 2011): Saturday, Sunday, Monday, Tuesday, Wednesday, Thursday, Friday, & What Do Professors Do All Week? (the final post).
Other posts tagged Academe, Advice, or Autobiography.