Continuing what I started yesterday, I'm continuing this week's chronicle of what a professor does in the summer. As noted, it's an attempt to make visible the work that academics do when most people think we're on holiday. So. If you found yesterday's post dull and yet slogged through it anyway, then you're in luck: today's post will continue to be disappointingly mundane.
Sunday, 13 May 2012.
12:00 – 1:15 am. Tooled around a bit more on that mix, started dishwasher, washed dishes-that-don't-go-in-dishwasher, checked in on Facebook, prepared for bed. Â Read another chapter of Fun Home.
8:00 – 9:30 am. Â Watched CBS Sunday Morning, in anticipation of seeing a tribute to Maurice Sendak. Â The show did a brief piece on three people who died this week: Nicholas Katzenbach, Sendak, and Vidal Sassoon. Too brief, but they got Sendak right, noting that he didn't uphold the romantic ideal of childhood. Â I checked into Facebook & Twitter. I read Maria Nikolajeva's family chronicle (part 1, part 2, part 3). I think these chronicles have a particular interest for me because my own family is diasporic: my immediate family lives in New England, Mexico, and Switzerland; extended family (cousins, aunts & uncles) in South Africa (mostly), England, California, and Australia (though, to be honest, I've long since fallen out of touch with the cousin in Australia).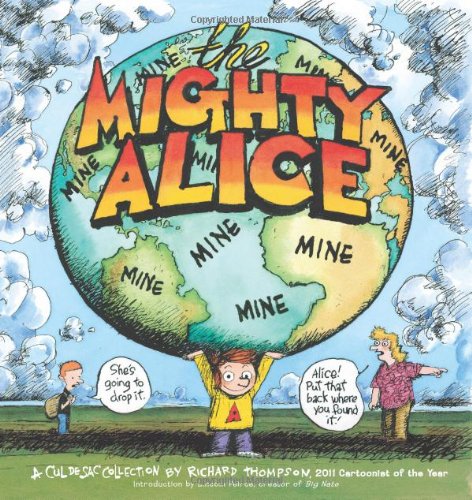 I read pieces on Maurice Sendak by Steven Heller and Shirley Hughes, and updated my links of Sendak tributes (at the bottom of my own reminiscence).  Read Anita Silvey's piece on Kevin Henkes' Lily's Purple Plastic Purse. So glad she does this blog.  For Mother's Day, posted (on my blog) a clip of Bruce Springsteen dancing with his 90-year-old mother (planned weeks ago, when I found the clip). Speaking of Mother's Day, today's Cul de Sac (a repeat from 2008) is great, as always. On list of books I need to get: The Mighty Alice, the latest Cul de Sac collection.
9:30 – 9:40 am. Read Sunday comics.
9:40 – 9:50 am. Â Answered email (academic). Â Found notes Lissa and I made (back in January) for our Oslo Keywords talk.
9:50 – 10:50 am. Actually wrote up and turned in my ChLA-MLA liaison report, thanks to Lori Cohoon's meeting notes. Â (Thanks, Lori! Â And thanks to Jennifer Miskec, who sent them to me.) Â Also, more email. Â And spent a few minutes fiddling with that mix I mentioned last night. Â And made plans to talk to Lissa re: Oslo Keywords talk this afternoon. Â So, mostly but not entirely work during this period.
10:50 am – 12:00 pm. Â Finished mix, burned it, made label. In the shower, I came up with a promotional idea for the bio of Crockett Johnson and Ruth Krauss. Â Have proposed this idea to press; we'll see what they say.
12:00 – 12:30 pm. Wrote personal emails. Added another Sendak link to my reminiscence (at bottom of page).
12:30 – 1:35 pm. Lunch. Also caught up on the last 2 weeks' worth of daily comics. The Kansas City Star runs 2 pages of comics, but I sometimes fall behind. Â Usually, I catch up on the weekend, but last weekend was too busy, evidently.
1:35 – 2:05 pm. Nap.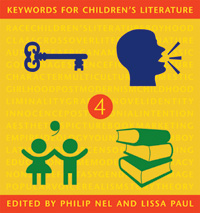 2:05 – 2:30 pm. Â Spoke with Lissa Paul re: our Oslo Keywords talk, and friendly conversation, too. Â My work conversations tend also to be conversations with friends – which makes it hard to separate work from non-work.
2:30 – 2:55 pm. Â Wrote up description of our Oslo talk, and sent it to Lissa for review. Also responded to my sister re: visiting her (& Michel & my niece, Emily!) prior to that talk. I booked my ticket for a day later than she'd advised me to. (To arrive in Zurich on a Friday, one would need to lave Kansas on a Thursday. D'oh!) I seem highly accident-prone in booking international travel. I once arrived a day late to a conference in Japan because I forgot to factor in the fact that I would be crossing the International Date Line.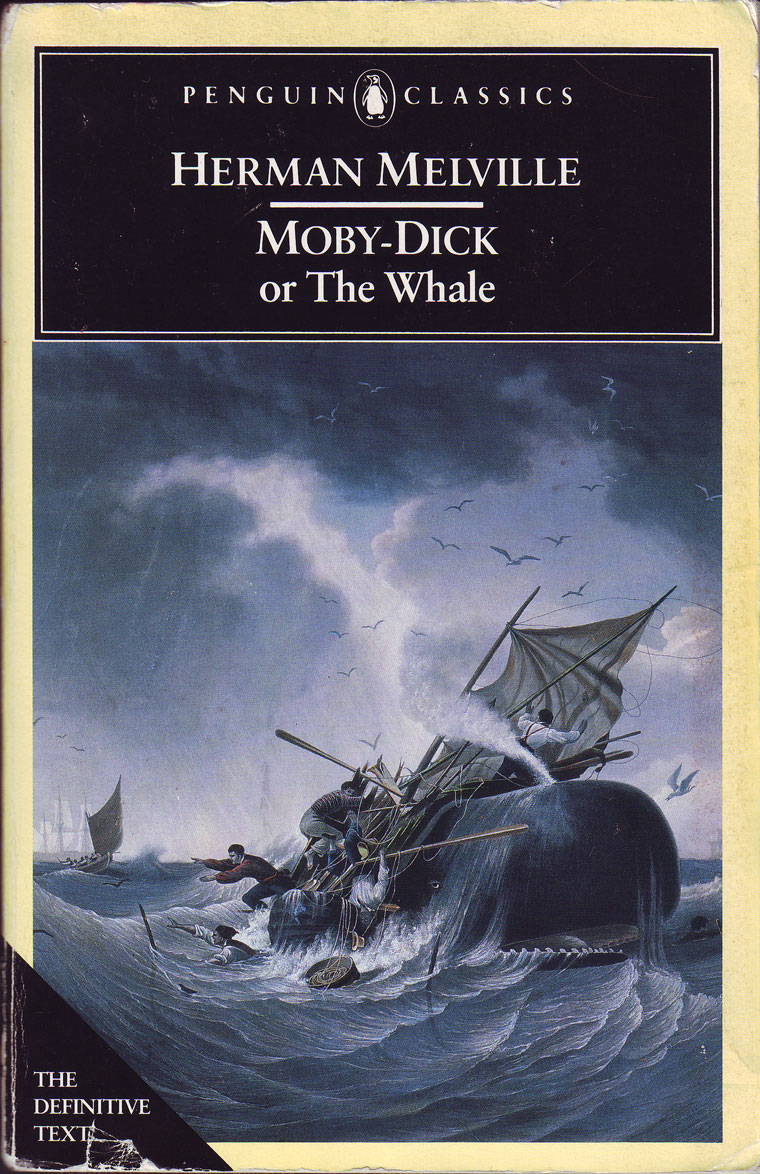 2:55 – 3:15 pm.  Spoke/typed via gmail chat with Jennifer Hughes. This was mostly friendly conversation, though we did talk a little bit about our article on Moby-Dick and Jeff Smith's Bone. We finished revisions last weekend (it was accepted with revisions by The Journal of Graphic Novels and Comics), and have been waiting on permission from Jeff Smith.  That was granted (thanks, Jeff!), and now his assistant is preparing to send us the images we're going to use — this will ensure that only the best quality images of his work appear in print.
3:15 – 6:00 pm.  Professional correspondence – though, here, too, these colleagues are also friends.  So, though it's correspondence with more of a "business" purpose, it's also friendly.  Also, in my capacity as ChLA-MLA liaison, sent in to the Children's Lit Association's Kathy Kiessling the ChLA MLA Call for Papers 2013, edition.  Reviewed copy-edited book review for South Atlantic Quarterly – it's of Eric Tribunella's Melancholia and Maturation, which is really good.  My review (which says that & more) will appear in SAR … well, I don't know when.  Fall, perhaps?  Received Lissa's comments on our description, and sent it off to Nina Christensen (one of the conference organizers).  I've never been to Norway before, and am looking forward to going.
6:00 – 6:50 pm. Â Phone call to Mom. Â Happy Mother's Day to all you mothers out there!
6:50 – 7:00 pm. Â Checked Facebook.
7:00 – 8:00 pm. With dinner, watched last week's Mad Men: "Lady Lazarus." Â Also folded laundry and watched the extra "Inside Mad Men" bit (it comes with the iTunes subscription).


8:00 – 9:30 pm. Watched this week's Sherlock: "The Hounds of Baskerville."
9:30 - 10:45 pm.  Folded & put away laundry.  Finished weekly email to family that I started at around noon.  Called United to see if I could make my August flight a day earlier, in order fix my mistake.  I can.  Annoyed at myself for being an idiot (costs me a couple hundred bucks to make the change), but this is the better option – the trains I would have had to take instead would be comparably expensive.  Perhaps someday, I will learn how to use these travel websites.  (True, on that day, I could save myself further money by just hitching a ride on the nearest flying pig.)  Also read Tim Goodman's analysis of the Mad Men "Lady Lazarus" episode.  And worked on this blog post.
10:45 – 11:25 pm.  Thinking about my graphic novel class in the fall, read Michael A. Chaney's "Is There an African-American Graphic Novel?" in Stephen Tabachnick's Teaching the Graphic Novel (2009). The only book I've read that might "qualify" is Mat Johnson and Warren Pleece's Incognegro (2008). Chaney mentions four books I need to read before ordering my books for the fall: Ho Che Anderson's King; Aaron McGruder, Reginald Hudlin, and Kyle Baker's Birth of a Nation; Lance Tooks' Narcissa; and Dwayne McDuffie and Robert L. Washington's Static Shock.  The books by McGruder and Tooks are out of print.  King is in print, but only in hardcover.  The descriptions, on-line, look excellent.  This article also led me to Christian Davenport's discussion of black superheroes.

Looked at some other essays in Tabachnick's book. Â Also emailed Charles Hatfield (who, incidentally. wrote the opening essay in Teaching the Graphic Novel) re: the essay-length version of my contribution to his "Why Comics Are and Are Not Picture Books" panel. Â It's on the docket for this week.
11:25 – 11:40 pm. Â Answered some queries re: the Children's Literature Program. Â People want to know whether we have a doctorate or an on-line version. Â We do not have either. Â Usually, I answer these queries within 24 hours, but — since all were asking for something we cannot provide — I'm a bit tardier than usual. Â One query was from a few days ago, but another was from April 26. Â What happens is emails to which I can offer a helpful reply get priority; other, less urgent ones, get buried in my in box. Â This is not an excellent system, I admit.
11:45 – 12:00 pm.  Logged into Facebook, answered professional email via Facebook — friend putting me in touch with possible book-promotion event this fall.  Need to follow up again with Fantagraphics: Until I have a definite date on The Complete Barnaby Vol. 1, it's too early to schedule anything.  Really hope that they manage to bring this book out by September (they'd originally said June, but delays in finding strips have slowed the project down).  If this book and the bio. can come out more or less at the same time, then there are potential cross-promotional opportunities.  If they don't, then there aren't.  Also checked Twitter.  Watched this lovely short (3-minute) animated film:

Believe it or not, it's a student project. Â Hat tip to Rebecca Coffindaffer on Facebook.
Total work time: 5 hrs, 40 min. Â Not the most productive Sunday I've ever had, but I'm OK with that. Â It's been a busy term.
In conclusion, here's today's musical number: the Monkees' "Pleasant Valley Sunday" (1967, written by Carole King & Gerry Goffin):

If you found this exercise in educational exhibitionism to be unbearably tedious, then you'll also want to miss:
The full "What Do Professors Do All Summer?" series (May 2012): Saturday, Monday, Tuesday, Wednesday, Thursday, Friday, & Summertime, and the Living Is Busy (the final post).
The full "What Do Professors Do All Day?" series (Feb. 2011): Saturday, Sunday, Monday, Tuesday, Wednesday, Thursday, Friday, & What Do Professors Do All Week? (the final post).
Other posts tagged Academe, Advice, or Autobiography.