Starting on Saturday, I began blogging a summer-work-week in the life of an academic – specifically, me.  We are now up to day 5.  The goal is simply to show – in as much detail as I can – precisely what I do in the summer. Indeed, if all academics who have a blogs did this, perhaps we could put to rest once and for all the myth that professors "have the summers off."  Well, it's a nice thought, anyway.
Wednesday, 16 May 2012
12:00 – 12:44 am. Â Posted yesterday's chronicle, and then realized that I'd failed to include a song. Â Added the song. Â Shared the post via Facebook & Twitter. Â Composed the above. Â Watched the first five minutes of Isao Hashimoto's Time Lapse Map of Every Nuclear Explosion since 1945.
Educational, elegant, and alarming.
12:45 – 1:45 am.  Prepared for bed, read another chapter of Bechdel's Are You My Mother?  Why can't I seem to get to bed before midnight?
1:45 – 8:00 am. Â Ah, sleep that knits up the raveled sleeve of care, the death of each day's life. Â And so on.
8:00 – 8:25 am. Â Got up, did jumping jacks, stretched, checked email and Facebook. Â Answered one professional email.
8:25 – 9:10 am. Â Ran 4 miles & at playground en route did chin-ups (still only one set, due to hand) and upside-down push-ups. Â (See Saturday for explanation of upside-down push-ups).
9:10 – 9:30 am.  Read email, checked into and responded to Facebook.  Read "Revenge of the Liberal Arts Major" — good news for English and other Humanities grads.  Hat tip to Libby Gruner.  And thanks to Gwen Tarbox, read publisher Weldon Owen's amusing (but also mostly accurate) chart, "How a Book Is Born."
(Click for slightly larger image.)
9:30 – 9:45 am. Email: professional correspondence.
9:45 – 10:15 am. Â Post-running exercises. Â Abdominals and modified push-ups (due to wonky left hand, done on fists instead of on palms or on weights). Â Also answered one professional email.
10:15 – 10:45 am. Â Breakfast! Â Also business phone calls.
10:45 – 10:50 am.  Aggle Flaggle Klabble!  Watched brief video clips of my 13-month-old niece, Emily.  My sister just sent 'em!  ♥!  Which reminds me: dear readers, watch for a new installment of Emily's Library in the next week or so.
10:50 – 11:00 am. Â Made doctor's appt for a physical on Monday, at which time I will also inquire further about left hand (I did get it checked out after the accident, but it's recovering more slowly than I'd like). Â The 10-minutes' time here, incidentally, reflects the need to coordinate my schedule with Karin's (since we share a car). Â I would bike to the appt., but the left hand still isn't up for biking.
11:00 – 11:50 am.  Shower, shave, dress.  Also answered one business email, and wrote two more (both re: Complete Barnaby).  So, let's say 25 minutes to ablutions and the other 25 to work.
11:50 am – 12:35 pm. Back to the comics/picture books essay! Â Edited & revised what I did last night, added some new examples. Â Oh, and a little more business email.
12:35 – 1:25 pm.  "Lunch break!  Lunch break!" (as Lucy says in A Charlie Brown Christmas, when Snoopy arrives with his supper dish).  Also finished Bechdel's Are You My Mother?  It is, as her mother says near the end, "a metabook."  It's as much about Fun Home as it is about her mother.  It's more interior than Fun Home, which (for me) in part accounts for the many references to Virginia Woolf.  While Fun Home will continue to be taught in undergraduate and graduate classes, Are You My Mother? will more likely appear in the graduate seminar, as a companion piece to Fun Home.
1:25 – 1:40 pm. Â Some business correspondence. Â Also, Jules Walker Danielson sent me a link to this Rolling Stone snippet, which includes the following video. Â At 1:42, you will hear rapper El-P say, "Rest in peace, MCA. Â Rest in peace, Maurice Sendak."

How many children's authors get name-checked in popular songs?  There are several examples in which Dr. Seuss makes an appearance (R.E.M.'s "The Sidewinder Sleeps Tonight," O.C. Smith's "Little Green Apples," to name two).  A moment like this suggests the degree to which Maurice Sendak is embedded in our cultural consciousness.  His passing is a major event, acknowledge not just by fans and friends, but people from many walks of life.  I think, too, that, taken together, these many tributes tell us what Sendak signifies in the popular imagination.  (See my page of artists' tributes, the New York Times' collection of artists' tributes, The Comics Journal's page, and then the links at the bottom of this page.)  I should write about this.  We children's literature people need to organize a panel on Sendak for the 2014 MLA (the 2013 MLA is already set).  Someone needs to edit a collection of essays on him.  Me.  Or if someone else is already doing this, then I need to contribute to it.
1:40 – 2:24 pm.  My mind is on Maurice. Kristy (from The Comics Journal) has just sent me the marked-up version of my Comics Journal essay (I adapted and abridged it for my TCJ obituary.)  I'd asked to revise the piece in light of his passing.  Since I am thinking about him, I decide to do this now.  Such a genius, such a loss. In his honor, I'm listening to Mozart's Wind Serenades (K.375 & K.388) as I revise.  During this process, was interrupted by two different telemarketers.  Are their charitable organizations that respect donors' rights to privacy?  If so, I'd be interested in learning who they are.
2:20 – 2:24 pm. Updated Sunday's blog post with small parenthetical & responded to my sister's comment on same.
2:24 – 3:24 pm.  Revised TCJ Sendak piece.  Listened to Mozart's Clarinet Quintet K.581 ("Stadler"), Quartet K.378, and Trio for Piano, Clarinet and Viola K.498 ("Kegelstatt").  Sent it back to Kristy at TCJ.  I think we can now call it done, at last!
3:24 – 4:30 pm.  Back to the comics/picture books piece, starting with a brief analysis of the Krauss-Sendak collaboration I'll Be You and You Be Me, and then on to Will Eisner! Chris Ware! Roberto de Vicq de Cumptich! Crockett Johnson!
4:30 – 4:35 pm. Â Watched the (brief) video of Emily aggle-flaggle-klabble-ing several times. Karin thinks Emily's glottal sounds reflect a German influence. This seems possible, though I haven't listened to enough non-German babies babbling to either verify or refute that hypothesis.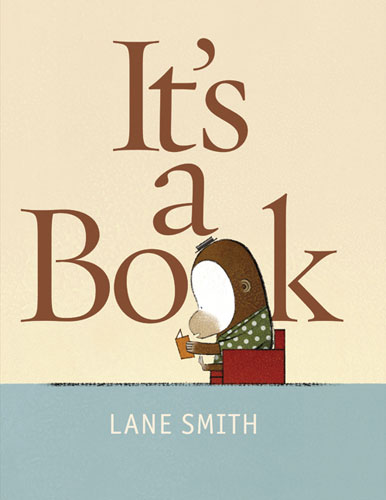 4:35 – 5:00 pm.  More work on the comics/picture books piece. Ian Falconer! Lane Smith! Wanda Gág! Leo Lionni! I'm quite pleased with how this piece is turning out, if I do say so myself.  Also: this is the kind of intellectual labor that I find particularly rewarding. I can (and always will) do administrative tasks, but the thinking part is most interesting.
5:00 – 5:15 pm. Â Responded to a few comments on the blog. Â As all of these conversations were academic in nature, I'm counting this towards the day's total "work time." Â I note also that I've had a tendency to underreport work time because I often forget that the fun parts of my day (such as conversation with a colleague) include work & work-related matters, too.
5:15 – 5:35 pm. Guitar break! Â Left hand is improving – able to do those E-string major barre chords a bit better today. Â Played: Cure's "Friday, I'm in Love" (and, yes, I know it's only Wednesday), the Brecht-Weill composition "Mack the Knife" (lyrics translated by Marc Blitzstein, made popular by Bobby Darin), the Ventures' "Walk – Don't Run," the Traveling Wilburys' "Handle with Care," and the biggest hit of the 1890s – "Daisy Bell (Bicycle Made for Two)." Â Incidentally, if you've never heard Blur's cover of that song, check it out. Â My own version oscillates between traditional and a slightly more football-hooligan-esque (i.e., Blur-like) rendition of the chorus.

5:35 – 6:35 pm. Iced my left hand (something I also did yesterday after the guitar-playing, just for good measure), and paced around the house, thinking: if one were to edit a collection of essays on Maurice Sendak, who should be in it?  Came up with a tentative list of names, plus several ideas for a co-editor.  Also would include extracts from my interviews, perhaps at the back.  Had idea for second book on Sendak, which would go into UP Mississippi's Conversations with… series, and thought about which interviews should be included in such a series.  Also, it's always worth remembering that I have far more ideas than I'll ever be able to act upon.  So, I need to be judicious in choosing my projects.  Currently, I only have one book (well, series) under contract – The Complete Barnaby.  In sum, I would like to do this, and I will make enquiries.  However, the most important thing is that someone should do this.  It doesn't have to be me.  But it should be done.
6:35 – 7:15 pm.  Checked into Facebook. Among other things, read Michael Patrick Hearn on Maurice Sendak at Monica Edinger's blog (Educating Alice) & added the link (to bottom of this page). Wrote Jules back (re: the name-check of Maurice Sendak by El-P, above).
7:15 – 8:25 pm.  Read Going Bovine to Karin, watched the only Daily Show we'd yet to see from last week, watched a bit of Rachel Maddow.
8:25 – 10:15 pm. Â More on the comics-and-picture-books essay. Â Am I nearly done with this revision? Â I might be.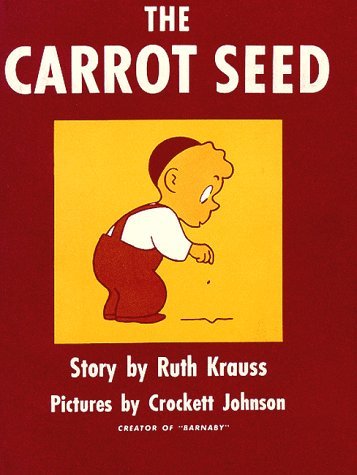 10:15 – 11:00 pm.  Wrote back to Jules Danielson (again, check her excellent Seven Impossible Things Before Breakfast, the best blog about picture books).  Oh, speaking of good children's lit blogs, I was delighted to see The Carrot Seed make Betsy Bird's poll of the top 100 children's picture books.  Sure, it should be higher than 100.  But at least it's there!  She calls it "picture book haiku.  Not a word out of place."  Also started to compile list of essential Sendak-books-that-I-don't-already-own-copies-of.  And, yeah, ordered a few – all out of print – via AbeBooks.com.  At present, I own around 35 to 40 of the over 100 books he illustrated.  I don't need them all, but it seems to me that a children's literature scholar can never have too much Sendak!
11:00 – 11:40 pm. Back to comics-picture-books essay, briefly. Â Then wrote back to Michael Patrick Hearn, whose tribute to Maurice Sendak you really must read. Â Then back again to the essay. Â I think it might now be done. Â I'm not sure. Â I want to re-read parts of Nathalie op de Beeck's book, which I've left in my campus office. Â I also need to compile a list of all the literary works to which I refer. Â And re-read Moebius's classic essay, which informs what I've written but is not specifically cited anywhere — same is true of Nodelman's Words About Pictures. Â It's an influence, but might be acknowledged.
11:40 pm – 12:00 am. Â Set up tomorrow's post. Put some books away (books I'd been writing about). Washed dishes. Â Started dishwasher.
Total work time: 9 hours, 30 minutes.
Right! Â Time to conclude with a little music. From Disney's Enchanted, here's Amy Adams introducing (and then performing) "Happy Working Song." Â Dancing rats and cockroaches! Â What's not to like?
What, you say?  Even after reading this, there's still not enough tedium in your day?  Well. I can help you there:
The full "What Do Professors Do All Summer?" series (May 2012): Saturday, Sunday, Monday, Tuesday, Thursday, Friday, & Summertime, and the Living Is Busy (the final post).
The full "What Do Professors Do All Day?" series (Feb. 2011): Saturday, Sunday, Monday, Tuesday, Wednesday, Thursday, Friday, & What Do Professors Do All Week? (the final post).
Other posts tagged Academe, Advice, or Autobiography.