The week's ongoing experiment in trying my readers' (or "reader's," singular?) patience continues. Â In a (possibly misguided) attempt to make academic labor visible, I'm documenting how I spend my days during this first week of summer, when academics are allegedly "on vacation." Â Here is day 3.
Monday, 14 May 2012.
12:00 – 1:55 am. Â Caught and fixed a few typos in yesterday's post. Â Responded to some Facebook stuff. Â Also responded to kind note from comics scholar extraordinaire, Prof. Charles Hatfield. Â Whenever I have questions about comics, I always turn to Charles. Â Washed some dishes, put others in dishwasher. Â Prepared for bed, read another chapter of Bechdel's Are You My Mother?
1:55 – 8:00 am. Â Sleep.
8:00 – 8:31 am.  Rose, 50 jumping jacks, stretched.  Posted link to yesterday's post on Twitter.  Checked into Facebook as well.
8:31 – 9:15 am. Â Ran 4 miles. Â In playground en route, included both upside-down push-ups (see Saturday for explanation) and chin-ups, without further injuring left hand.
9:15- 9:20 am. Â Turned on sprinkler to encourage new grass. Â Also removed some brush/weeds that I'd been meaning to remove.
9:20 – 9:50 am. Â Inside. Â Drank water. Â Checked Twitter. Â Gary Groth has posted an excerpt from his forthcoming (in The Comics Journal) interview with Maurice Sendak. Â Must read this after finishing exercises. Â His description of Maurice as "gregariously grumpy" is exactly right. Â Wrote two professional emails, and one personal one (to my sister).
9:50 – 10:20 am. Â Post-running exercises. Did abdominals, as per usual. Â For the first time since injuring my left hand, experimented with push-ups. Â The only way I can do them is to make a fist, and use my fists to hold me up — but the fists aren't quite as resilient a structure as flat hands or hands holding onto weights. I could not do the usual number: muscles capable, but left hand starts to spasm (& so I stop). Â Disappointing, but at least I'm doing these again.
10:20 – 10:50 am. Â Breakfast! Â Also responded to some people on Twitter. Â Took a second look at the NYT's collection of artists' tributes to Maurice Sendak. Â Art Spiegelman, Tomi Ungerer, Marc Rosenthal, Bob Staake, others. Â Here's Spiegelman's. Â (Click for a larger image.)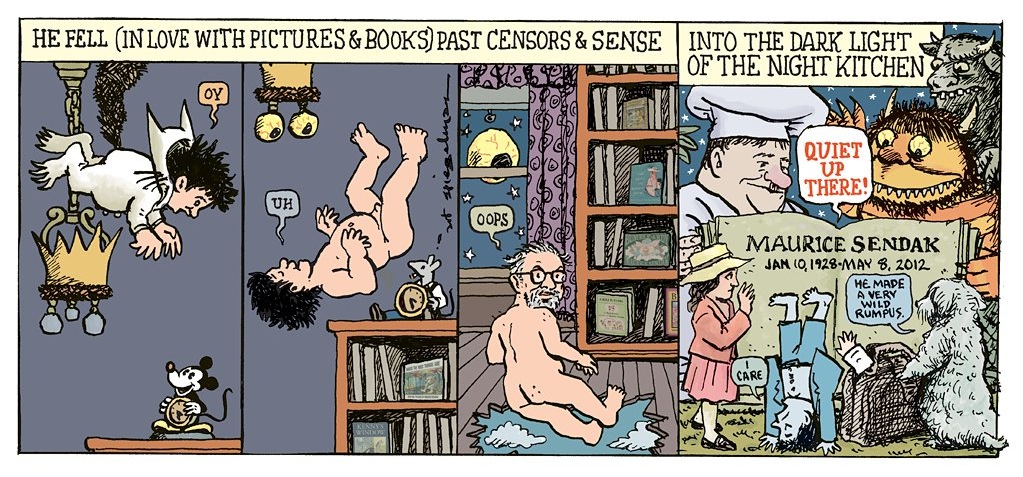 And check out the others artists' work on the Times' page, too. Â Have added this and Michael Rosen's tribute (hat tip to Susan Marie Swanson on Twitter) to collection of links at bottom of my tribute.
10:50 – 11:30 am. Â More business correspondence, including following up with Eric Reynolds at Fantagraphics. Â Having received updated meeting notes from Lori Cohoon, I also updated the Children's Literature Association MLA liaison's report & sent the new version into Kathy at ChLA.
11:30 – 11:35 am. Wrote back to my cousin, Caro.
11:35 – 11:50 am. More  business correspondence, including note to Jeff Smith's assistant at Cartoon Books.  So great we'll be able to use (in our article on Moby-Dick and Bone) pristine images from the artist himself.  Thanks, Kathleen!
11:50 am – 12:20 pm.  Shower (& shave & dress) at last!  (The problem of checking email before finishing exercises means that I also end up answering it before showering.)  Listening to Fake Natives' Fake Natives.  Local band influenced by late 1970s / early 1980s new wave.  Good stuff.  Check out title track and "West Is Best" for starters.  After seeing them last Friday, I promised the lead singer that I'd send him a mix of Robyn Hitchcock — I think he'd like Hitchcock.  Need to do that.
12:20 – 12:40 pm. Business correspondence: good response from Eric at Fantagraphics. I'm finding out ways I can pitch in to help move The Complete Barnaby Vol. 1 more swiftly to press.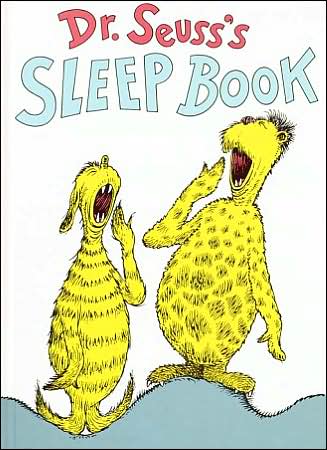 12:40 – 1:20 pm. Lunch!  Also read another chapter of Bechdel's Are You My Mother?… which extended my lunch for another 10 minutes or so.  I think the chapter "Mind" is where this book is really coming together for me — and not just because it makes extended use of the plexiglass dome in Dr. Seuss's Sleep Book (!).  One of my tasks for this summer (I would like to say "for this week," but let's be realistic, shall we?) is posting a sampling of my Seuss students' "Sighting Seuss" projects.  Really interesting work.
1:20 – 2:00 pm. Â Barnaby-related correspondence. Â Also, revised that ChLA-MLA liaison report yet again. Â Oy.
2:00 – 2:30 pm. Â Personal-professional correspondence. Â Well, in truth, this one is more personal. Â But Jules Walker Danielson (who runs the BEST picture book blog, Seven Impossible Things Before Breakfast) is one of my children's lit buddies. Â And music buddies! Â Speaking of, during this time period, also burned that Robyn Hitchcock mix for Dan (lead singer of Fake Natives). Â Gotta burn Jules a mix, too.
2:30 – 2:35 pm. Â Prepared to leave for campus to attend meeting.
2:35 – 2:50 pm. Â Walked to campus. Â Wish my left hand had recovered enough to work the bicycle's brakes.
2:50 – 4:30 pm. Â Arrived 10 minutes early so that I could get a seat. Â Meeting: "Special Session of the Faculty Senate: Faculty and Unclassified Salaries. How Do We Align Salaries with 2025?" Â Room was packed. Â Excellent turn-out from faculty and staff. Â At Kansas State University, we receive no cost-of-living raises, and only get merit raises when there's money (last one was 5 years ago). Â In January, we did get an across-the-board 2.5% raise — which President Schulz described as a de facto "cost-of-living raise." Â But that's a one-time event. Â In sum, the meeting was to address the long-term salary compression problems faced by those who work for the university — a side effect of the nationwide movement to privatize erstwhile public higher education. Â (Kansas State University receives 23%-24% of its budget from the state. Â The legislature and governor prefer an indirect tax on the students — in the form of tuition increases — to keep the university going. Â Kansas favors tax breaks for businesses and the wealthy, and increasing the costs that everyone else has to pay.) Â The meeting was worth attending, and our President is an effective administrator and communicator. Â However, whether anything will come of this discussion remains to be seen.
4:30 – 4:45 pm. Â Walked home.
4:45 – 5:30 pm.  Wrote the preceding, undertook more business correspondence (including Barnaby/Fantagraphics and invited talk in Missouri next spring), & sent off FINAL version of that liaison report.
5:30 – 5:50 pm. Â Personal correspondence. Â Quick note back to Jules Danielson, & note to my mother.
5:50 – 6:50 pm. Â Routledge editorial work. Â I have been meaning to get to this all day. Â I became editor of Routledge's Children's Literature and Culture series last June, which is proving to be more time-consuming than I'd anticipated. Â I think I was last caught up on these in… March.
6:50 – 7:15 pm. Read Going Bovine to Karin during dinner preparation.
7:15 – 8:25 pm.  Watched last night's Mad Men: "Dark Shadows."  Also read this and this.  I love learning about the research that Matthew Weiner & co. build into the episodes.  The New York Times piece that upsets Pete was a real article.  Oh, and if you enjoy the "Inside Mad Men" pieces, here's the one for that episode (with, yes, spoilers).

8:25 – 8:35 pm. Â Professional correspondence – which, like all such correspondence, is partially personal.
8:35 – 9:00 pm. Â More Routledge work. Also snuck in a tiny bit of professional correspondence.
9:00 – 9:10 pm. Â Added this Mo Willems piece to my Sendak links (at the bottom of this page). Â Hat tip to Jules Danielson. Â Also added this reminiscence from Alec Baldwin.
9:05 – 11:05 pm. Â Routledge work, which is: reading sample chapters, proposals, & writing responses to same.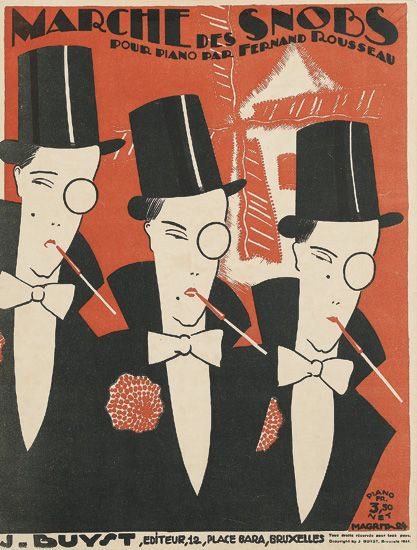 11:05 – 11:45 pm.  Checked into Facebook, read Libby Gruner's Sendak tribute, which I've added to my Sendak links (bottom of this page).  I think it will take all of us children's literature people quite a while to work through the loss. It's so huge, so vast.  Immeasurable, really.  Also looked at these beautiful sheet music covers by René Magritte from the 1920s (HT to Bill Genereux).  Magritte is one of my favorite artists.  Never seen these before.
11:45 pm – 12:00 am. Â More business correspondence, all Barnaby-related. Â Some connected to volume 1, and some connected to volume 3. Â (It's a 5-volume series, & the goal is to publish 1 per year.)
Total work time: 7 hours, 45 min. Â Main problem today was all of that email. Â I predict a decline in email volume tomorrow, during which I will get up to date on Routledge stuff, and get cracking on this piece theorizing comics and picture books — needs to be restructured, developed, etc.
Concluding with a song. Â Predictably, it's New Order's "Blue Monday" (1983).

If you found this tour through the mundane to be alarmingly bland, then I suspect you'll want to avoid:
The full "What Do Professors Do All Summer?" series (May 2012): Saturday, Sunday, Tuesday, Wednesday, Thursday, Friday, & Summertime, and the Living Is Busy (the final post).
The full "What Do Professors Do All Day?" series (Feb. 2011): Saturday, Sunday, Monday, Tuesday, Wednesday, Thursday, Friday, & What Do Professors Do All Week? (the final post).
Other posts tagged Academe, Advice, or Autobiography.