In this installment of my Emily's Library series, I notice there are more contemporary books than usual. I didn't plan it that way – there are certainly more classics I'd like her to have! But, as noted in earlier posts, my goal is to give my three-year-old niece a personal library of really good books, mixing classics and contemporary, well-known and more obscure. Growing up surrounded by beautiful books increases the likelihood that she'll not only learn to read, but enjoy reading. And by "reading" I of course mean reading both words and pictures. Since (at this stage) nearly all of the books in Emily's library are picture books or comics, she also has a small art museum right there in her bedroom. When I think of her shelves of literary-visual art, and choosing books for her parents to read (or perusing them herself), I am happy.
I share these titles in my Emily's Library posts because (since I'm a scholar of children's books) people often ask me to recommend books for children. Though the selection does of course reflect my own idiosyncrasies, I hope my brief synopses for each title help direct you to good books for the young people in your life.
Note to Emily's parents: a bunch of these are Christmas gifts. So, you'll see 'em soon! (Note to others: Emily does not yet read this blog & so I won't be spoiling her surprise.)
Ronan Badel, The Lazy Friend (2014)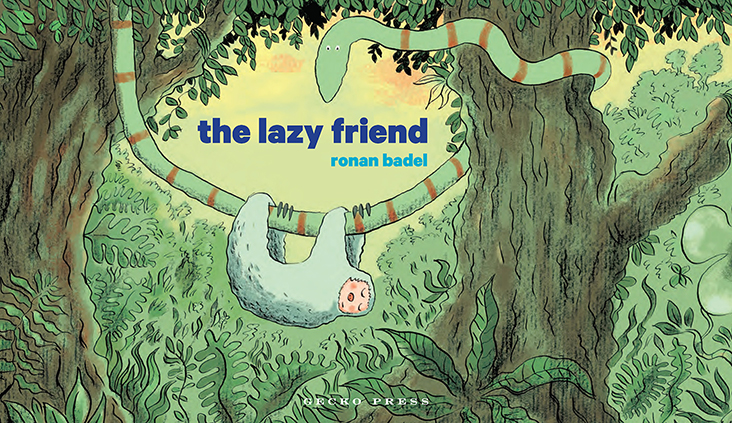 This wordless picture book shouldn't work, but it does. For all but one page, the title character – a tree sloth – is sound asleep. Apart from clinging (to a tree branch or to his friend, the snake), he only sleeps. That's it. As the back cover boasts, the book is a "wordless adventure story about a sloth who does absolutely nothing." Badel sets up the sloth as the straight man (or straight sloth?): his friends' responses make the book work. When the tree to which he clings gets cut down and loaded onto a logging truck, the snake sneaks on board, as toucan and tree frog (the other two friends) bid them both a sad farewell. The book then follows sloth and snake on an adventure – of which only the snake is aware. I don't want to spoil the ending here, but suffice it to say that the book is a comedy.
Ramona Badescu and Benjamin Chaud, Pomelo et la grande aventure (2012) [Pomelo's Big Adventure (2014) in its original French]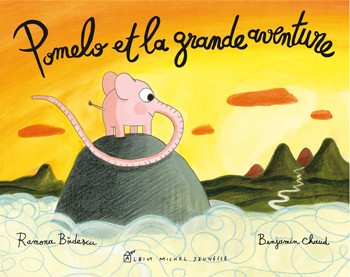 Another adventure with our favorite little pink elephant. So far, Enchanted Lion Books has translated four of Pomelo's adventures into English. Here's hoping they keep on going – there are many more Pomelo books en français! In this installment, Pomelo discovers the pleasures and challenges of travel. A story that is by turns philosophical and whimsical, Pomelo et la grande aventure manages to capture a child's sense of excitement and uncertainty in facing new things. Chaud's artwork offers the eye much to explore: sometimes, tiny Pomelo is nearly hidden; always, he appears in a new location in each two-page spread. Pomelo drives a car, and sails a boat. He meets a rat who swindles him, and a large grey elephant who shares his food. He makes a new friend. It's a tender and sometimes amusing tale of what we learn when we travel.
Kelly Bingham and Paul O. Zelinsky, Z Is for Moose (2012)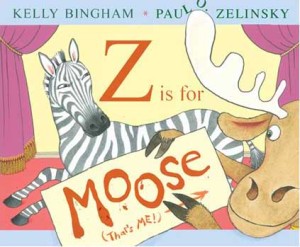 If you ask Emily whether "Z" is for "Moose," she will respond, "No! 'Z' is for 'Zebra'!" Like Mike Lester's A Is for Salad (2000), this book also creates a kind of absurdist pedagogy, as it presents false claims and readers respond with corrections. Its premise: referee/director Zebra is presenting a theatrical performance, in which each item or animal (one per letter) takes the stage in alphabetical order. Moose, however, finds it difficult to wait his turn, and keeps entering at the wrong moments, upstaging the others. When the performance reaches the middle of the alphabet, "M is for Mouse" and Moose is upset. From the narrative conflict between Moose and Zebra to the game of finding the actual thing named by the letter (behind or displaced by Moose), Bingham and Zelinsky's Z Is for Moose is a fun read-aloud.
Cécile Boyer, Rebonds (2013) [Run, Dog! (2014) in its original French]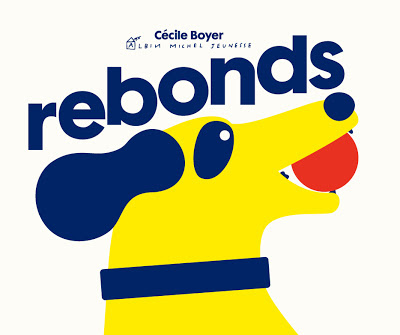 A book of few words, Rebonds follows a friendly dog's adventures, as he pursues a ball in a park. He chases it onto a trampoline, through a picnic, interrupts young lovers on a park bench, and generally creates a little (or adds to the) chaos wherever he goes. The dog is in one color palette, and the rest of the book uses a different one. The vibrant yellow dog's body, his dark blue collar, and red tongue contrast nicely with the mostly mono-chromatic other creatures: humans (all in dark blue silhouettes), birds (pink, light blue, dark blue, grey), park bench (pink), trees (light blue), and cars (grey). On the right side of every other two-page spread, Boyer has two small pages – one, a third of a page, and the other, two thirds of a page. Echoing a slowly paced flip-book, turning these pages-within-pages creates movement, as ball and dog disrupt each scene. Like her earlier Ouaf Miaou Cui Cui (2009) (Woof Meow Tweet Tweet [2011], featured in an earlier Emily's Library post), Rebonds is a beautifully designed book.

Virginia Lee Burton, The Little House (1942)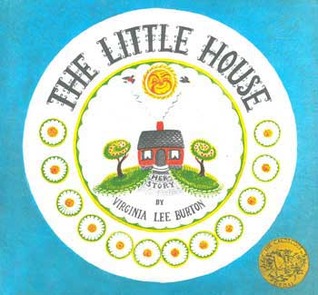 A classic story about time and change, Virginia Lee Burton's The Little House places its title character at the center (well, bottom center) of nearly every right-hand page, while the expanding metropolis gradually transforms the pastoral landscape into a bustling, noisy cityscape. Burton identifies the house as "she," but – apart from her pink color – does not gender the house, visually. The two windows on either side of the front door serve as eyes, with the gaps at the bottom of the pair of closed curtains acting as pupils. The curved front doorstep smiles, or does not smile, when Burton flattens its curves. But the book's genius is in its design: Burton manages to tell a dynamic, engaging story about a house that (except near the end) does not move. Tracking the many changes in the house's environment is as compelling as the narrative itself. Required reading for all students of the picture book, and highly enjoyable reading for the graphically inclined of any age.
Benjamin Chaud, Coquillages et petit ours (2012) [The Bear's Sea Escape (2014) in its original French]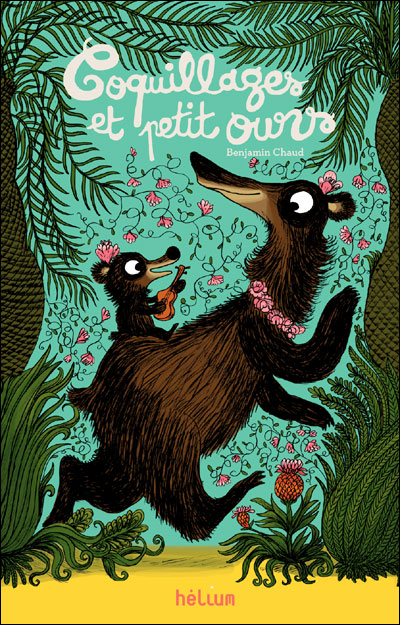 If you enjoyed Une chanson d'ours [The Bear's Song] (included in the last Emily's Library post), then you'll certainly want to check out Coquillages et petit ours [The Bear's Sea Escape]. Picking up the narrative where the last book left off, Papa Bear and Little Bear are in the city but need a place to hibernate. Papa Bear chooses the toy section of a department store. As he starts to sleep, a little boy adopts Little Bear and heads out of the store. Papa Bear awakens and begins his pursuit. As in Une chanson d'ours, each two-page spread has a degree of detail reminiscent of Richard Scarry or even Martin Hanford (Where's Waldo?). As Papa Bear looks for Little Bear, readers, too, can scan the pages until they find him as well.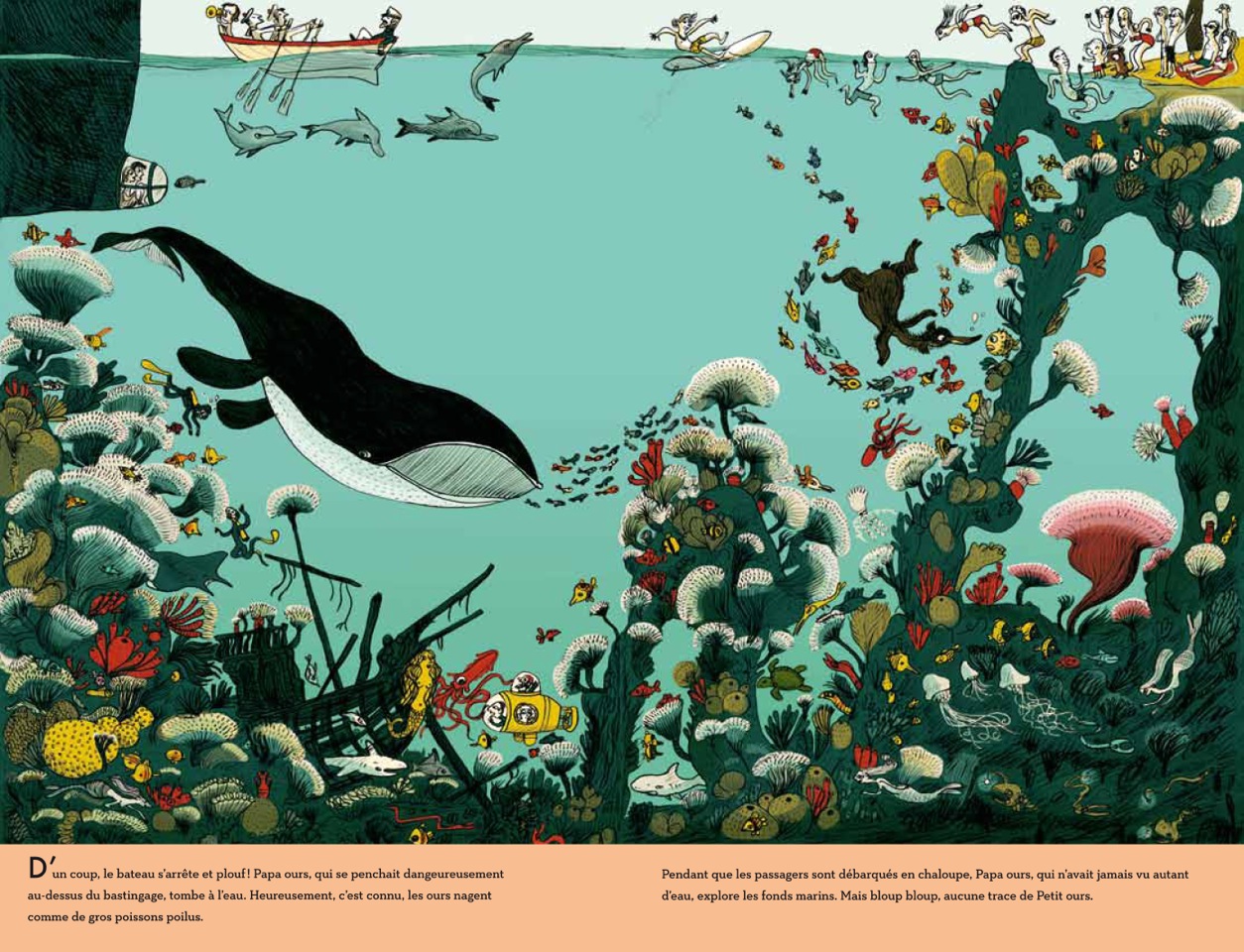 Mike Curato, Little Elliot, Big City (2014)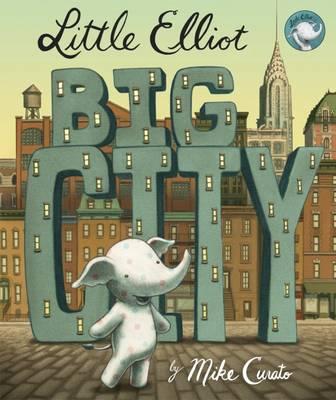 In vivid illustrations whose use of space and perspective really draw you in, Curato's tale of a small cupcake-loving polka-dotted elephant (Elliot) has heart. As he walks through a 1940s New York City, Elliot is dwarfed by the others in the subway, and can't be seen over the countertop in the bakery, but enjoys "the little things" (a flower growing between cracks in the sidewalk) and "small treasures" (a top, jacks, roller-skate key, playing card). I think that the book's treatment of the central character's height will resonate with younger readers: to be a child is to exist in a world designed for giants, where everything is too large, too wide, or out of reach. Curato captures that experience well. It's sweet without being pat – and that's a delicate balance to achieve.
To learn more about this book and Mike Curato's creative process, see Jules Danielson's post over at Seven Impossible Things Before Breakfast.
Tomie de Paola, Nana Upstairs & Nana Downstairs (1973)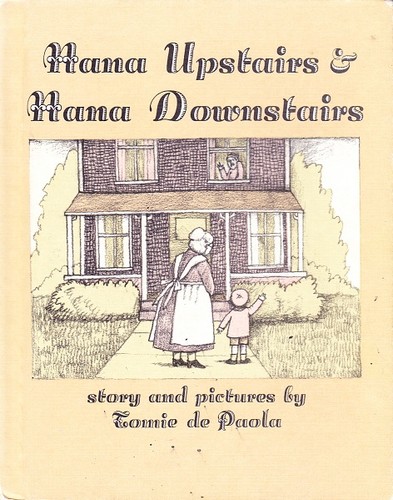 Emily is 3 years old. But she has relatives in their 90s – including one relative she's quite close to. For that reason, I've given her parents both this book and Wolf Erlbruch's Duck, Death, and the Tulip (see below). When the time comes or when Emily starts asking questions, I want them to have stories to help her understand. Stories help families talk about difficult issues – like the fact that we are all mortal. One day, people she loves will die.
In Nana Upstairs & Nana Downstairs, Tommy has "a grandmother and a great-grandmother," both of whom he loves "very much." Since grandmother "always seemed to be standing by the big black stove in the kitchen" and great-grandmother "was always in bed upstairs" (because she was 94), he called them "Nana Downstairs and Nana Upstairs." The book talks about the time they spend together – talking, eating candy, telling stories. Then, Nana Upstairs dies. Tommy asks what the word means. His mother says, "Died means that Nana Upstairs won't be here anymore." Tommy confronts her empty bed, begins to cry, and asks, "Won't she ever come back?" His mother tells him, "No,… Except in your memory. She will come back in your memory whenever you think about her."
Wolf Erlbruch, Duck, Death, and the Tulip (2008) [Ente, Tod und Tulpe (2007) in English]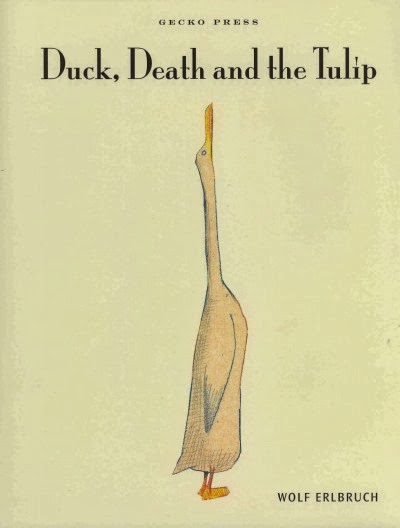 This is the second book about death I've given to Emily – the first is Nana Upstairs & Nana Downstairs (see above). Where de Paola offers realism, Erlbruch provides allegory. Duck meets Death – represented here as a person in a housecoat with an oversized skull for a head. When Duck stands upright (as she does when they meet), the two are the same height. Visually, Erlbruch has set them up as equals. Understandably, Duck is nonetheless at first unnerved, asking "You've come to fetch me?" Death responds, "Oh, I've been close by all your life – just in case." But, as the two get to know each other, they become friends. They talk about life and what (if anything) may come after. When Death is damp after being in the pond, Duck offers to warm him, spreading her feathered body over his housecoat-clad one. Near book's end, she also feels cold, and dies. Death carries her to the river, and, placing a tulip on her chest, "laid her gently on the water and nudged her on her way."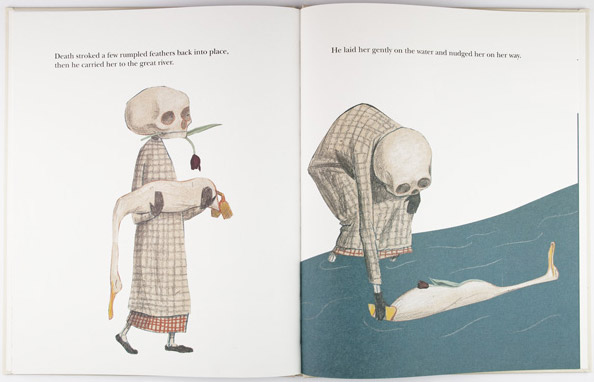 The book concludes:
For a long time he watched her.

When she was lost to sight, he was almost a little moved.

"But that's life," thought Death.
It's a gentle, profound book that asks the right questions, and helps us think about the answers.
Elise Hurst, Imagine a City (2014)
Hurst's Imagine a City invites readers to a "world without edges," where anthropomorphic animals and people coexist, the subjects of paintings reach beyond their frames, buses are giant flying fish, and bears ride bicycles. The art makes the book feel both very contemporary and classic. Her pen-and-ink drawings seem to have time-traveled from another era – that of Edward Ardizzone, E. H. Shepard, or maybe Winsor McCay. The visual motifs (especially the flying fish) recall Shaun Tan and David Wiesner. It's as if she's brought her sketchbook into a parallel, surreal world, and – in this book – collected sketches of what she saw during her travels. To the best of my knowledge, this book has been published only in Australia. So, attention publishers of North America and Europe (and other locations): publish this book in your countries!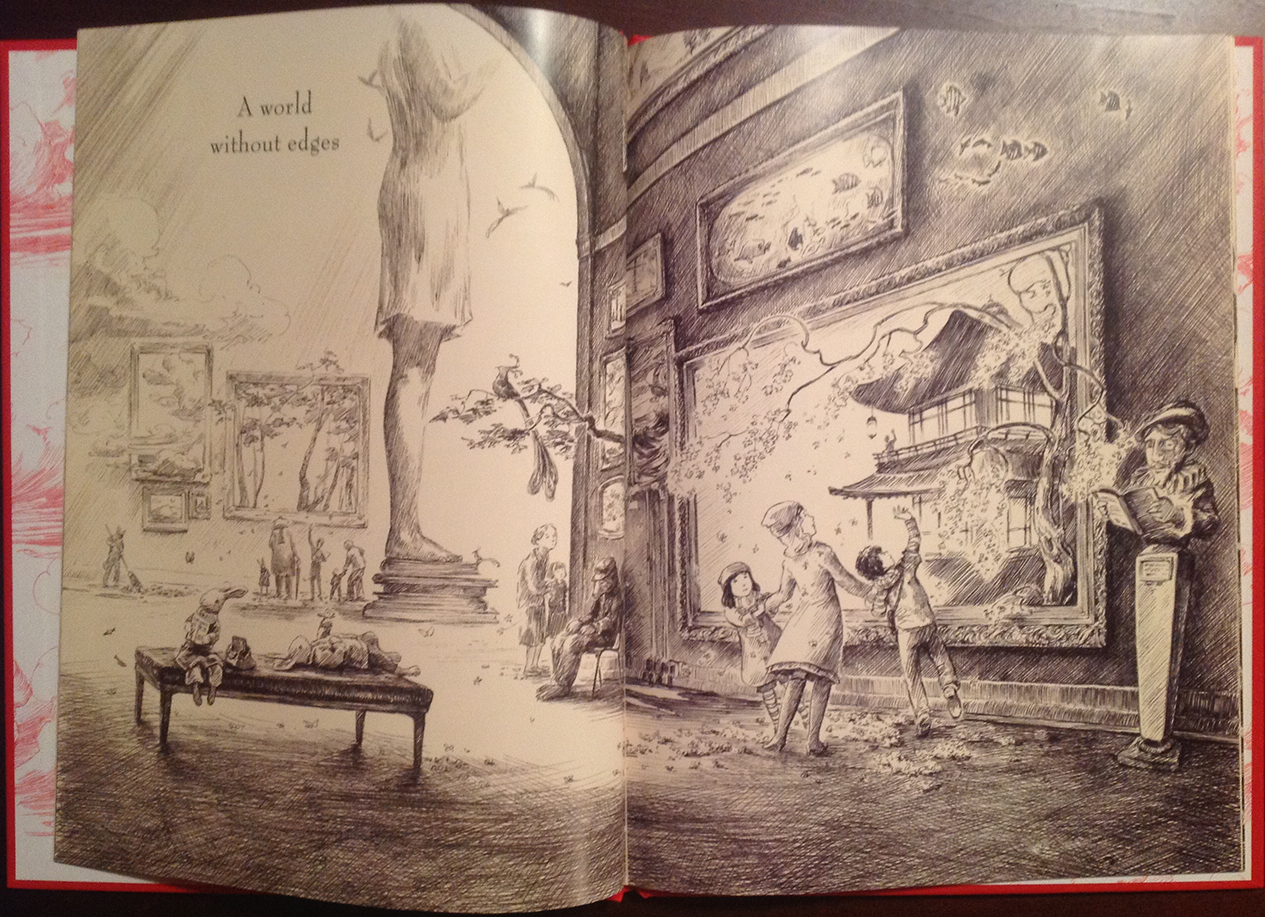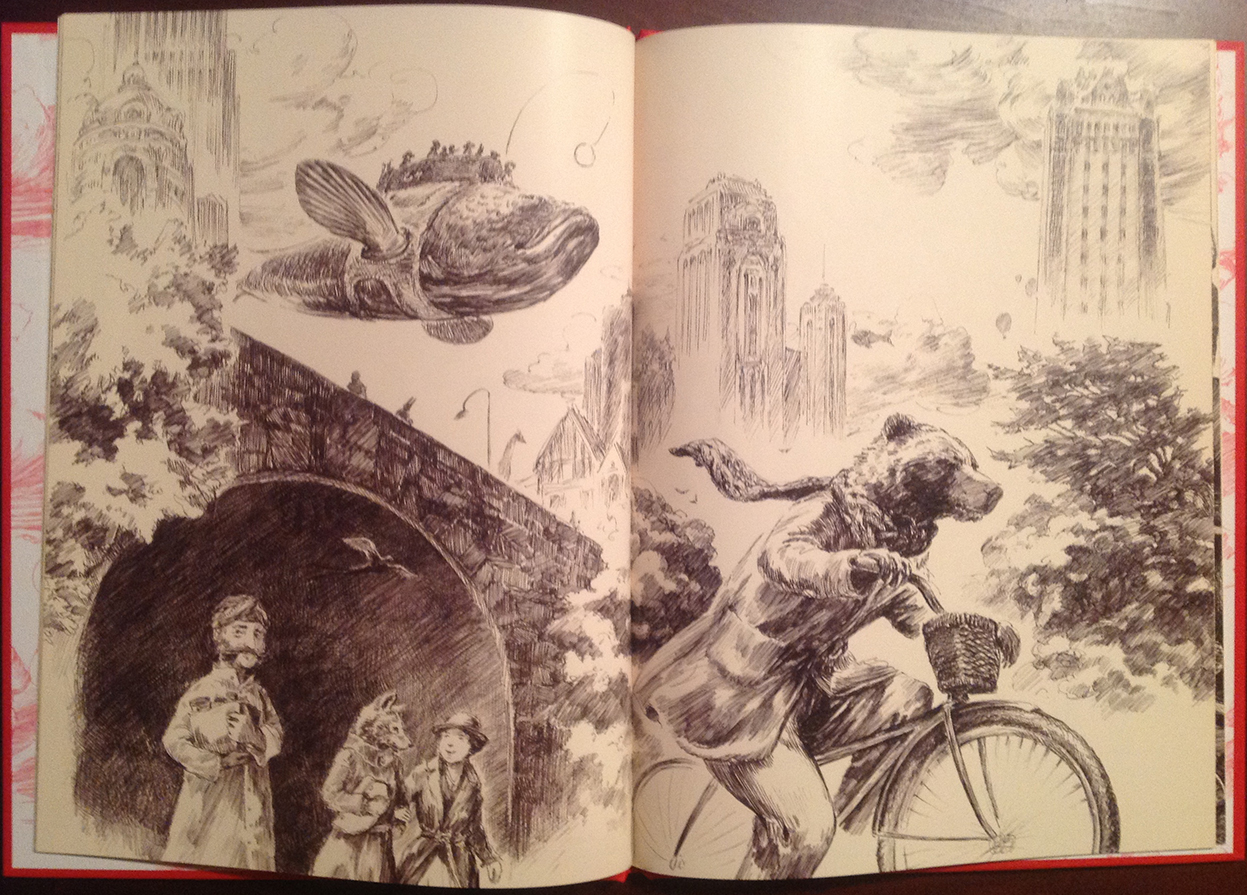 Oliver Jeffers, Lost and Found (2005)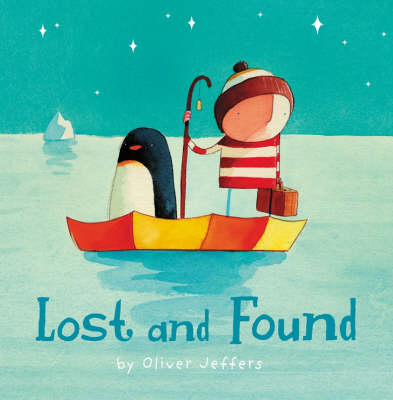 In the decade since this book's appearance, it's sold very well and even become an animated film. So, there's s a good chance that you already know Lost and Found. Actually, I'm hoping you do because I'm finding it hard to talk about it without giving away the ending. It begins like this: One day, a boy finds a penguin at his door. He decides the penguin "must be lost," and so "will help the penguin find its way home." Since the penguin does not speak, we're invited to assume that the boy's intentions match the penguin's wishes. But what does the penguin really want? And what does the boy want? Who is lost? Who is found? (There – I've avoided the conclusion!) Jeffers' watercolors give the story warmth, and his pages range from spare (boy and penguin in the center of a white page) to detailed (boy and penguin at sea, a gigantic wave threatening to crash over them). His representational style has a comparable range – often on the same page, or even in the same character. The boy's legs are one-dimensional (a pair of straight lines), his torso two-dimensional (a rectangle in a red-and-white-striped rugby shirt), and his head three-dimensional (a pink sphere wearing a hat). Oscillations between realism and abstraction suggest the happy accidents of an untrained artist, and, in this sense, align the art with the young boy protagonist. But, of course, Jeffers knows what he's doing here – his sense of composition, of when to oscillate, reveals an artist sufficiently in command of his craft to make you forget his skill.
Crockett Johnson, Harold et le Crayon Violet (2013) [latest French translation of Harold and the Purple Crayon (1955)]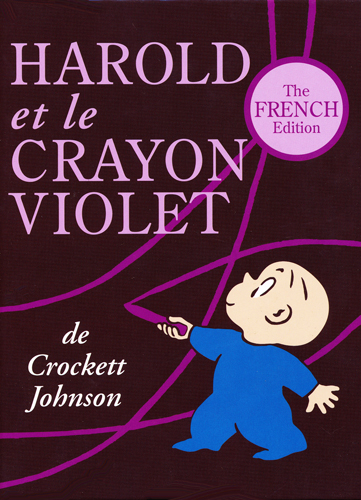 Unlike the last French translation of Harold, the crayon is purple (well, violet) in this one. In the translation prior to this one, the crayon was rose (pink). Crockett Johnson's Harold and the Purple Crayon is available in at least 14 different languages: both the crayon's color and the protagonist's name varies, depending on the translation. (I've already given Emily all seven Harold books in English.)
Laurie Keller, Arnie the Doughnut (2003)
With her typically loopy sense of humor, Keller's Arnie the Doughnut plays with children's culture's love of personification. Margaret Wise Brown populated her books with cute little furry animals, but evidently saw no contradiction with her hobby of hunting cute little furry animals, presumably because the animals in her books were people, and the animals she shot were game. In giving us a protagonist whose destiny is to be eaten, Keller ups the ante a bit. As Arnie observes in a moment near the end of the book, "I guess doughnuts really are only good for eating, aren't they?" I don't want to spoil the ending, but I do want to call attention to Keller's jokes and commentary, usually from unnamed characters on the periphery of the scene – she offers a parallel show running concurrently with the main narrative. When we meet the jelly-filled doughnut, another doughnut exclaims, "Eeeooo! His brains are oozing out!" Jelly-filled replies, "It's not brains, silly – it's jelly!" But she doesn't end there, adding a bonus two-panel "double-checking," in which jelly-filled puts a finger in his jelly to confirm what he's just said.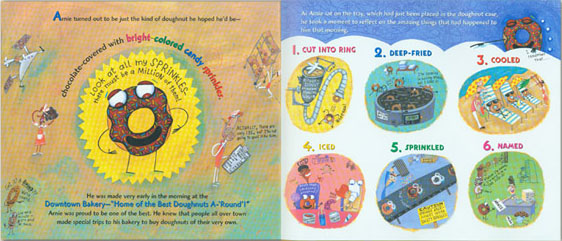 There are several Laurie Keller posts over at Jules Danielson's Seven Impossible Things Before Breakfast, but why not start with "Seven Questions Over Breakfast with Laurie Keller"?
Ole Könnecke, The Big Book of Words and Pictures (2012)
Emily has already recieved this book in French (Le grand imagier des petits) and in German (Das große Buch der Bilder und Wörter) – see Emily's Library, Part 6. I thought she should have it in English. Rather like Richard Scarry's books, it features scenes in which all the main items have a label, thus helping to children learn the names of objects. I imagine Emily and her parents placing the books side by side, to compare them. (Emily speaks English, French, and Swiss German.)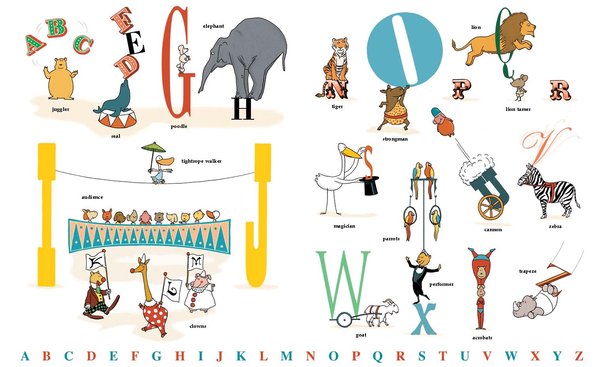 Lena and Olof Landström, Boo and Baa Have Company (1996) [English translation of Bu och Bä får besök]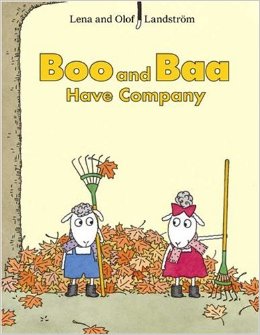 Another gently humorous entry in the Landströms' Boo and Baa series of picturebooks about a brother and sister sheep – well, anthropomorphic sheep (they're children represented as sheep). I particularly enjoy the Landströms' trust in their readers. On the first page of the book, the text reports that it's "autumn. The tree has dropped its leaves." In the art, Boo and Ba are raking beneath a nearly bare tree, and the Landströms introduce the beginning of another narrative strain: a cat, strolling by the yard, looks up at the bird in the tree above the children's head. The children won't see the cat for several pages yet, but the cat-vs-bird story continues on the fringes of the book for a few pages. After Baa gets the oilcan to grease the wheelbarrow's squeaky axle, Boo notices that "Now it meows when I push it." Baa replies, "It meows when you're standing still, too." As the cat looks down from above, Boo and Baa inspect the axle, and the Landströms' narrator reports, "Boo and Baa think this is weird." When read alongside the art, that line's deadpan silliness makes me chuckle. As they attempt to coax the cat down, the children's problem-solving skills provide more humor – but the book doesn't make fun of them. Their ideas are good, even if they don't always work out quite as planned. Also, though Baa wears pink and Boo wears blue, each child is equally capable of doing whatever needs to be done: Baa greases the axle; Boo opens the sardine tin to coax the cat down. A funny book that avoids gender stereotypes = win!
Lena and Olof Landström, Pom and Pim (2014) [English translation of Pom och Pim (2012)]
A gently humorous story of the ups and downs in the life of young Pom and Pim – a child and a much-loved pink blob of a stuffed animal. Cleverly, Pom's gender is never identified – so she can be he, or vice versa, or none of the above. That said, I only noticed the character's gender neutrality as I was trying to use a pronoun in writing the first sentence of this description. Reading the book, I was more taken by the Landstroms' keen and sympathetic observation of a young child's emotional experience. Via color, body movement, Pom's facial expressions, and very few words, the Landstroms evoke the moment-to-moment changes in moods that small children face. Lacking the experience to place things in perspective, they feel each joy and each catastrophe with greater intensity than we adults do. Pom trips over a rock ("Ouch! Bad luck."), but finds money ("What luck!"), buys an ice cream, gives Pim a taste, eats the ice cream quickly, "gets a tummy ache" ("That's bad luck"), lies down, but sees his balloon hovering over his bed ("What luck!"). Summarizing twelve of the book's pages in prose, my previous sentence doesn't do justice to the Landstroms' artistry, but I hope it conveys at least a glimpse of the book's considerable charm and insight.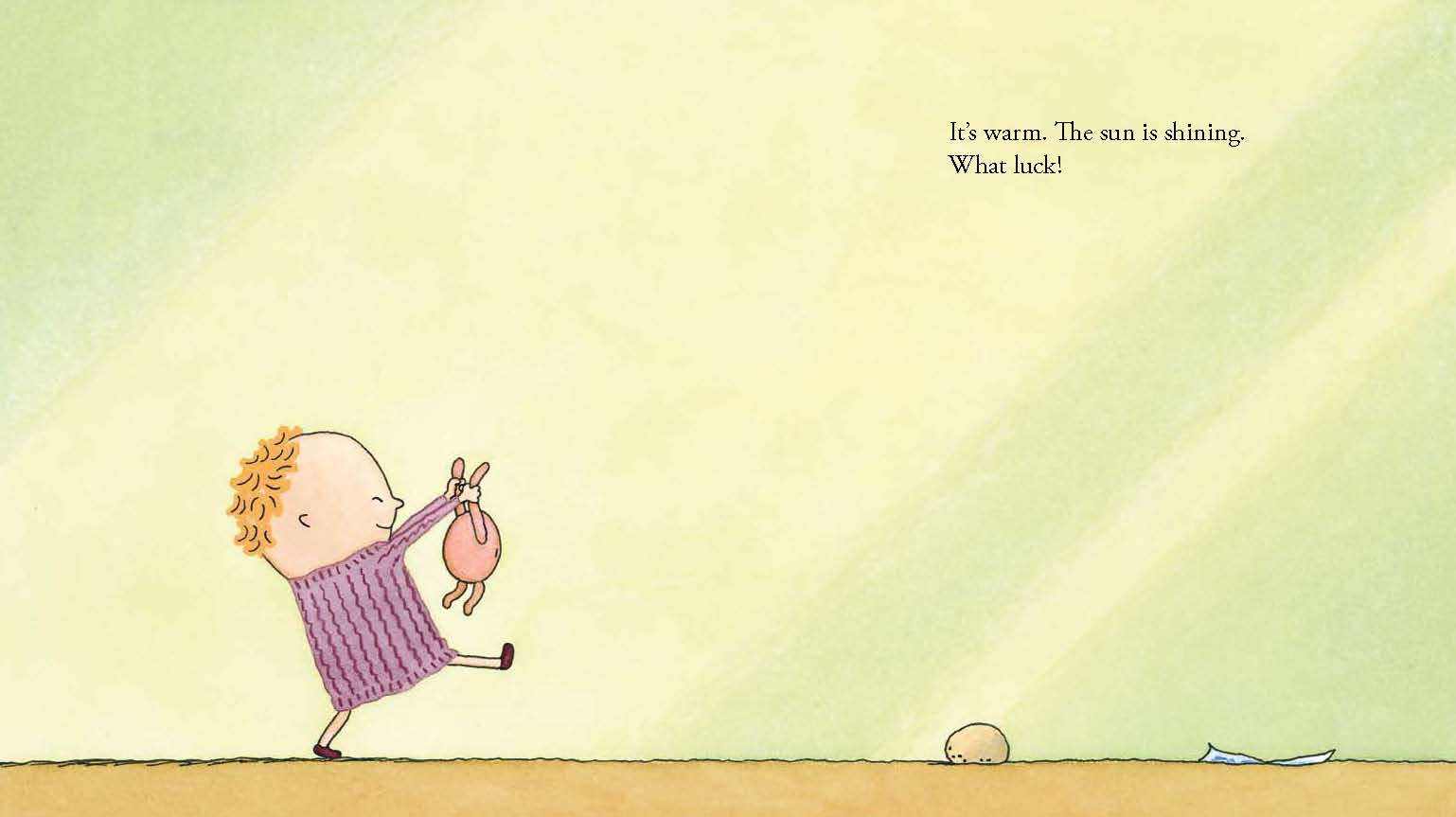 For more art and for thoughtful commentary, see Jules Danielson's post at Seven Impossible Things Before Breakfast.
Jöns Mellgren, Elsa and the Night (2014) [English translation of Sigrid och Natten (2013)]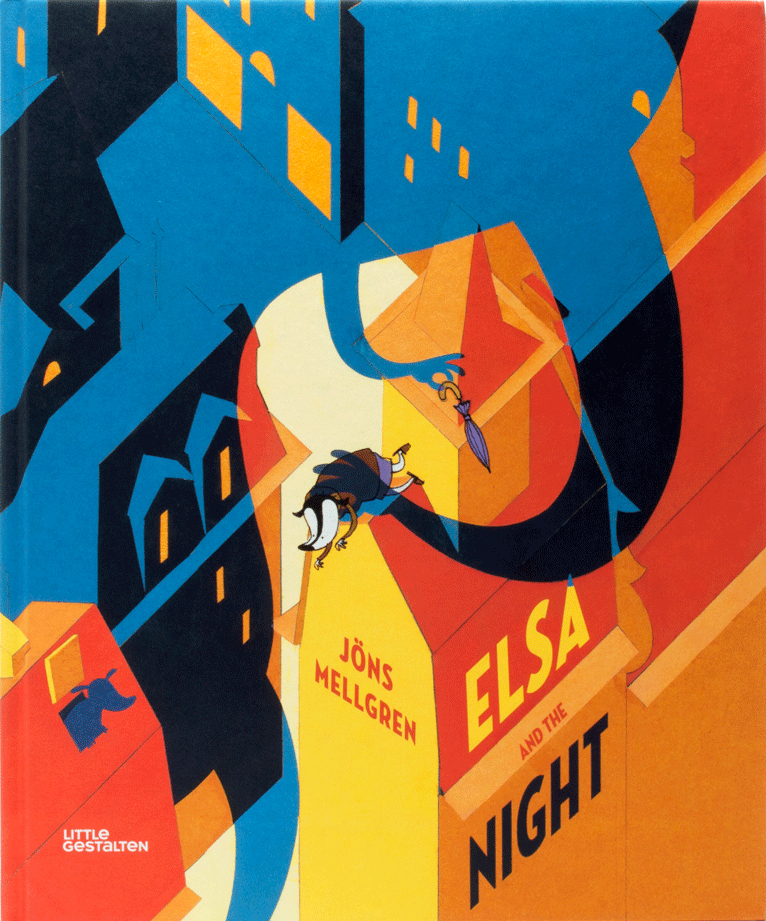 Elsa can't sleep. The Night – a tiny, purplish blob – is shivering under her sofa. Outside, endless daylight makes people sleepless and quarrelsome. As she tells the Night her story and nurses it back to health, it grows in size. Since Mellgren's Night character is translucent, the city scenes viewed through its body show the dark blue night sky, the white stars, and yellow lights through the buildings' windows. Beyond the boundaries of its body, Mellgren shows a white sky, no stars, and no lit windows. It's a striking visualization of the sharp contrast between night and day. The book's art drew me to it immediately, but its story is strong, too. Elsa's insomnia – spoiler alert! – comes from a need to mourn her elephant friend, who has died. I expect that adult readers will feel the melancholic undercurrent of these pages, but those for whom death is an abstraction (many, but not all young readers) will understand why she is sad without feeling it quite so acutely. Fortunately, the expanding Night provides comfort, and sleep returns – to Ella, and to everyone.
Kadir Nelson, Baby Bear (2014)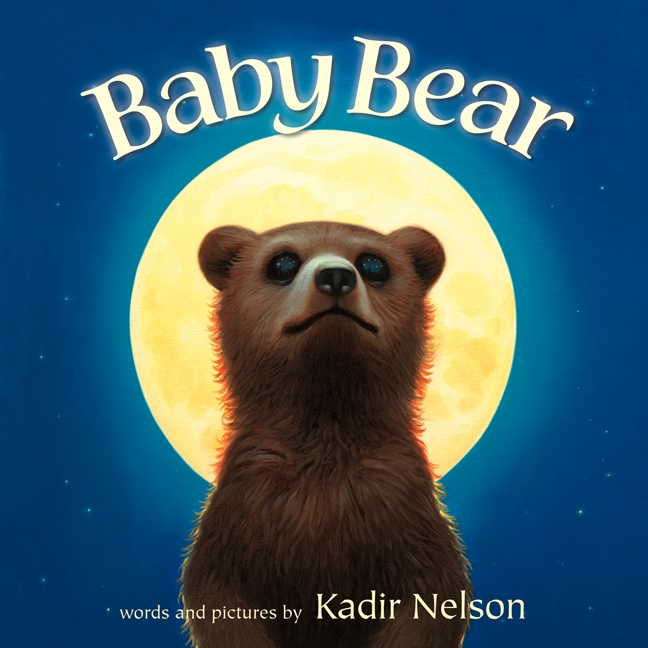 How do you find your way home? This question is both practical and philosophical. For Baby Bear, it is practical. As he says on the narrative's first page, upon encountering Mountain Lion, "Excuse me dear Mountain Lion. I'm lost. Can you help me find my way home?" The answers provided by Mountain Lion and all the other animals underscore the philosophical ideas at play. Mountain Lion says, "when I am lost I try to retrace my steps." Frog says, "Do not be afraid…. Trust yourself." Moose says, "When I am lost, I sit very still and try to listen to my heart." However, one need not ponder the meaning of life in order to enjoy the book. Nelson's vivid paintings, shifting visual perspective, and striking use of light – for example, unusually bright green grass contrasted with the green-tinged black night sky, when Baby Bear consults Owl – draw us into the story. And whatever larger implications Baby Bear's questions might have, our title character speaks in the voice of a child. When he follows the Squirrels' advice to "hug a tree and think of home," Moose asks, "What are you doing?" Baby Bear answers, "Uh, nothing." Moose asks, "Are you lost?" Baby Bear replies, "Yes, I think so." Baby Bear's tentativeness in that exchange is evocative of a young person, feeling a bit unsure of his way. Nelson's Baby Bear can help people of all sizes find their way, literally and figuratively.
Mark Newgarden and Megan Montague Cash, Bow-Wow's Nightmare Neighbors (2014)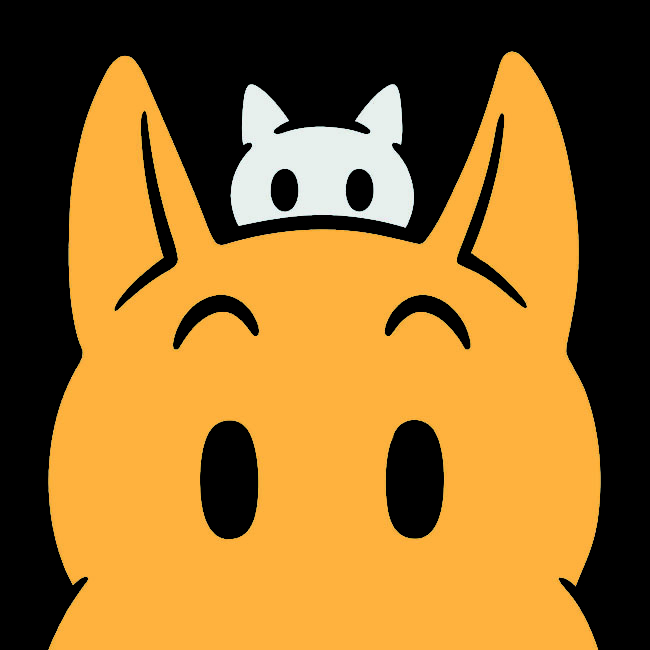 At long last, the second Bow-Wow picture book! The first, Bow-Wow Bugs a Bug (2007), and the six concept books that followed it (Bow-Wow Attracts Opposites, Bow-Wow Orders Lunch, etc.) are all favorites of Emily's. Indeed, they may be the first books she read herself. At age one-and-a-half, she would sit there, book in her lap, turn the pages and chuckle. And she's not the only small person I've met who has been transfixed by Bow-Wow. The picture books are wordless, their narratives rendered legible via the pictorial language of the comic strip. You don't need to be able to read text to read these books. With a sense of humor that is both daffy and deadpan, the Bow-Wow books have much to entertain readers of all ages. In the latest adventure, Bow-Wow faces off against ghost cats in a haunted house, but – I hasten to add – the book is funny, not scary.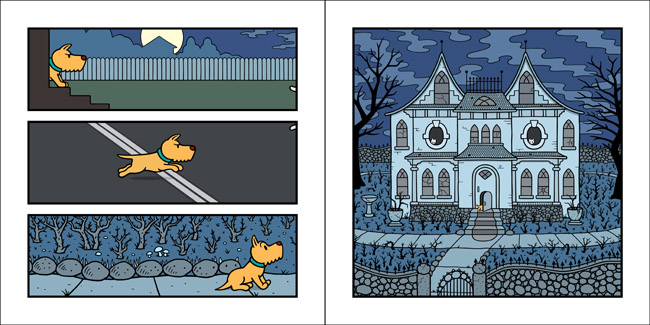 For a glimpse behind the scenes of Bow-Wow's Nightmare Neighbors, check out my Comics Journal interview with Newgarden and Cash.
Clotilde Perrin, Au méme instant, sur la Terre . . . (2011) [At the Same Moment, All Around the World (2014) in its original French]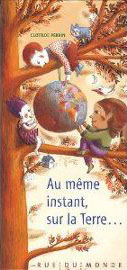 Perrin's beautiful book takes us to all 24 time zones, one after the other. We begin at 6 am in Dakar, Senegal, where "Keita wakes up early to help his father count the fish caught during the night." Turn the page and it's 7 am in Paris, where "Benedict drinks hot chocolate before school." On the right-hand page of this two-page spread, it's 8 am in Sofia, Bulgaria, when "Mitko chases after the school bus." And on we go, to Yasmine in Baghdad, Nadia in Dubai, and so on. At the back, the book includes information on time zones, and a fold-out world map, where you can see where all the children live. In its original French edition, the entire book unfolds like an accordion. Since Emily is a world traveler, I thought she should have a book that better acquaints her with the world.
Andrew Prahin, Brimsby's Hats (2014)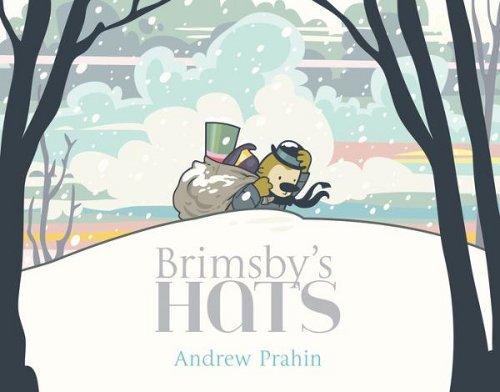 Brimsby makes hats, his best friend makes tea, and they have "the most wonderful conversations." When friend decides to pursue "his dream to become a sea captain," the hatmaker gives him a captain's hat, wishes him good luck, and waves goodbye. In a two-page spread of a dozen illustrations each showing Brimsby making hats by the window, Prahin shows the passage of time – the seasons changing beyond the window pane, likely one pane for each month of the year. At the end of this sequence, Brimsby realizes he's "become awfully lonely." So, he puts on "his favorite hat," and sets out "to make new friends." I won't reveal the rest of the plot, but suffice it to say that it's an eloquent tale of making new friends, missing old ones, and the worthwhile effort required by both endeavors. It's Prahin's debut picture book. Here's hoping it's the first of many.
Jules Danielson has a great post on this book at her Seven Impossible Things Before Breakfast. Head over there to see Prahin's original art for Brimsby's Hats.
Dan Santat, The Adventures of Beekle, The Unimaginary Friend (2014)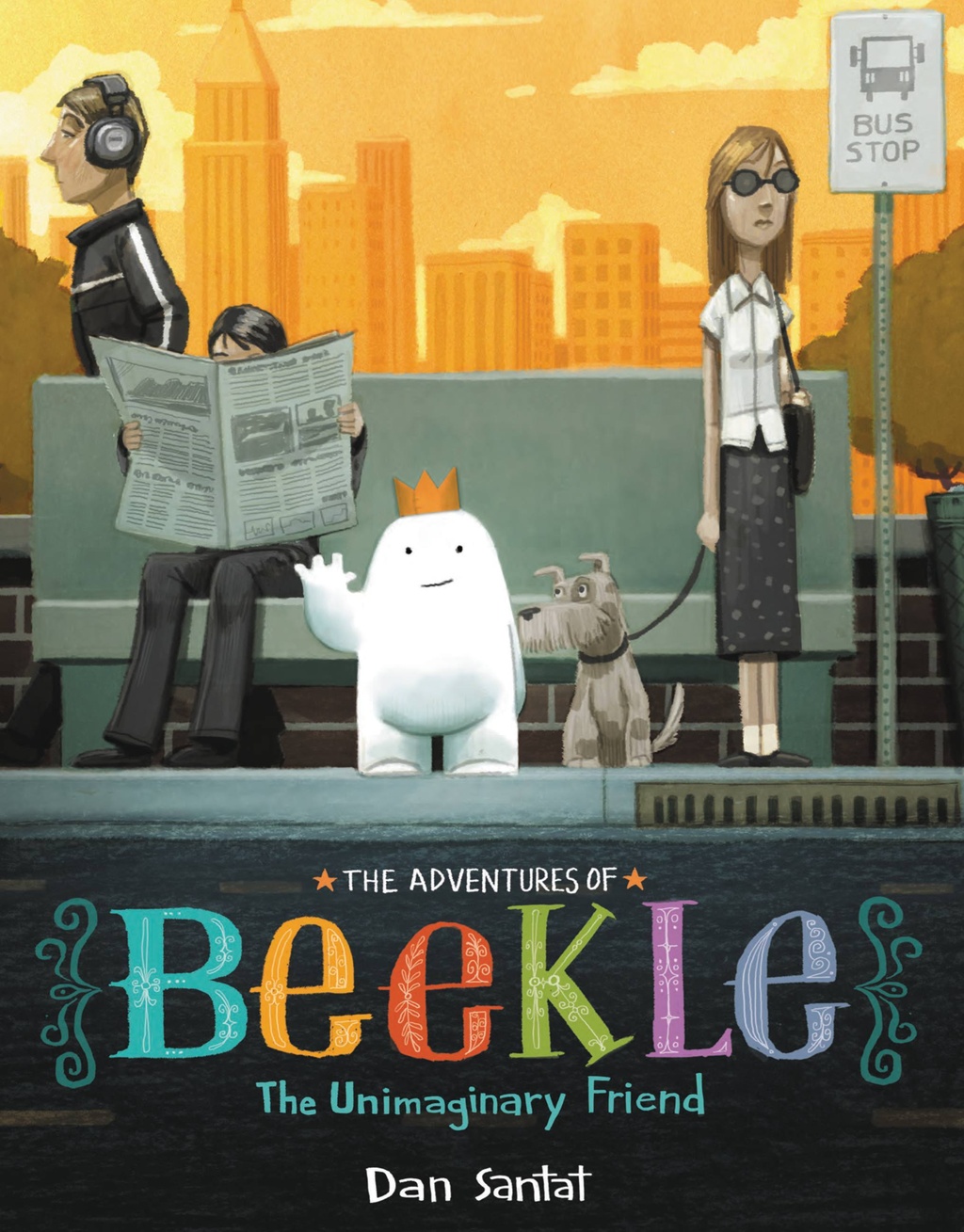 Where do imaginary friends come from? Dan Santat, who understands that what children imagine can be as real as the so-called "real world," answers this question from the perspective of the (un)imaginary friend. Beekle tires of waiting for his friend to choose him, and so ventures off to the real world on his own. There, he discovers adults, who – like those busy citizens of Reality in Norton Juster's The Phantom Tollbooth or the grown-ups in Shuan Tan's The Lost Thing – have stopped paying attention to their surroundings. So, he sets off for the playground…. Santat offers a vividly imagined story of the challenges and rewards of making a new friend.
Also, I presume you like to laugh? You do? Good. Then, you might also take a gander at Jules Danielson's hilarious interview (with lots of art) over at Seven Impossible Things Before Breakfast. (The interview is with Dan Santat. Obviously.)
Maurice Sendak, Where the Wild Things Are (1963)
Sendak's classic tale of unruly emotions, tamed via fantasy, and expressed without punishment. (Mother may send Max to bed without supper, but he returns to find dinner waiting and "still hot": evidently she changed her mind.) The book is famous for many reasons, including the "wild rumpus," when Sendak abandons words for three consecutive two-page spreads, rendering the story solely through his art. It may also be the best example of the Caldecott Committee getting it right, giving the award to the most distinguished book of the year – and in this case, one of the most distinguished books of the twentieth-century.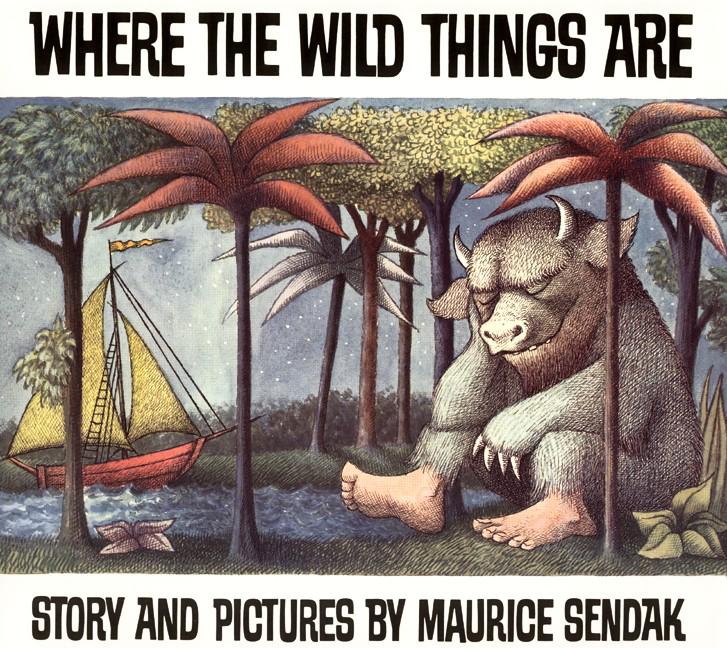 Not that awards should persuade you to give any book to a child. Sendak loved to tell the story of the mother who told him, "I've read Where the Wild Things Are ten times to my little girl, and she screams every time."
He asks, "Don't you like your child?"
She says, "Well, yes!"
He says, "Then, why do you continue reading it to the child?"
She responds, "But, Mr. Sendak, it's a Caldecott book, she ought to like it."
Sendak thought this was ridiculous: "If a kid doesn't like a book, throw it away. Children don't give a damn about awards. Why should they? We should let children choose their own books. What they don't like the will toss aside. What disturbs them too much they will not look at. And if they look at the wrong book, it isn't going to do them that much damage. We treat children in a peculiar way, I think. We don't treat them like the strong creatures they really are" (Lanes, The Art of Maurice Sendak 106-107 & in conversation with me, 2001).
Dr. Seuss, The Cat in the Hat (1957)
A rainy day, mother away, and two bored children wish they "had something to do." Then, Seuss's insouciant cat and his two Things introduce some anarchic "fun" to the household. The cat juggles, the Things fly kites, and chaos reigns. The fish – the children's caretaker, while mother is out – protests, but the Cat persists. Meanwhile, tension mounts: if mother comes home to find the house in a shambles, the children (and, presumably, the fish) will be in trouble. In 236 different words, Dr. Seuss turned the world of reading primers on its head. Goodbye, Dick and Jane. Welcome, Cat in the Hat.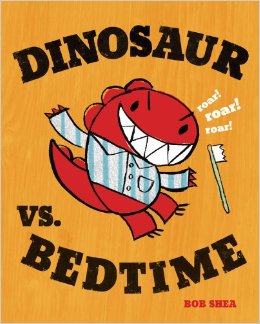 Bob Shea, Dinosaur vs. Bedtime (2008)
Shea's dinosaur – who, in stature and attitude, resembles a young child – is invincible! Or is he? A pile of leaves? Dinosaur wins! A big slide? Dinosaur wins! A bowl of spaghetti? Dinosaur wins again! But what about … bedtime? Drawn with Shea's expressive, sketchy minimalism, this small red dinosaur is determined. But he may have met his match. Fans of Mo Willems (and Bob Shea) will enjoy this.
Mo Willems, Edwina, the Dinosaur Who Didn't Know She Was Extinct (2006)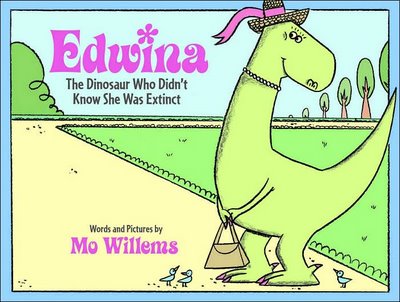 She plays with the neighborhood kids, helps old ladies across the street, and bakes chocolate chip cookies for everyone. So, of course, everyone loves Edwina. Everyone except for Reginald Von Hoobie-Doobie. He spends most of the book trying to prove that dinosaurs are extinct. But no one will listen to him. Well, almost no one. In a slightly Syd Hoff-ian style (or is that just my imagination?), Willems offers another great battle of wills. (See also: Willems' pigeon books.)
Willems' books are so beloved by Emily that, as she began a recent trip to the U.S., she began "reading" her passport to her mother, noting that it was "signed by the author, Mo Willems." (Thanks to my friends who write children's books, I have given Emily a few signed books – though not one with Mr. Willems's signature.)
Looking for other great children's books? Try these blogs and other websites:
Related posts on Nine Kinds of Pie:
That's the end of this installment, but there will be more "Emily's Library" features in the future.