Welcome to another installment in my attempts to build the perfect children's library for my niece and, in so doing, guide others to great books for young people. Indeed, this post is being published as I depart to visit Emily – carrying three of the books mentioned below! (See if you can guess which three.)
Jim Averbeck and Yasmeen Ismail, One Word from Sophia (2015)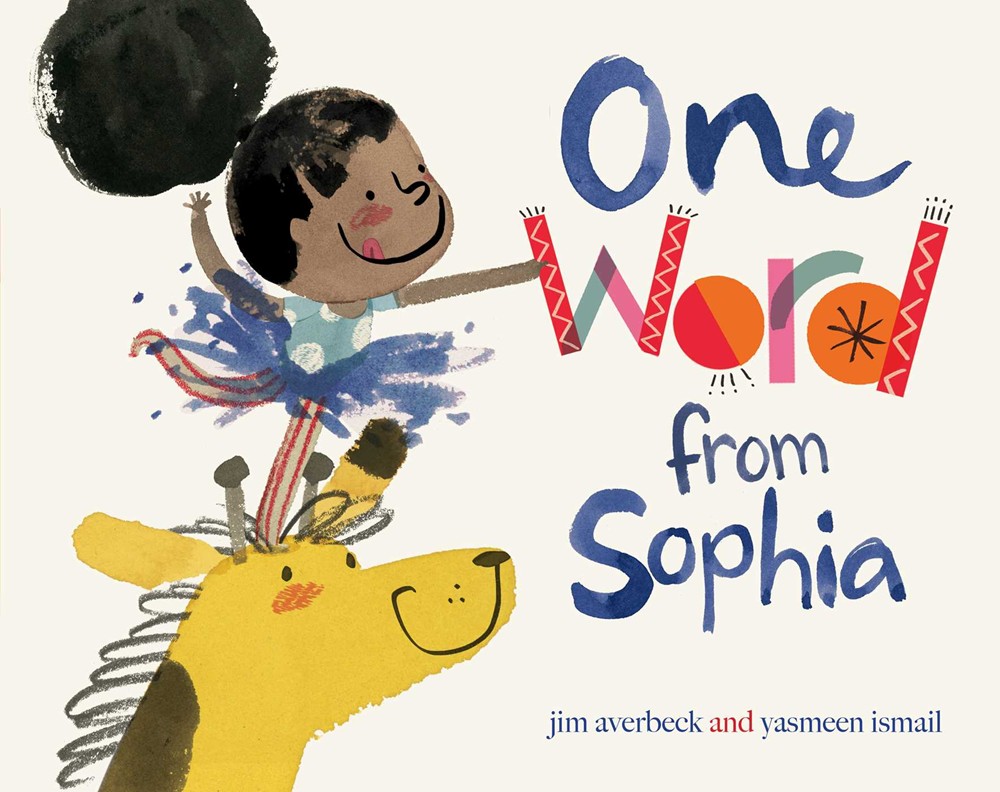 Averbeck and Ismail's book has a nice sense of humor, and a clever protagonist who loves words. What? That's not enough for you? OK, well, it's also a great example of what I call incidental diversity: it features characters of color, but race is not explicitly part of the story. (Ezra Jack Keats' The Snowy Day is the classic example of this type of book.) Indeed, the protagonist's family might be all of African descent; or there might be some of African descent and others of European descent. It's not clear, and it's not important to the story. I'm thinking that Emily will like the book because it has a smart and determined heroine, fun wordplay, and good jokes. If you need more reasons to check this book out, take a look at my blog post devoted to One Word from Sophia.
Kelly DiPucchio and Christian Robinson, Gaston (2014)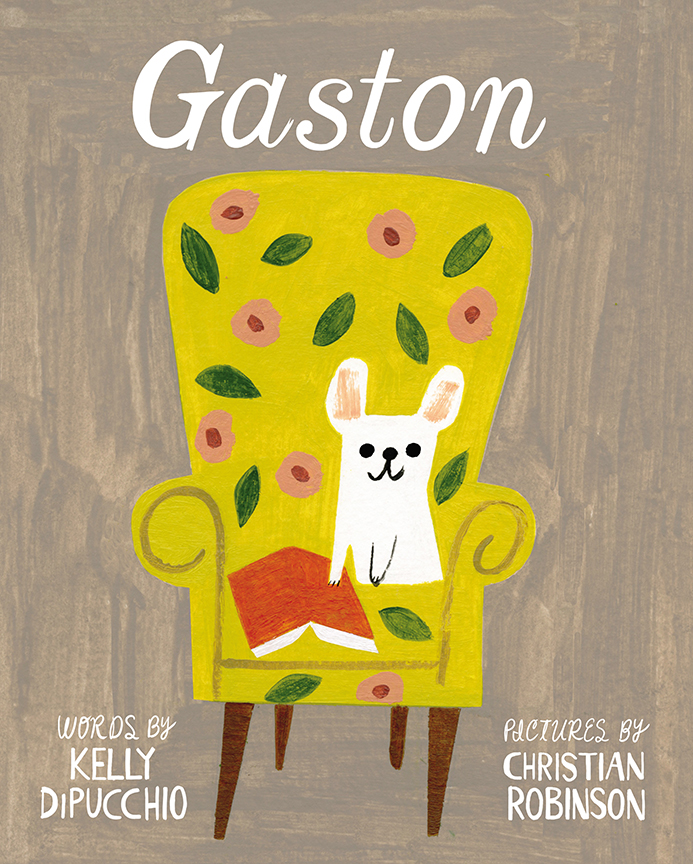 Gaston does not quite seem to have his poodle sisters' knack of behaving well, though he does his best. Then, a chance encounter with a family of bulldogs (one of whom is a poodle) makes Mrs. Poodle and Mrs. Bulldog wonder if there's been a mix-up. A gently comic story about what it means to be part of a family, with an unexpected twist. Even better, because Robinson's visual palette evokes classic children's illustrators like Roger Duvoisin, the book feels like a classic from the moment you pick it up.
Marianne Dubuc, The Lion and the Bird (2014)
A gentle tale given to Emily by a friend of the family – but one I would have otherwise given to her myself. It's about making a new friend, the joys of friendship, and the sadness that accompanies the inevitability of being apart. (We cannot always be near those we love. Or, as the book says, "And so it goes. Sometimes life is like that.") With few words and beautiful art, Dubuc's book communicates the joy and loneliness of having and missing friends.
Michael Hall, Red: A Crayon's Story (2015)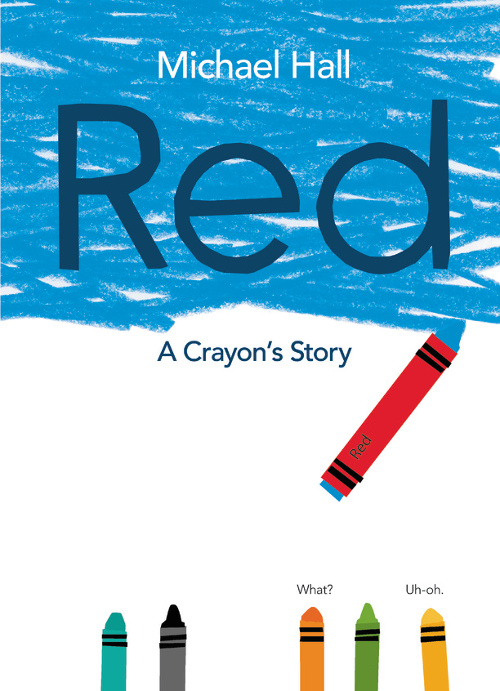 A big part of the fun of Hall's book is that the reader immediately knows something that the book's characters fail to recognize. Though the main character is identified as Red, we can see that he's just a blue crayon in a red wrapper. So, right away, readers understand that the words and the pictures contradict one another – the red wrapper does not accurately identify the crayon's color. Of course, the metaphor is also hard to miss: superficial judgments based on labels fail to miss what's inside a person (or crayon). But you don't need to catch the tale's allegorical elements to enjoy Red's discovery that he is in fact Blue, and very good at drawing blue things, too!
Ben Hatke, Julia's House for Lost Creatures (2014)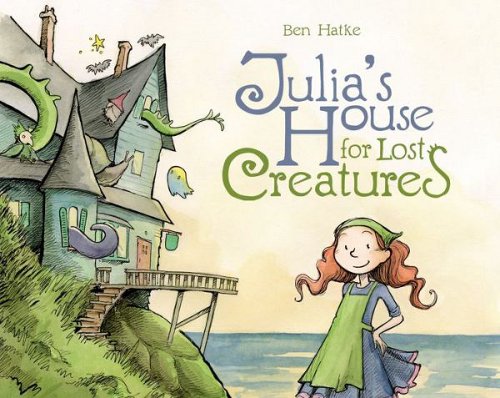 The creator of the Zita the Space Girl comics directs his talents towards a new medium: Julia's House for Lost Creatures is Ben Hatke's first picture book. In it, independent-minded Julia – who looks to be about five but has the confidence and responsibility of someone older – sets up her home right by the sea. The house is vast. It's cozy. It's got knick-knacks, lots of books, and a workshop where she can make things. But it's too quiet, and so she paints a sign, hanging it up outside the front door: "Julia's House for Lost Creatures." They start coming: Patched Up Kitty, a very sad troll, a mermaid, gnomes, and more! Soon, looking after all the lost creatures is wearing Julia out. So, she comes up with a plan. If learning to live and work with others is a message here, the book's appeals reside in the quirky, spacious old house, the variety of creatures (each of whom has a distinct personality), and seeing resourceful Julia in charge of them all.
For more, including original sketches, see Jules Danielson's post on the book.
Tove Jansson, Moomin's Desert Island (1955/2013)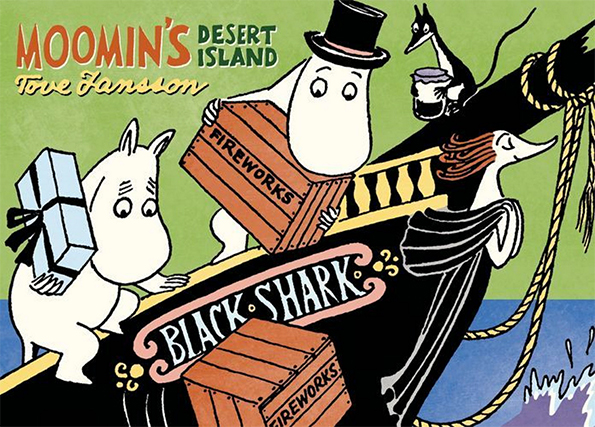 Drawn & Quarterly has been republishing Jansson's Moomin comic strips in two forms: (1) large black-and-white books, each of which includes several narratives; (2) small, single-narrative color books. (They've added the color to Jansson's original strips.) The latter are ideal to introduce young readers to Jansson and to comics in general: single story, nicely colored, and, well… Moomins! So, I've been giving these smaller books to Emily. Some of these narratives appear – in a different version – in Jansson's novels. Others do not. This is one of the latter. Read an excerpt at the publisher's site (click on the word "excerpt").
Tove Jansson, Moomin and the Sea (1957/2013)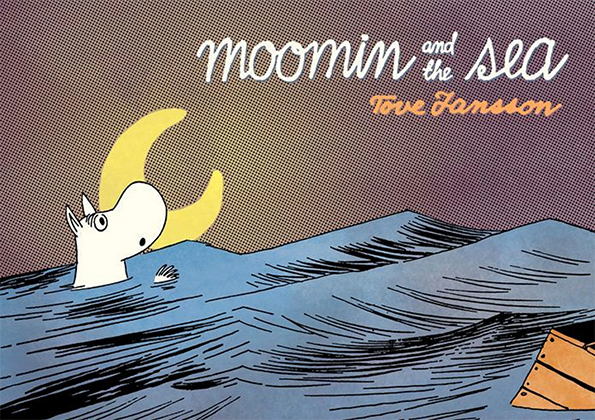 This is an early and quite different version of the events narrated in Jansson's novel Moominpappa at Sea (1966). Indeed, for those interested in the way that Jansson's Moomin universe evolved, a comparison between this work and the (considerably darker) Moominpappa at Sea would be interesting. For young people, though, just enjoy this installment in the Moomins' ongoing quest to live life on their own terms. Read an excerpt at the publisher's site (click on the word "excerpt").
If you'd like to learn more about the Moomins, you might use my earlier blog post on them as a starting point. If you're already a Moomin fan, then I highly recommend Boel Westin's magnificent biography Tove Jansson: Life, Art, Words (2014).
Jean Merrill and Ronni Solbert, The Elephant Who Liked to Smash Small Cars (1967)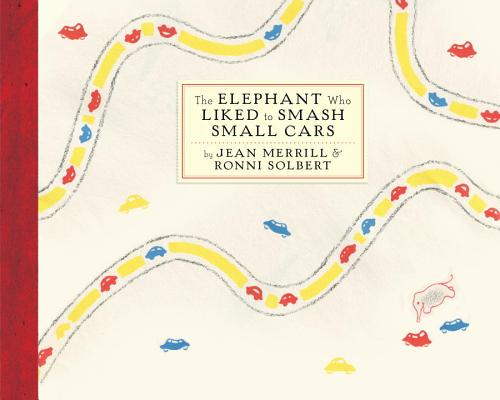 To read this as a didactic story about not destroying others' property is to miss all the fun. Sure, by the end of the book, the elephant does learn not to smash small cars. So, there is an appropriate "lesson" here. But the joy is in the smashing. He smashes small cars and then sings about it:
Smashing cars! Smashing cars!
How I love to smash small cars!
Merrill – author of the classic children's novel, The Pushcart War, which you should also read – even provides music for the song. Solbert's crayon-and-ink artwork sets the playful tone for this tale of destruction and (ultimately, in the final few pages) reform. It's a silly, joyous tale that offers an official advisory against smashing things, even as it embraces the impish impulse to destroy.
Sergio Ruzzier, A Letter for Leo (2014)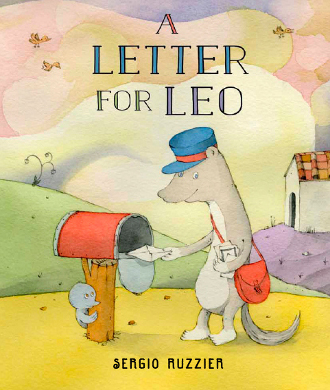 Like Dubuc's The Lion and the Bird, Sergio Ruzzier's book is about two friends, one of whom is earthbound and the other of whom is only temporarily flightless. That is, Leo – protagonist, mailman, weasel (but the cute kind of weasel) – spends his days delivering mail, punctuated by short breaks to play bocce or to chat with friends. He never receives any mail himself, until he happens upon a bird, stuck in a mailbox and stranded far away from his flock. Like Groot, the bird only says one word – "Cheep" – but (also like Groot) his face tells us enough about what he wants or feels. Ruzzier's faces give even his minor characters with a real sense of personality. There's the joyous, loopy expression on the dog's face, as Leo delivers a package that can only be a giant bone; and the kind, open face of the hen who pours Leo a cup of tea. And then there's the fact that Leo plays bocce – most children probably don't know the sport, but its specificity makes Leo that much more real. Little details like these make the book a delight to read and re-read. The story of Leo and Cheep is a warm tale of a friendship that transcends differences in language and species.
For original sketches and an interview, check out Jules Danielson' post on the book.
Birgitta Sif, Frances Dean Who Loved to Dance and Dance (2014)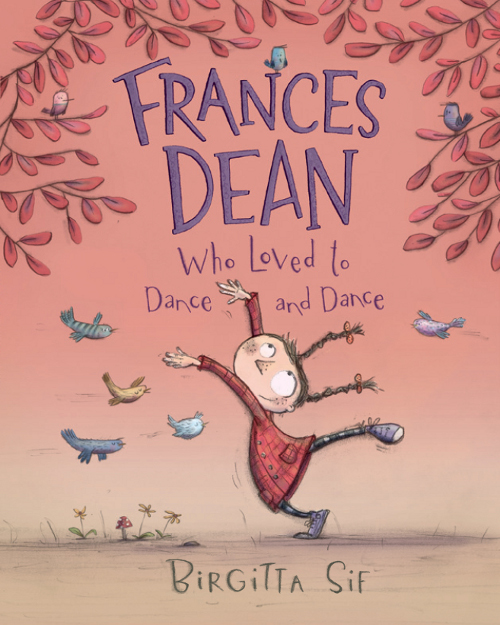 I bought both of these Birgitta Sif books because I noticed that, on occasion, Emily has exhibited some shyness. I would not say that shyness is a dominant character trait, but it reminded me of my own childhood shyness, and how important it is for young people to know that it's OK to feel shy. All of us feel shy sometimes. (Don't we?) Even better, Sif's work is wonderful – whether or not you're afflicted by shyness. When no one is watching, Frances Dean dances in a joyous reverie, as she listens to the birds sing. However, "when people were around, all she could feel were their eyes on her" – even though the artwork shows people minding their own business, reading a book, talking the dogs for a walk, playing with a toy sailboat. (Each of Sif's characters seems to have her or his own inner life; even individual birds have different personalities.) The gap between Frances' awareness and Sif's art hints at a way past acute self-consciousness: other people are paying less attention to you than you think. By the book's conclusion, Frances dances. And some of the other characters dance with her, too.
Birgitta Sif, Oliver (2012)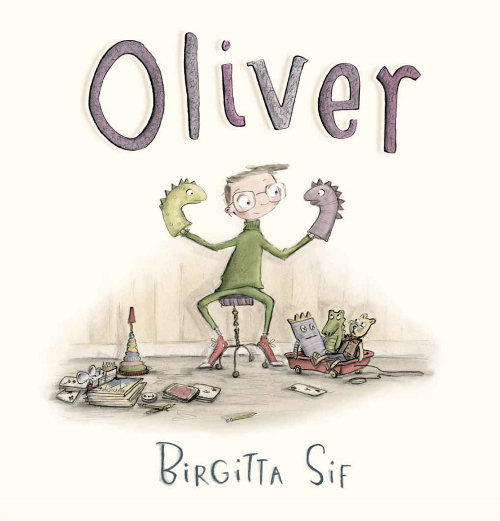 The title character of Sif's first book prefers the company of his imagination to that of other children. He reads, creates art, plays piano for his stuffed animals, invents his own (solo) version of tennis, and has a tendency to bring his stuffed animals with him. If you're paying close attention, you'll notice that, in many of Sif's two-page spreads is a girl, who also enjoys reading and tends to travel while carrying her stuffed-animal friend in the crook of her right arm. Sif handles this subtly; all the characters in these spreads are doing their own thing. So, the similarities between this girl and Oliver could easily be overlooked. However, by the book's end, the two – her name is Olivia – have discovered one another, and a friendship has begun.
For both of these books, a merry tip of the hat to Jules Danielson's Seven Impossible Things Before Breakfast blog, where you can read an interview with Sif (as well as posts on other Sif books).
Beatrice Schenck de Regniers and Maurice Sendak, What Can You Do with a Shoe? (1955)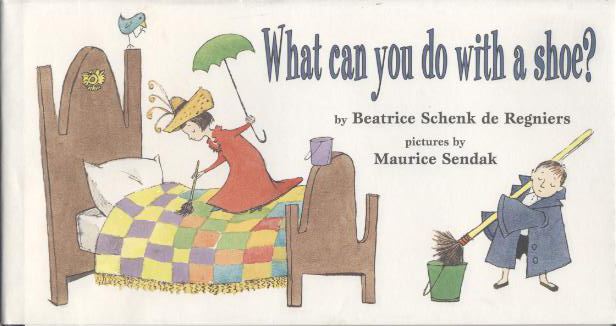 Clearly inspired by Ruth Krauss's books of the early 1950s, What Can You Do with a Shoe? rises above other Krauss imitators via art from Krauss's frequent collaborator, Maurice Sendak. I don't know the story of the book's creation, but I wouldn't be surprised if Schenck de Regniers also drew from her observations of children (as Krauss did). I chose it as a gift for Emily because I notice that she enjoys experimenting, combining clothes in novel ways, or using a household item in a way that it wasn't intended. Featuring the gently mischievous, very real children of Sendak's imagination, What Can You Do with a Shoe? honors a child's impulse to experiment. And that's good!
Frank Tashlin, The Bear That Wasn't (1946)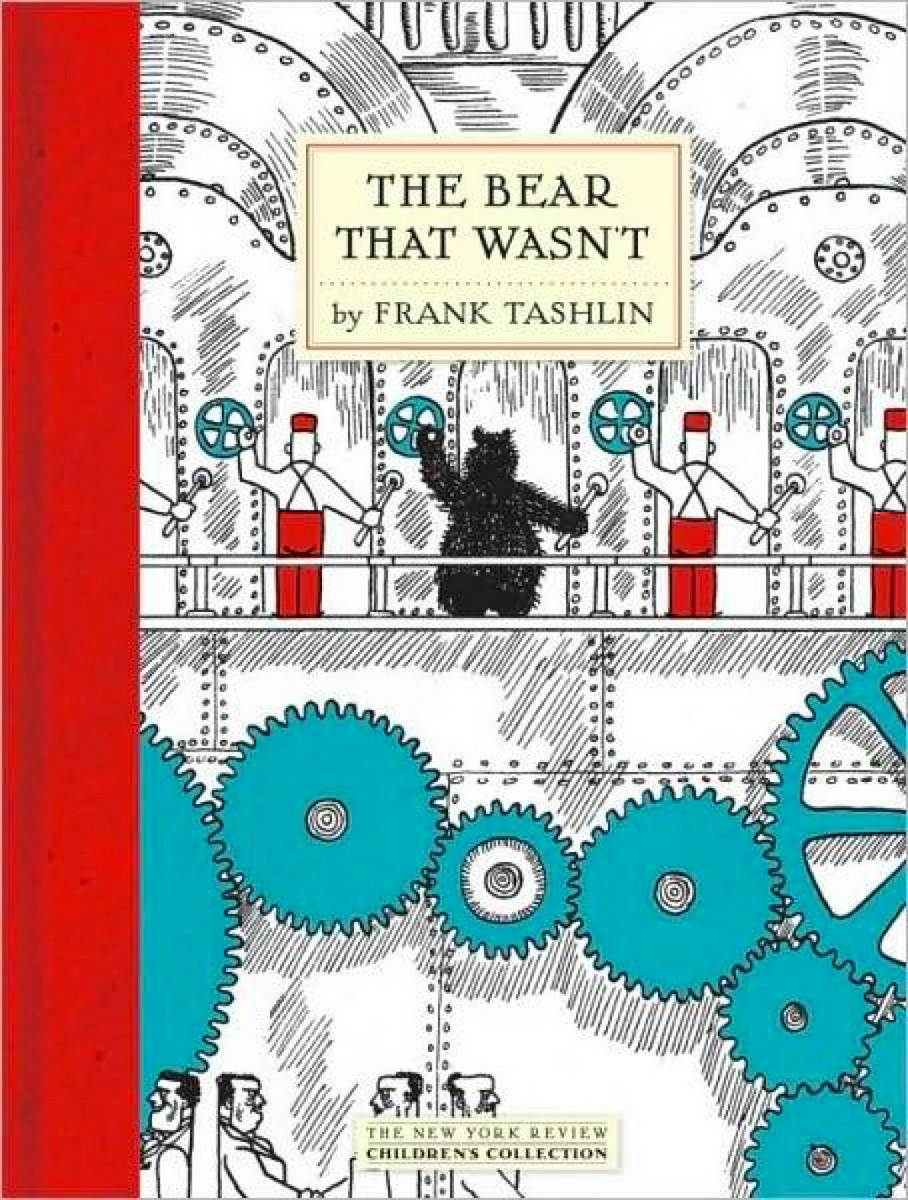 You probably know Tashlin for his animated cartoons (featuring Porky Pig and Bugs Bunny) or his films (The Girl Can't Help It), but he also wrote several children's books: The World That Isn't (1951), The Possum That Didn't (1950), and The Bear That Wasn't (1946). His former colleague Chuck Jones also created an animated adaptation of this one. The story's premise? While a bear hibernates, men build a factory above his cave. When he awakens, the employees expect him to be working. He insists that he's a bear; they don't believe him. It's a satire of conformity, and the absurdity of trying to be anything other than who you are. I mean, hey, if you're a bear, you're a bear!
Rowboat Watkins, Rude Cakes (2015)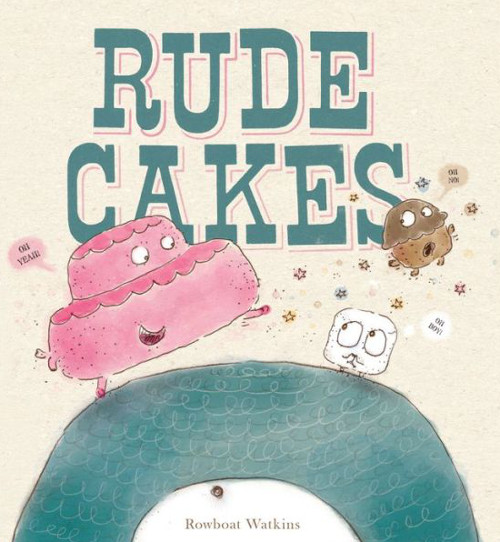 Rowboat Watkins' Rude Cakes is my favorite picture book of 2015. It has sentient pastry, cyclopses, and a delightfully off-kilter sense of humor. It's classic in the way that Arnold Lobel or James Marshall are classic. I like the book so much that I wrote an entire blog post about it. Read the post and then, more importantly, read the book.
That's all for now. There will be more "Emily's Library" installments in the future! Meanwhile, here (below) are the previous posts in this series, and other links that'll help you find good books for young people.
Related posts on Nine Kinds of Pie:
Looking for other great children's books? Try these blogs and other websites: