Yes, I was there again. Read on for Jeff Smith, Congressman John Lewis, Sonny Liew, Thi Bui, Brigitte Findakly, Lewis Trondheim, Jennifer Holm, and more!
Cosplay
This was my fourth Comic-Con. So, each day, I walked past the city's homeless, and past lines of fans waiting to get into I-don't-know-what. (There are events outside of the San Diego Convention Center as well as within it.) The nearer we get to the convention center, the more the crowds thicken, and we try to identify the costumes.  We're not as caught up with popular culture as we should be, and the moment of identification is brief (once you pass the cosplayers by or they pass you by, it's gone).  We recognized a group cosplaying as the kids from Stranger Things, but only after we had walked past.  A little girl – I would guess she was maybe 9 – was a great Princess Leia, clad in white, brown hair in symmetrical buns on either side of her head. We saw many Wonder Women, though my favorites were the cross-dressed Wonder Women (which, alas, I failed to photograph).
Here are a few cosplayers. You could spend all con just photographing the cosplayers. I didn't. So, this is but a brief and unrepresentative sample.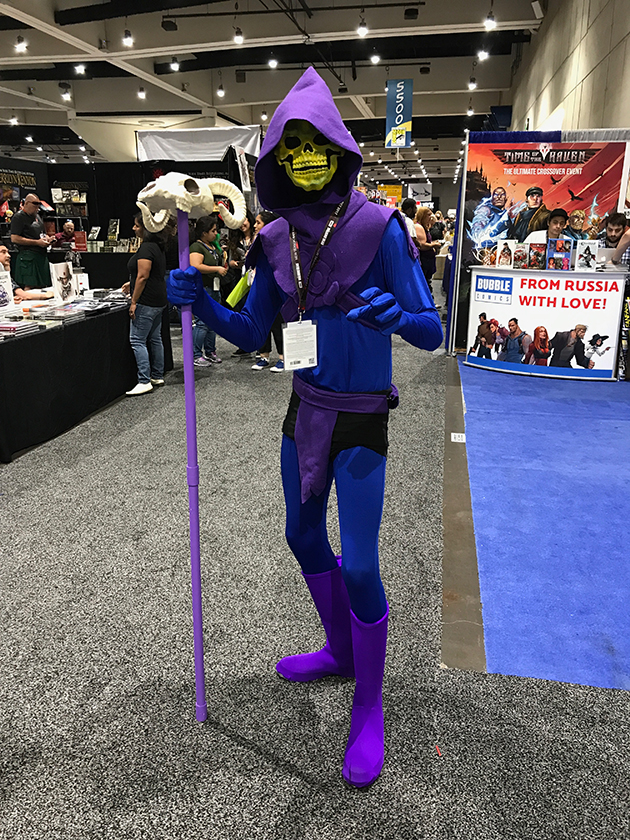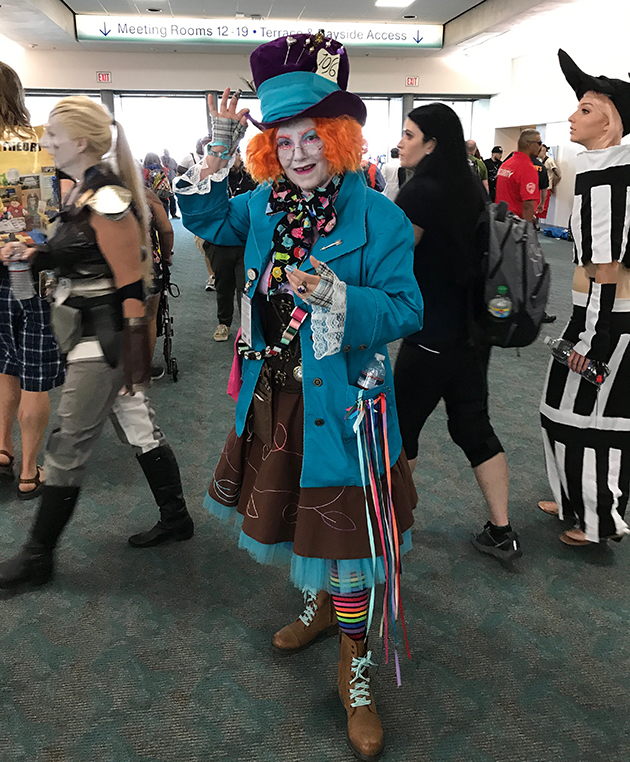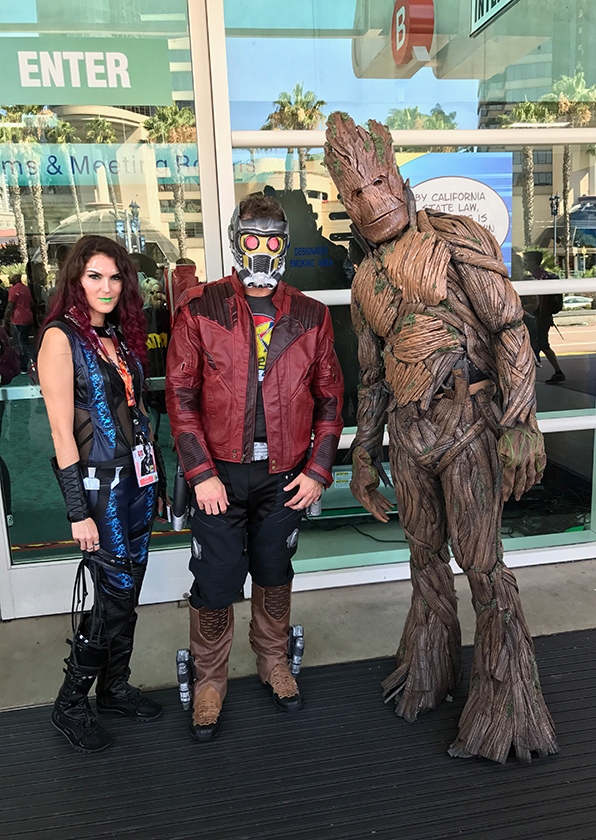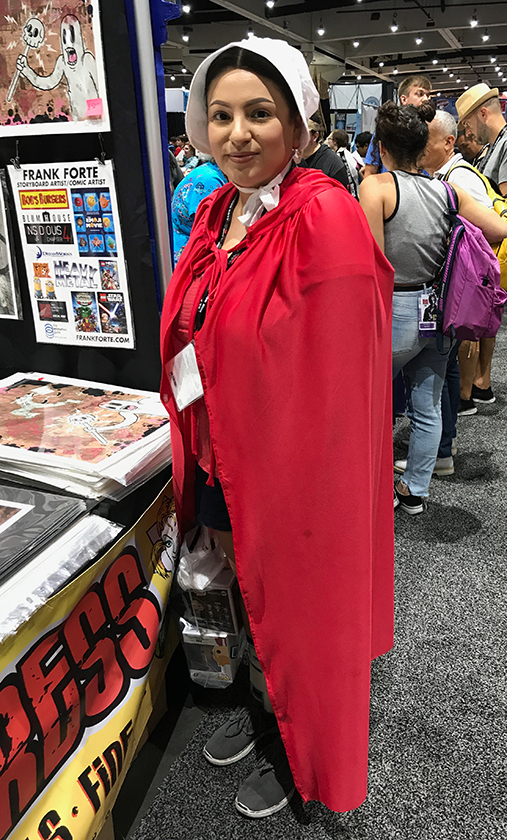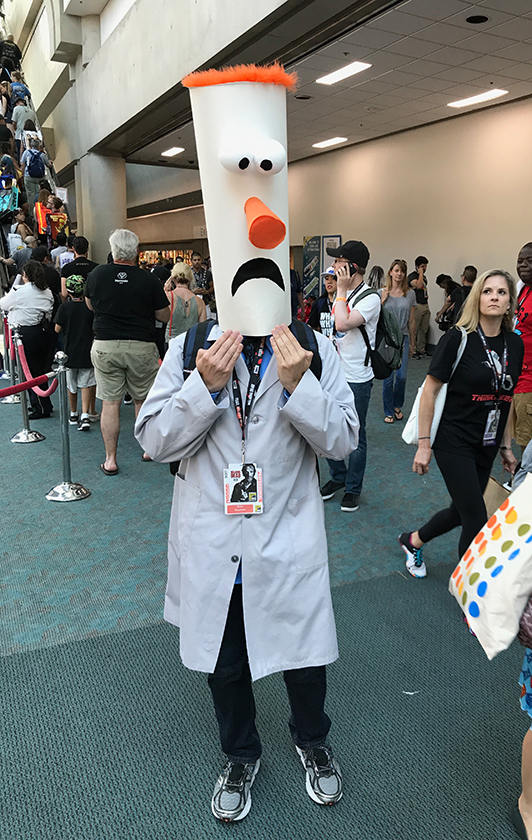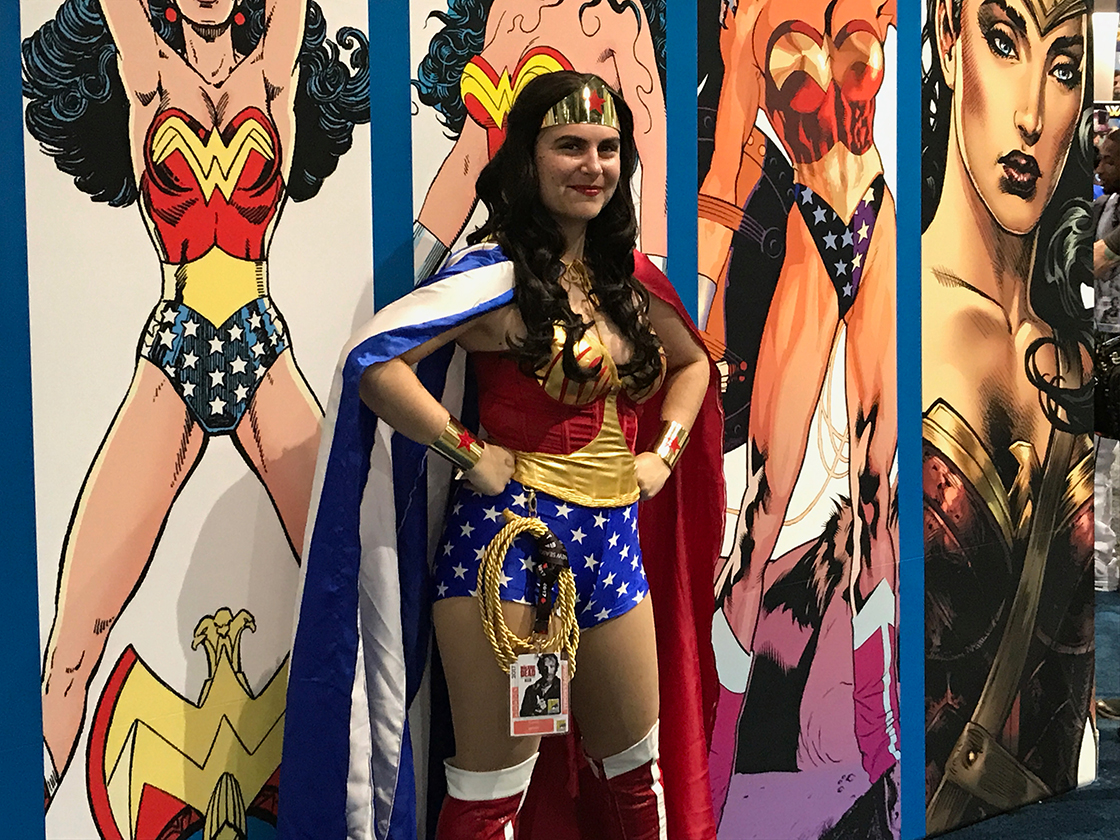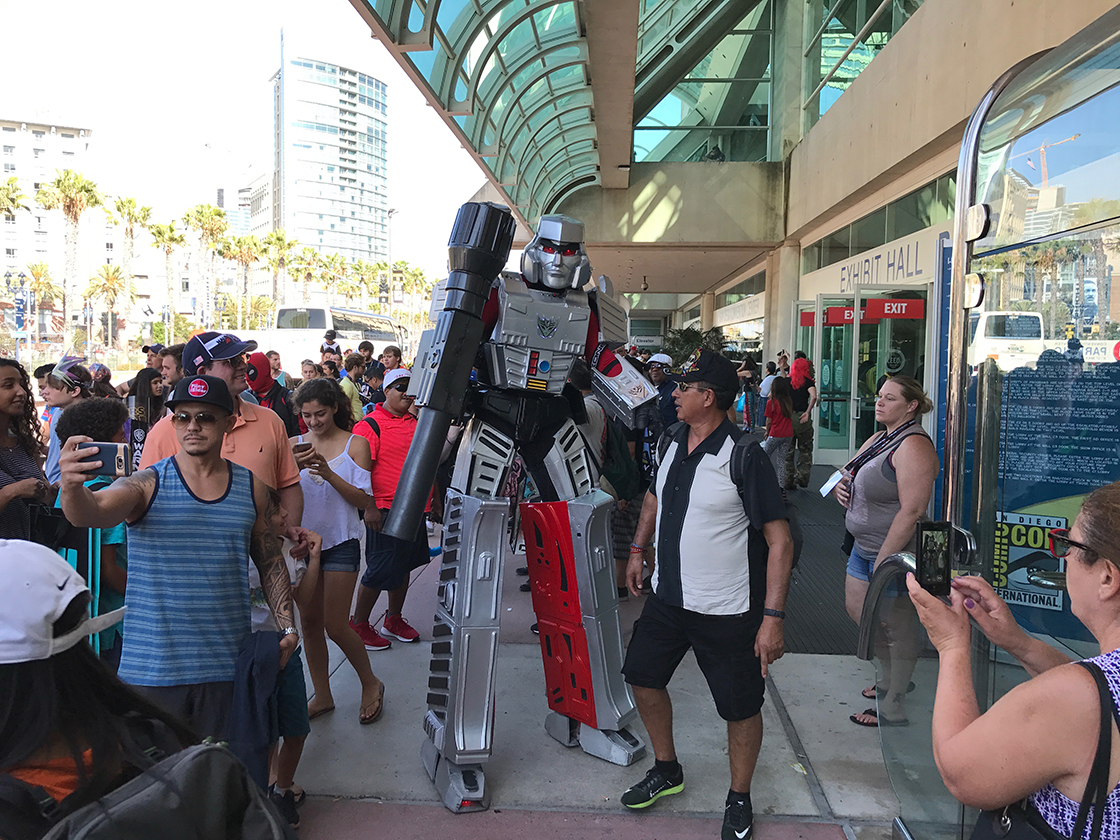 ---
Conspicuous Consumption
The exhibit hall is the largest I've seen and Comic-Con uses every corner of it. Merchandise and people as far as the eye can see. If crowds give you claustrophobia, you wouldn't care for it. But if you don't mind the shoulder-to-shoulder experience, you may enjoy seeing the toys, video screens, books, and occasional celebrities.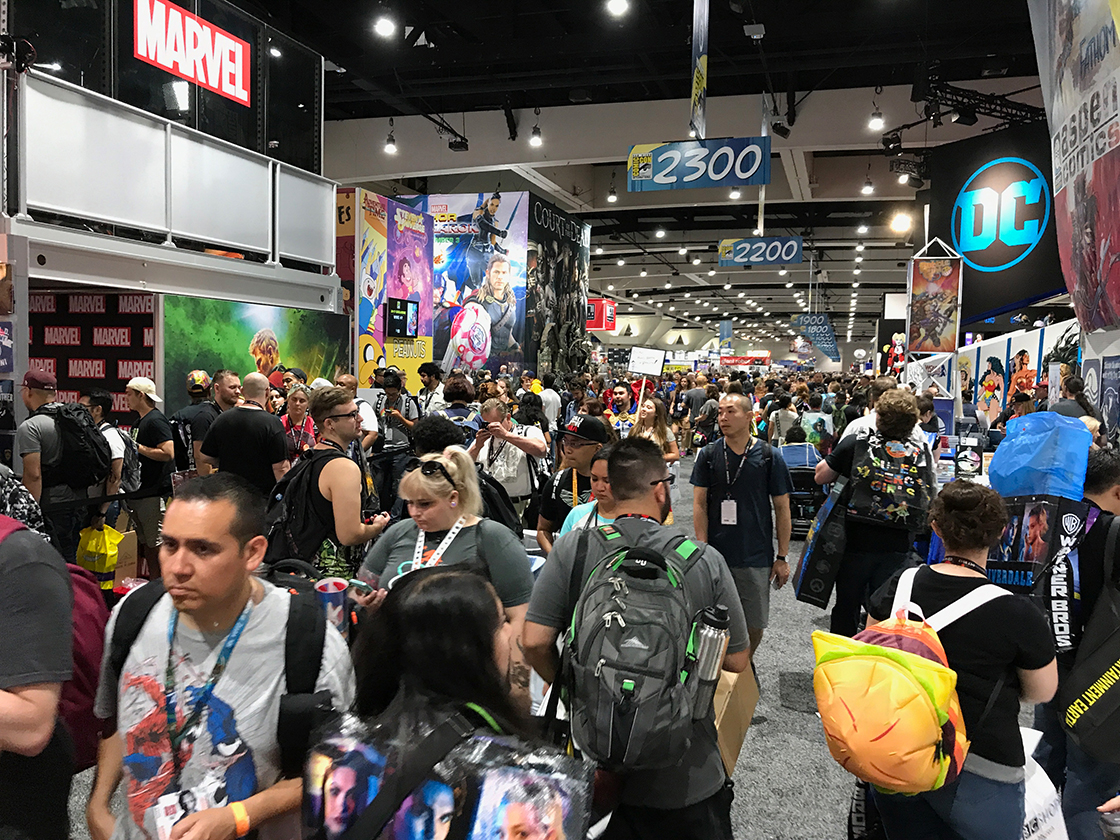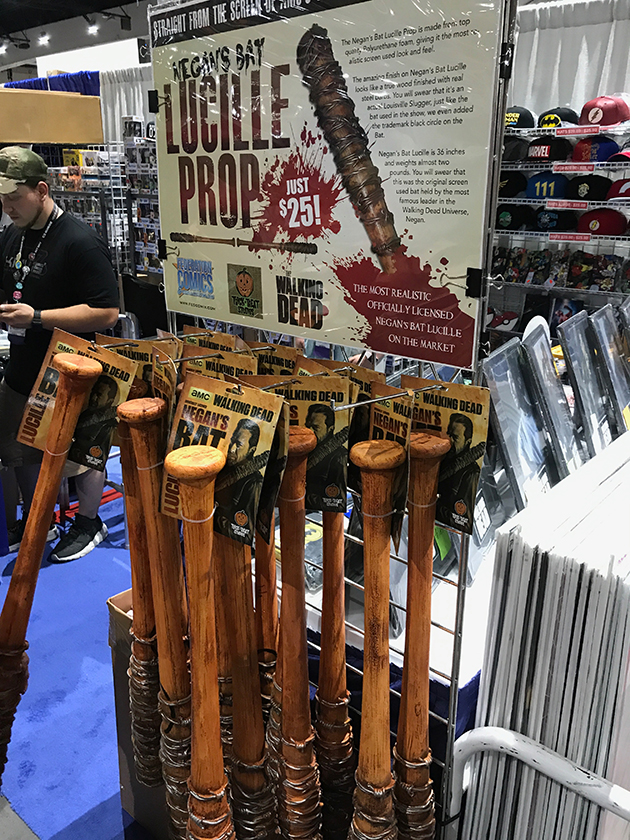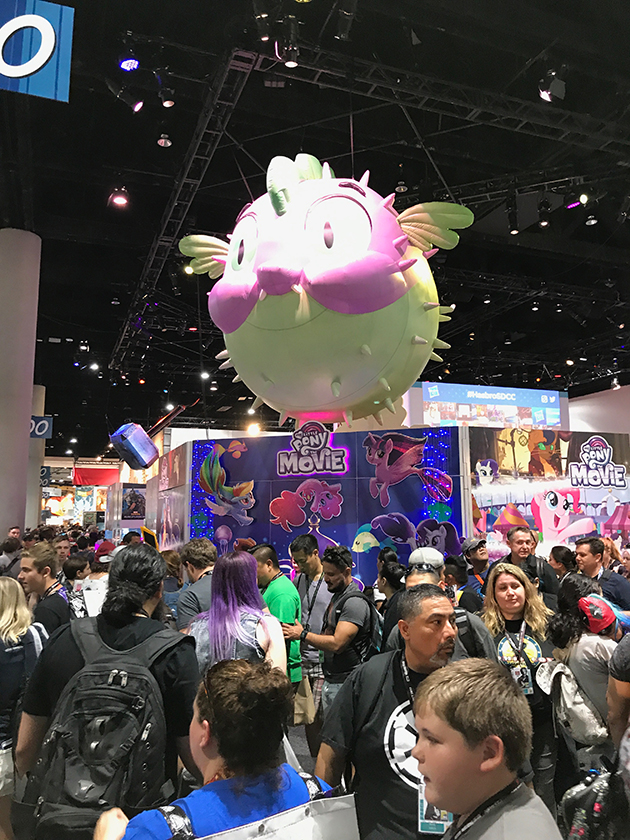 ---
Books!
Predictably, I gravitate towards the books. (Although Comic-Con is mostly an entertainment industry juggernaut, there are still books!)  Here's what I bought this year.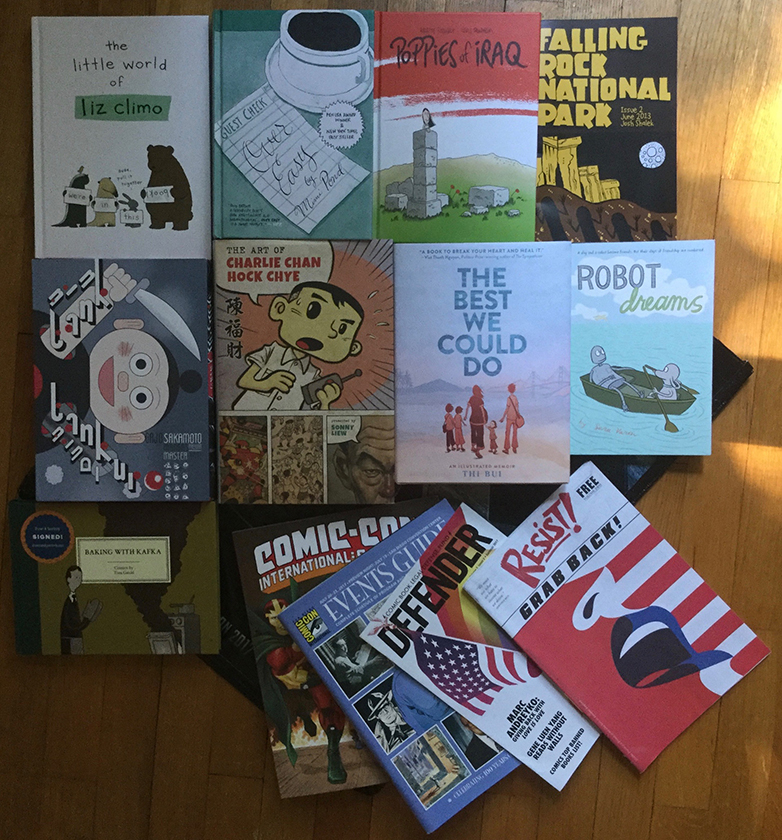 I did not buy as much as in previous years because, well, in some cases I already owned them and in other cases (such as Emil Ferris' My Favorite Thing Is Monsters), I decided to order it and have it shipped – as I did for the two gigantic Sunday Press books included above. (Sunday Press reprints the comics at roughly their original size – so, a much larger … and heavier … book!)
---
The Art of Signing Books
I love it when artists draw a picture along with their signature!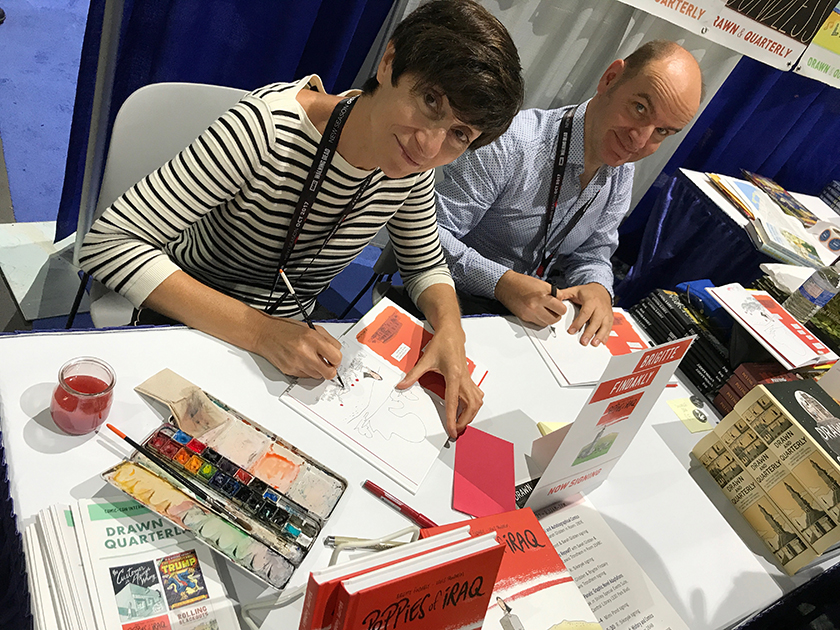 Lewis Trondheim and Brigitte Findakly create a watercolor painting in the book itself! Specifically, Trondhiem draws, and Findakly (who also did the coloring for the book) paints. Just so we're clear, that entire right page was blank: they created the art while we waited.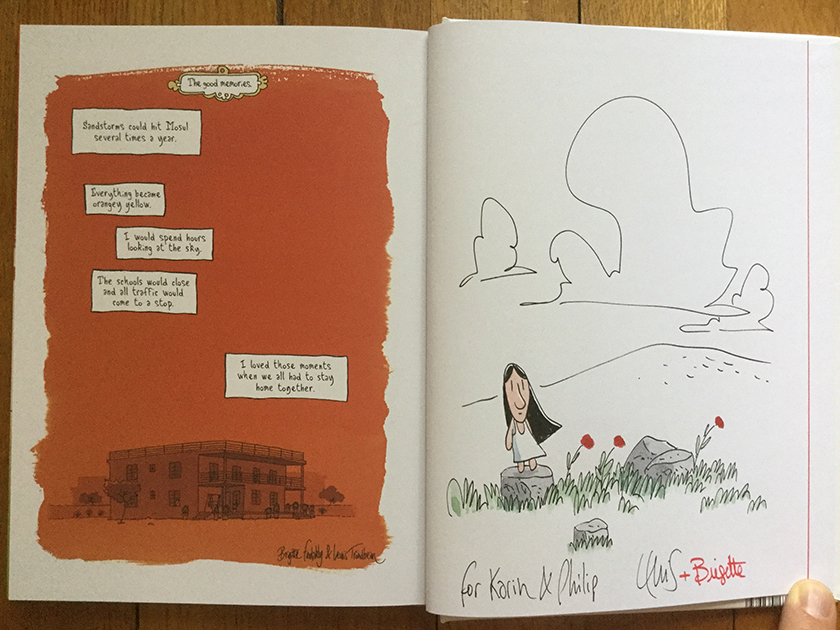 Poppies of Iraq is a beautiful book – an episodic memoir of growing up in Iraq, punctuated by destructions of the present. I saw the authors on a couple of panels, and they were great. Trondheim (who also speaks English) had a nice sense of humor, which both served as a counterpoint to Findakly (who was more serious, and spoke only in French) and seemed to me emblematic of their warm relationship with one another. The story is Findakly's, though Trondheim (also her husband) helped her write it.
---
Everyone says "Hi"
I failed to take photos with all folks I spent time with (notably, Susan Kirtley and her sister Kathy).  But here are a few!
Left to right: Me, Karin, Charles Hatfield, and Michael Tisserand. (Credit: photographer at the restaurant… who gave us the option of either black and white or color. We liked this one because it seems to suggest that we this dinner occurred some time ago.) Great to meet the author of Krazy, and to hang out with both him and Charles!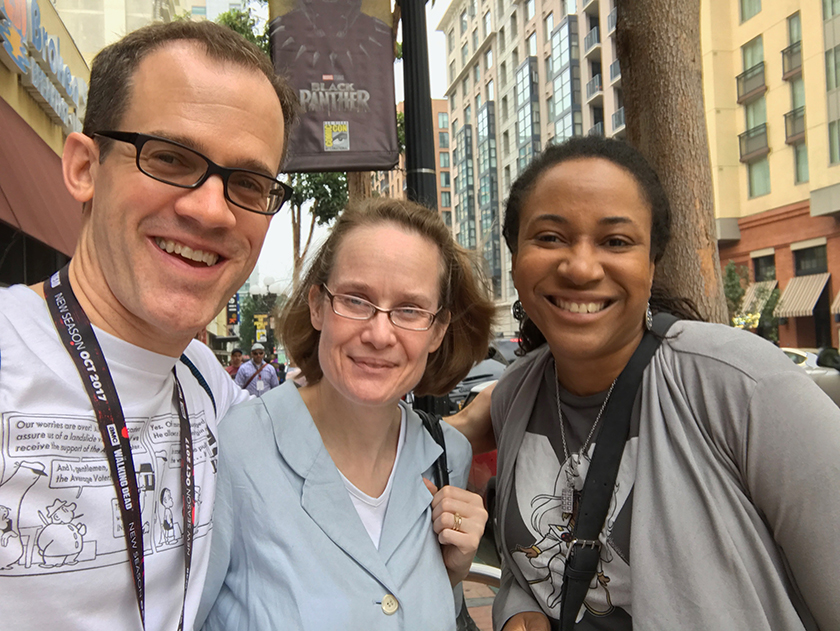 The second annual Comic-Con breakfast with Ebony Elizabeth Thomas!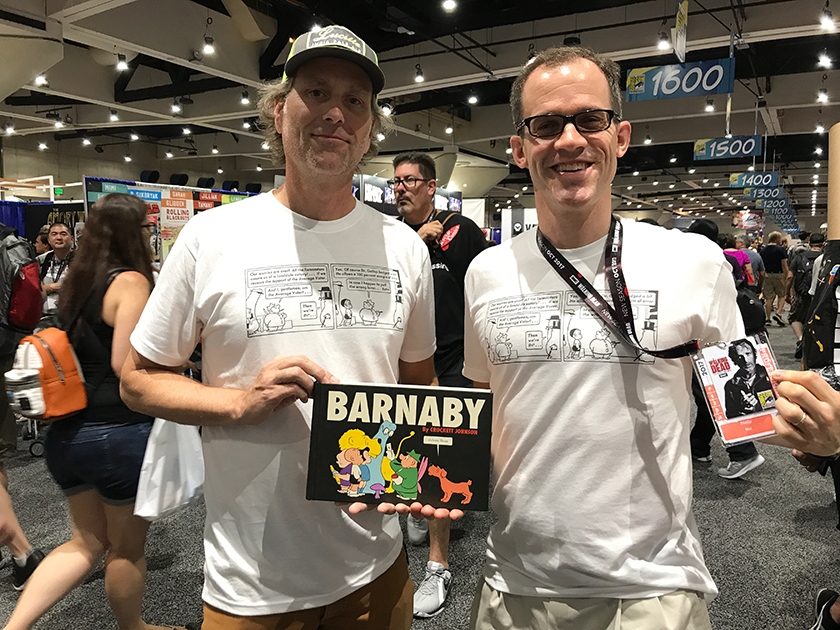 Hey, look – it's the co-editors of Crockett Johnson's Barnaby Volume Three (and Barnaby Volume Two, Barnaby Volume One, and the forthcoming Barnaby Volume Four…)!  And they're wearing matching Barnaby t-shirts!
---
Eisner Awards: and the winner is…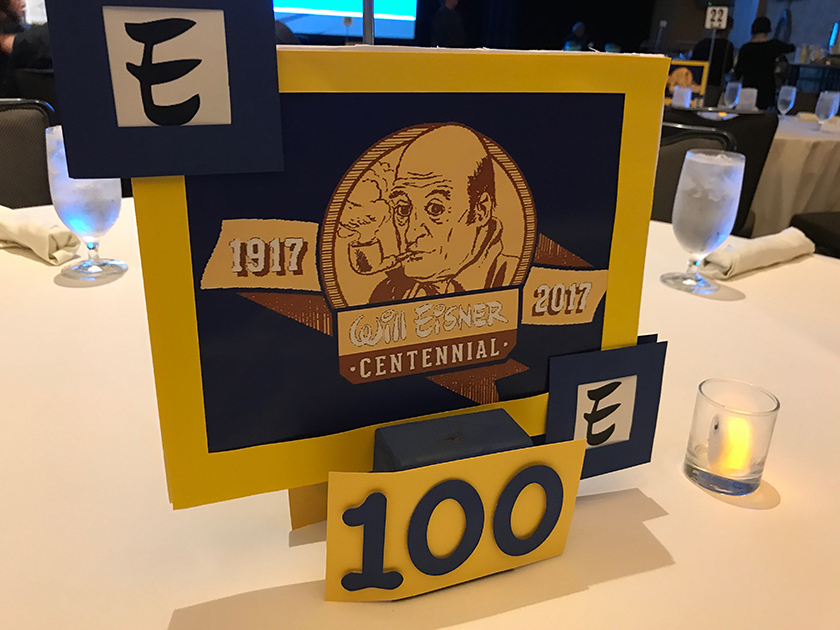 Congrats to #Eisner winner @m_tisserand! #Krazy! #SDCC17 pic.twitter.com/OQUynTvXvW

– Philip Nel (@philnel) July 22, 2017
Very excited that Michael Tisserand won for his biography of George Herriman – which (if you haven't done so already) you should read. Delighted to see Los Bros Hernandez win, and Sonny Liew get three awards for The Art of Charlie Chan Hock Chye.
#Eisners #SDCC17 #Pulse pic.twitter.com/QeDZUtJ5cU

– Philip Nel (@philnel) July 22, 2017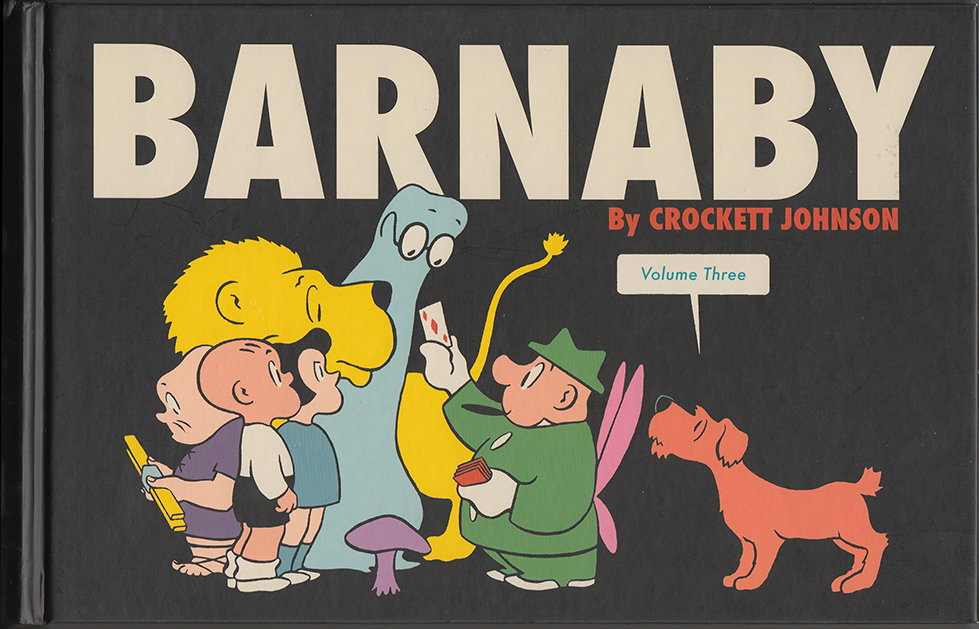 Crockett Johnson's Barnaby Volume Three: 1946-1947 – edited by me and Eric Reynolds – lost… making me a three-time Eisner loser. And that's the way of awards. Sometimes we win, but usually we lose. (Statistically, the odds are against you – as one of 5 nominees, our book had a 1 in 5 chance.) But the work is what matters. And I think we did a darn good job on this book, if I do say so myself. (Hint: I do!)
Also, Johnson – who died 42 years ago this month – never won a major award. So, we are proud to help continue his losing streak (and mine)!
Gosh! I am now a three-time #Eisner loser! Congrats to Peter Maresca for Chester Gould's Dick Tracy! #SDCC17 #Eisners pic.twitter.com/pkpvX29Nta

– Philip Nel (@philnel) July 22, 2017
I went to a number of panels, and took notes.  I don't have time to do proper write-ups for all, but here are photos and extracts from my notes.
---
Code-Switch: Diversity Behind the Scenes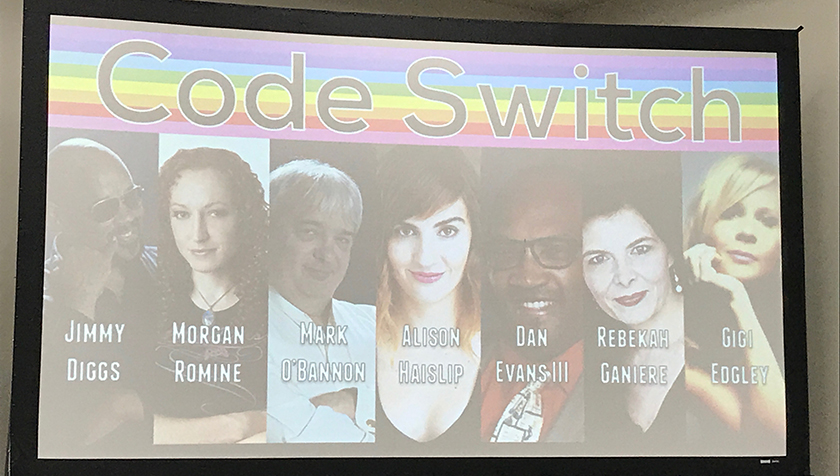 Thursday, 20 July 2017, 10-11 am
Program description: "Jimmy Diggs (writer, Star Trek: Deep Space Nine, Voyager) and Gigi Edgley (Chiana on Farscape) lead a diverse panel of science fiction, fantasy, and gaming industry leaders as they share their perspectives from behind the scenes of your favorite franchises. African American, veteran, LGBTQ, and female creatives discuss diversity of background and thought. Learn how obstacles overcome, stereotypes broken, and glass ceilings shattered have fueled creative magic! Panelists to include Dan Evans (VP of creative affairs, DC Comics), Rebekah Ganiere (author, Dead Awakenings), Alison Haislip (actor, host, gamer), Mark O'Bannon (author, The Dream Crystal), and Morgan Romine (director of initiatives, anykey.org)."
Mark O'Bannon: "I never discriminate for race, creed or color because there are so many real reasons to hate people."
Alison Haislip (hosts a podcast called the Half-Hour Happy Hour: "I got my start on the G4 Network, Attack of the Show. I never knew that I could be a host.  I'm an actress.  I did not know hosting was something I could do. …A lot of people identify as a girl gamer — 'I'm a girl gamer.'   I just say 'I'm a gamer.'  But it's important to realize that 'girl gamer' is important because we need people to identify.  Did anyone else cry when they found out that the next Dr. Who is a woman?"
Dan Evans III: "I don't like the term 'diversity.' I'm with Shonda Rhimes: It's all about normalization. I'm interested in doing the diversity subtly.  I've worked in TV for 30 years.  At the level I'm at, there's not a lot of black people.  I've had to depend upon others to get here — and a lot of those people have been women.  So, I'm interested in representation of women — and not just the chick in the bikini.  …I think of myself as a girl gamer because I play a lot of games as girl characters."
---
Spotlight on Jeff Smith
Thursday, 20 July 2017
Jeff Smith, interviewed by Larry Marder
Spotlight on @jeffsmithsbone at #SDCC17! Photo of Jeff in 1992 (on screen) and now. pic.twitter.com/gFo7lM6Cbk

– Philip Nel (@philnel) July 20, 2017
Larry Marder: "We called ourselves alternative comics, but … we were independent because we had no alternative."
Getting Bone serialized in Disney Adventures [c. 1998] was a turning point for Jeff because – as Larry says – "you were in the checkout line of the supermarket."  Its audience took off.  Disney Adventures' circulation was 6 million.
Bone is now in 33 languages, and one of the first was German.
Will there be a Bone movie? Jeff says, "Something's finally happening: producer of Lego movies and Mark Osborne (director of Kung Fu Panda) are working on a Bone film adaptation. However," Jeff notes, "we've been here before…" In other words, this isn't the first time that a film has been in the works… but never materialized.
The panel provided some history of self-publishing, and how times have changed. Writers and artists didn't typically have their names on the cover of a comic book. When Jeff Smith put his name on his books, some people thought that was really egotistical – but Jeff Smith thought, well, Bill Watterson put his name on the cover of his Calvin and Hobbes books.
Audience member asks of Jeff's books: Why are all the titles four-letter words? Coincidence?  OCD?
Jeff's answer: "It was a coincidence with Bone and Rasl.  But Tuki was originally spelled Tookie. The designer who did the Tuki logo spelled it that way." Jeff asked why? Designer said, referencing Jeff's earlier books: "well, it has to be 4 letters."
---
CBLDF: State of Censorship 2017
Program description: "Get a global look at comics censorship from CBLDF! See how the new political climate is affecting free speech in the U.S., with increased scrutiny at the border and an abundance of local challenges to comics addressing diversity and equality. Explore how cartoonists are being prosecuted, threatened, and intimidated by authorities around the globe for making art. Learn how you can participate with CBLDF in making a difference and standing up for free expression! CBLDF executive director Charles Brownstein and editorial director Betsy Gomez lead the conversation."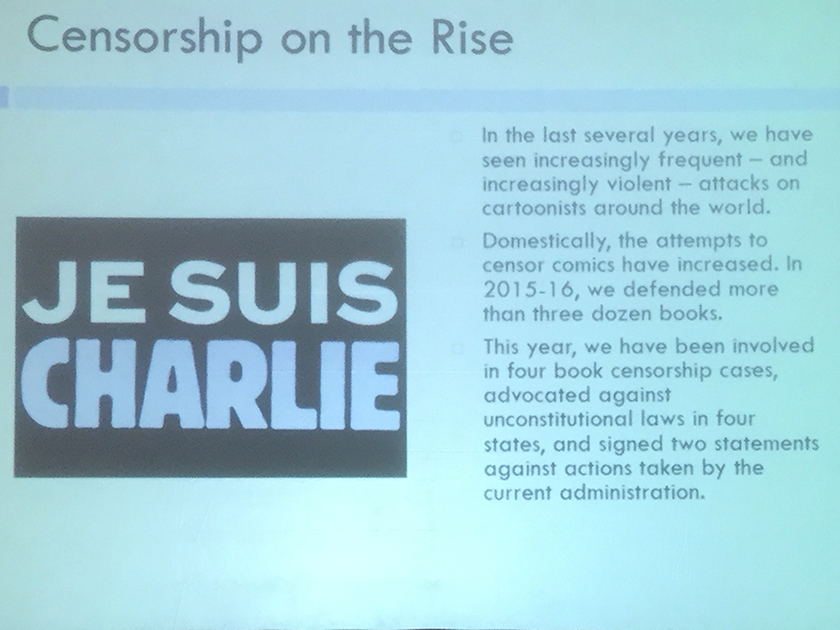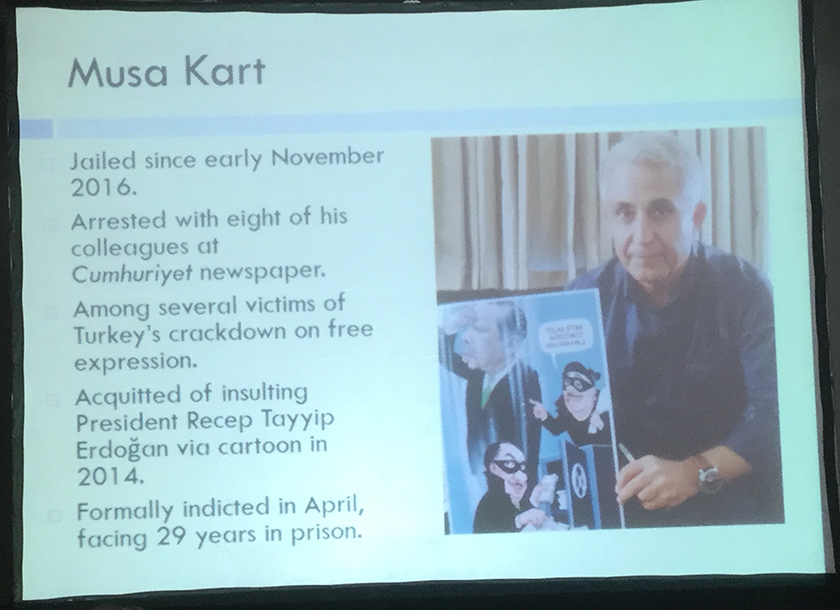 Musa Kart in Turkey. President Erdoğan has cracked down on free expression.  Musa Kart was held for 5 months. Still no charges filed against him. Erdoğan is accusing journalists and artists of supporting those who organized the coup.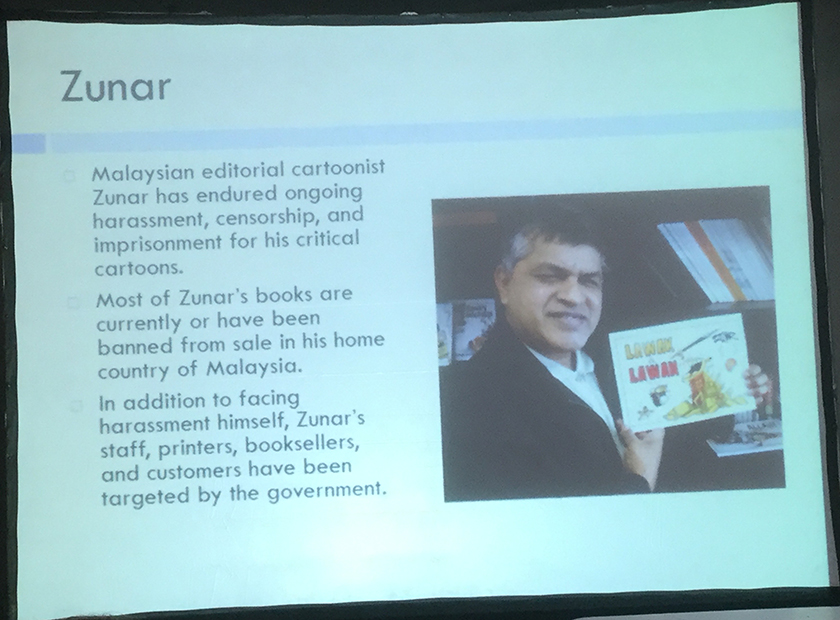 Zunar. Malaysia. Currently facing 9 charges of sedition for some Tweets suggesting that the country's courts have been bought out. He's facing at least 43 years in prison for these charges. The sedition act he's being charged under predates the country's constitution – and is in fact illegal under current constitution.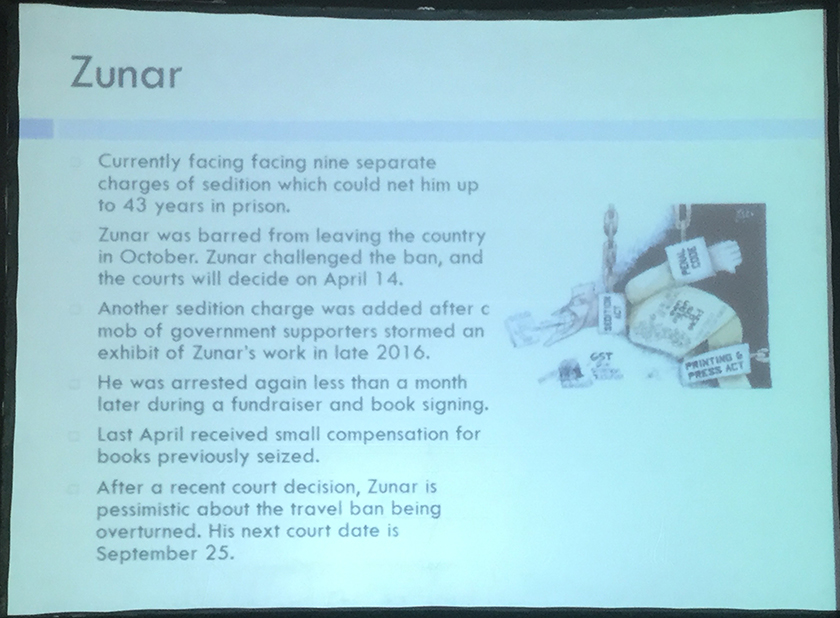 Most important case of past few years is Iranian cartoonist Atena Farghadani who was jailed for depicting legislature as farm animals. Since incident, Farghadani was charged under rarely enforced law of contact with opposite sex who is not a family member — because she shook her lawyer's hand.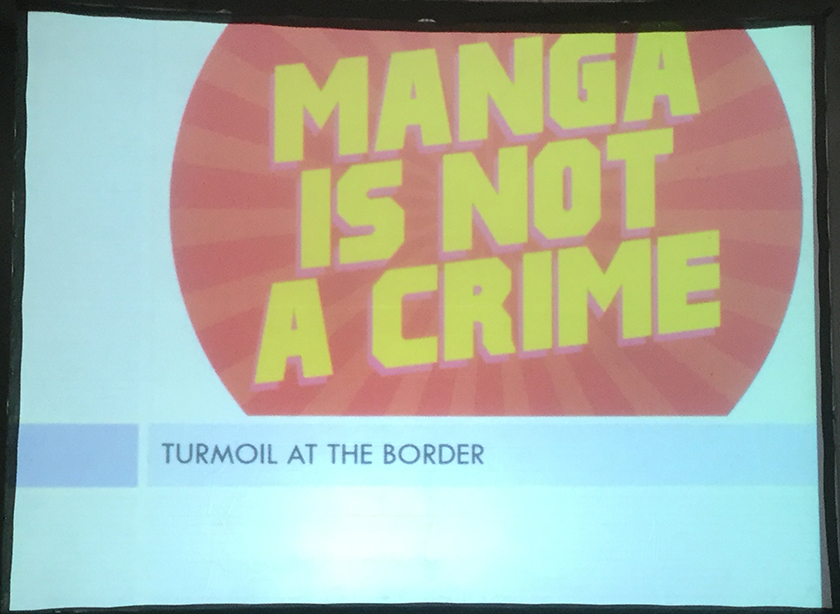 We've seen a lot of "manga is a code word for porn" at customs & immigration enforcement. [Note: it is not anything of the kind.]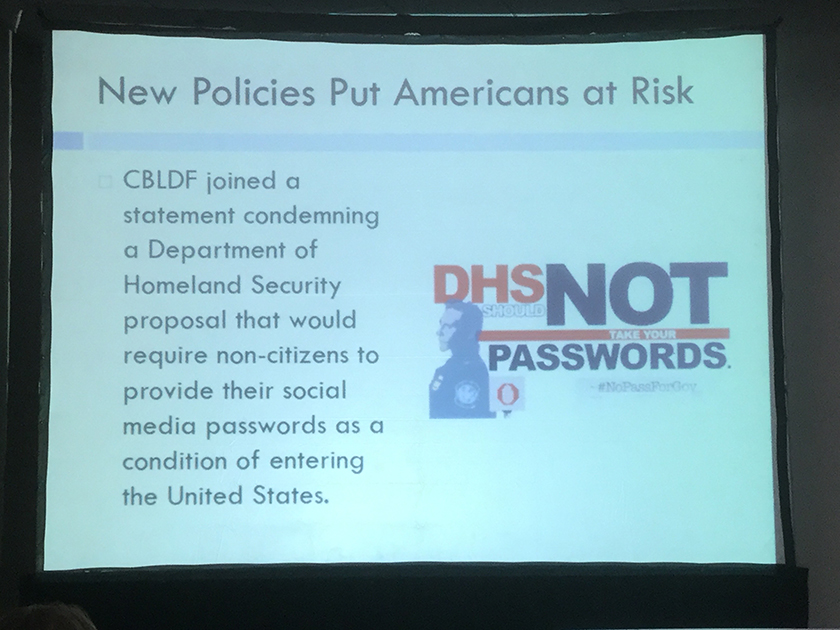 Beyond the violation of privacy, this policy may prompt other governments to prompt US travelers to hand over their passwords.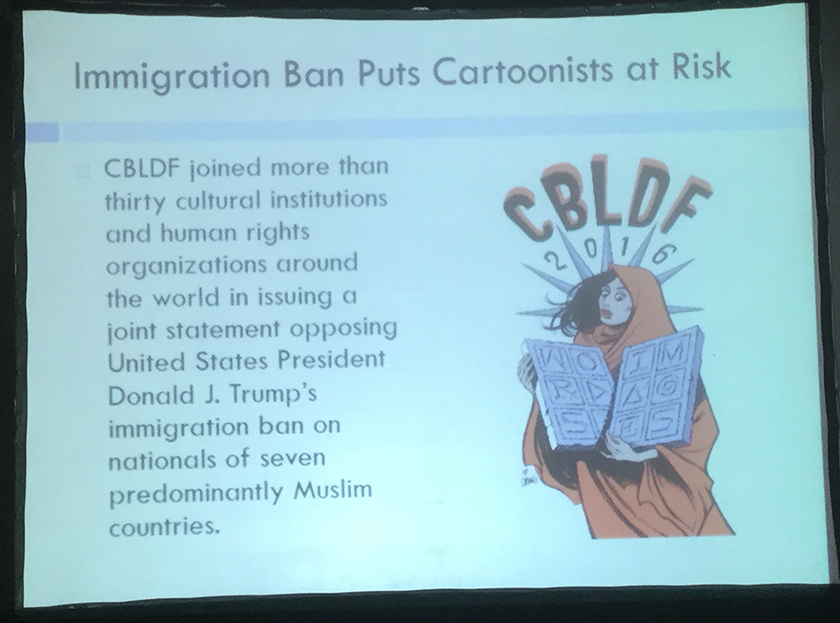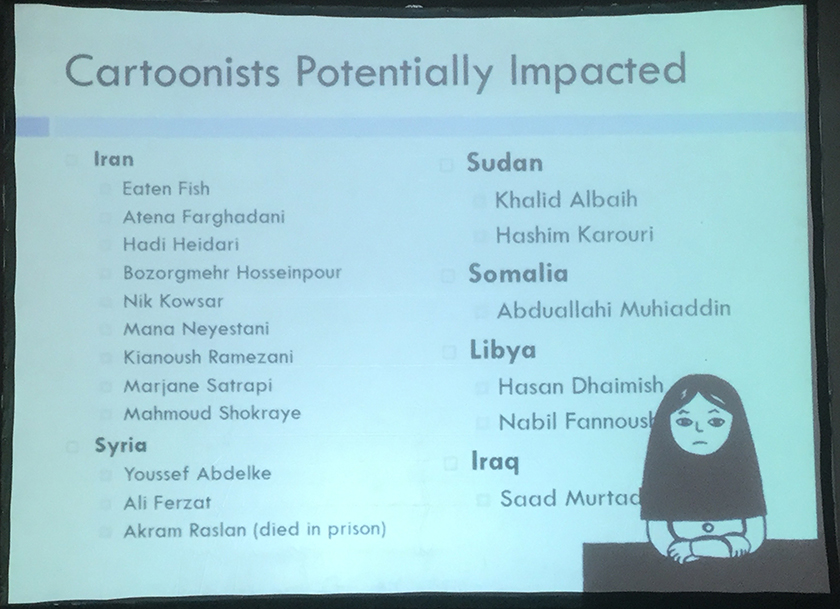 A cartoonist like Atena Farghadani would be affected: if she is arrested and needs to escape to US, she would have trouble traveling. Or if Satrapi had to come to the US, say, for a film festival, could she come under the travel ban?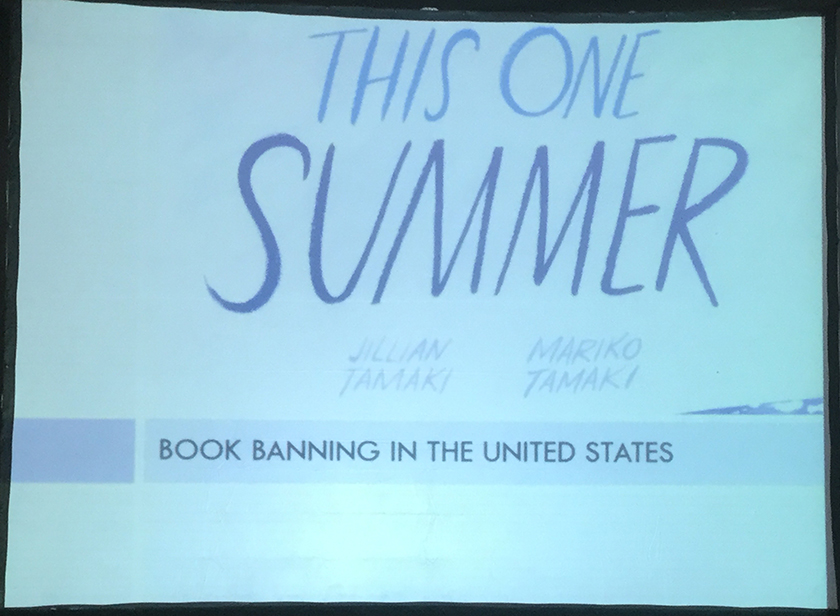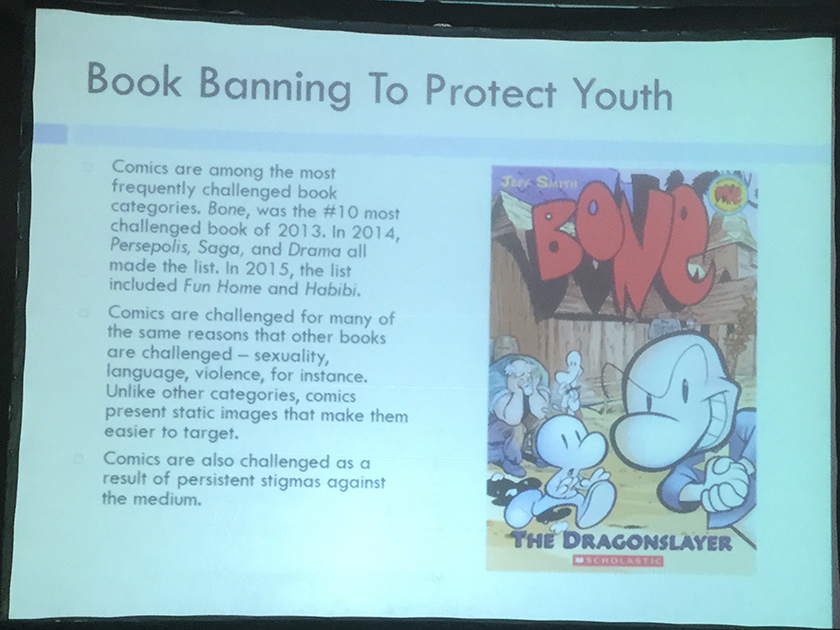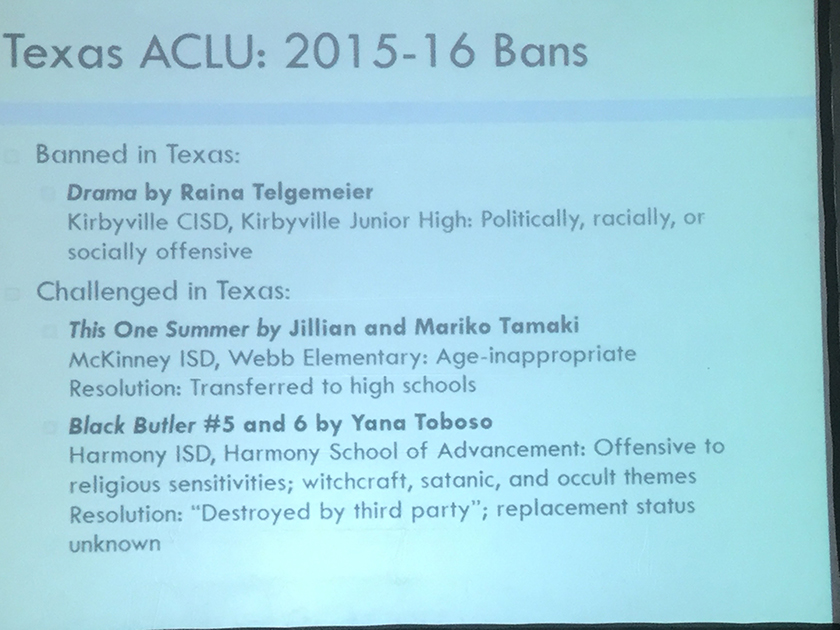 Black Butler: these books were actually burned or removed from library so no one else could access them.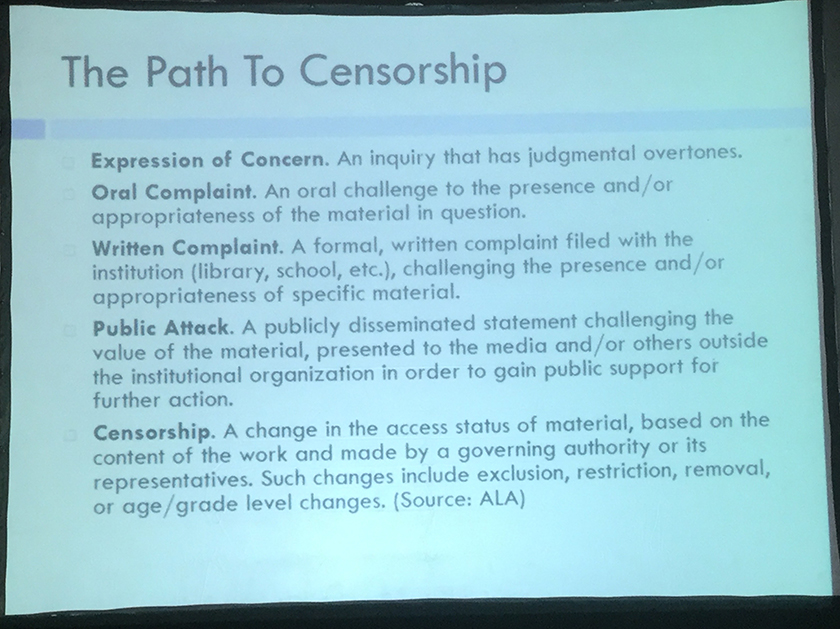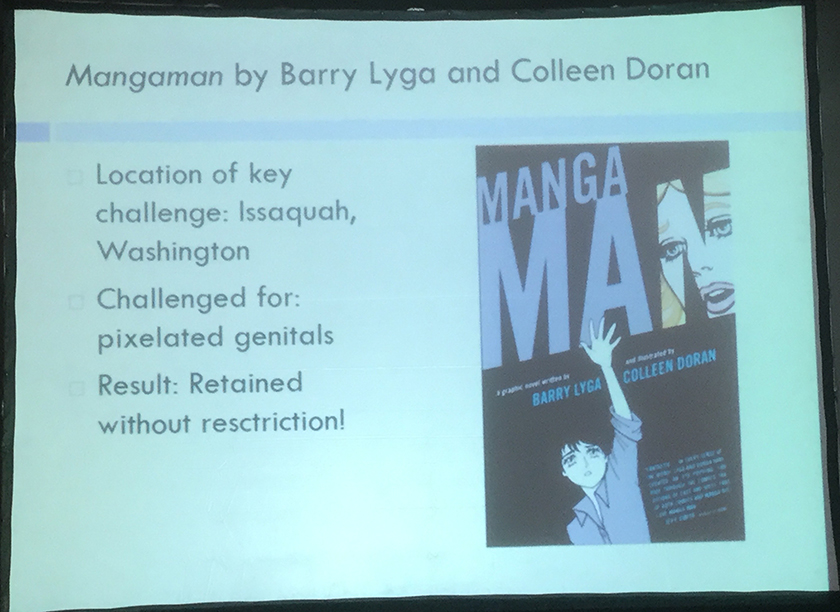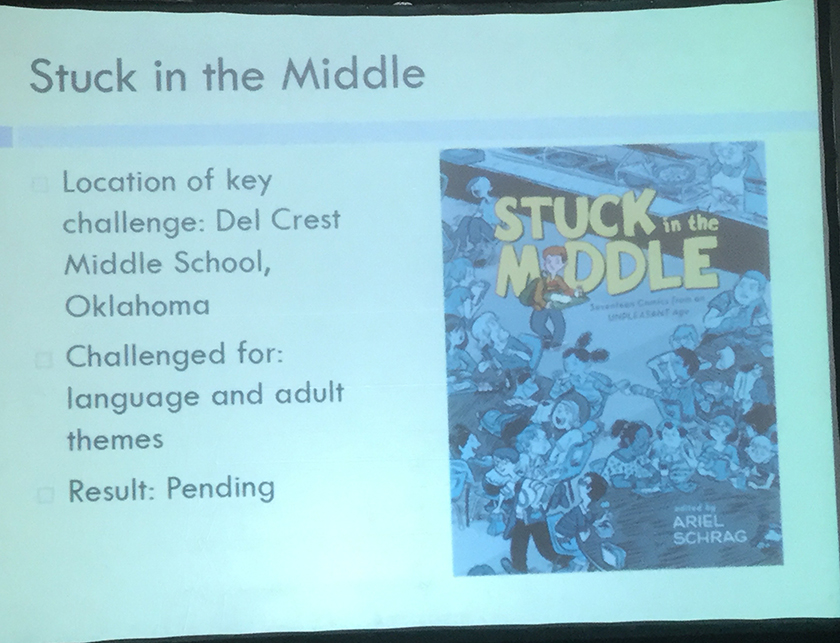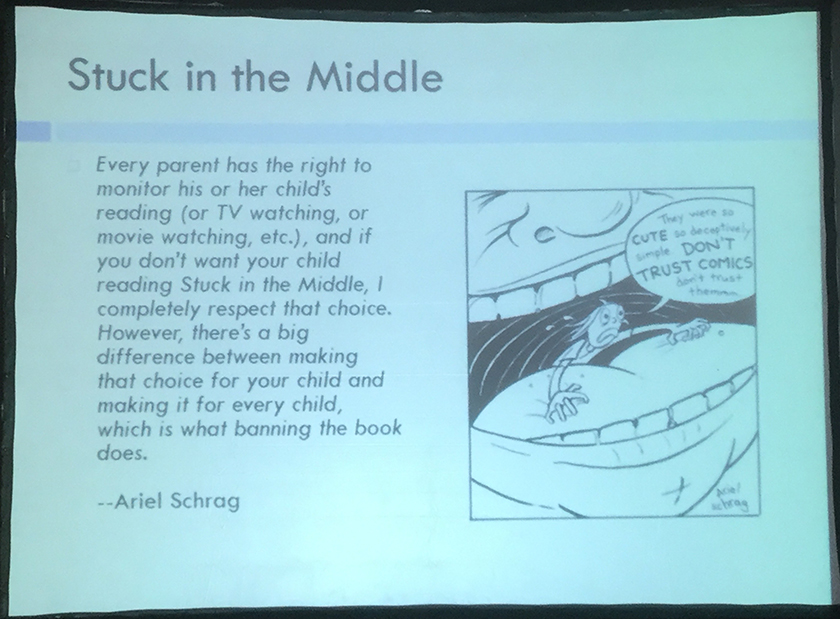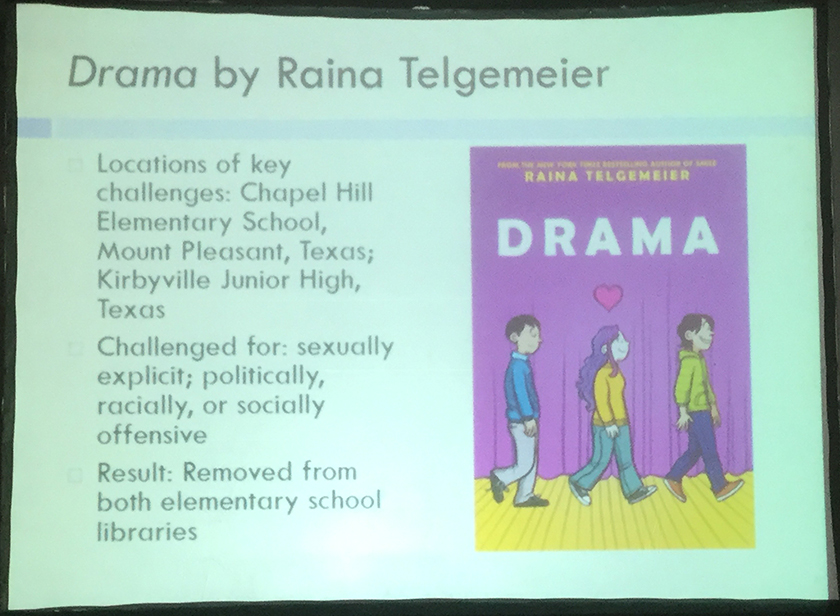 A common complaint against LGBTQ books is that the book doesn't show negative effects of this lifestyle. (Charles Brownstein makes this comment in context of Drama, where two boys share a kiss.). Kids who are most affected by these challenges are those who need to see themselves represented.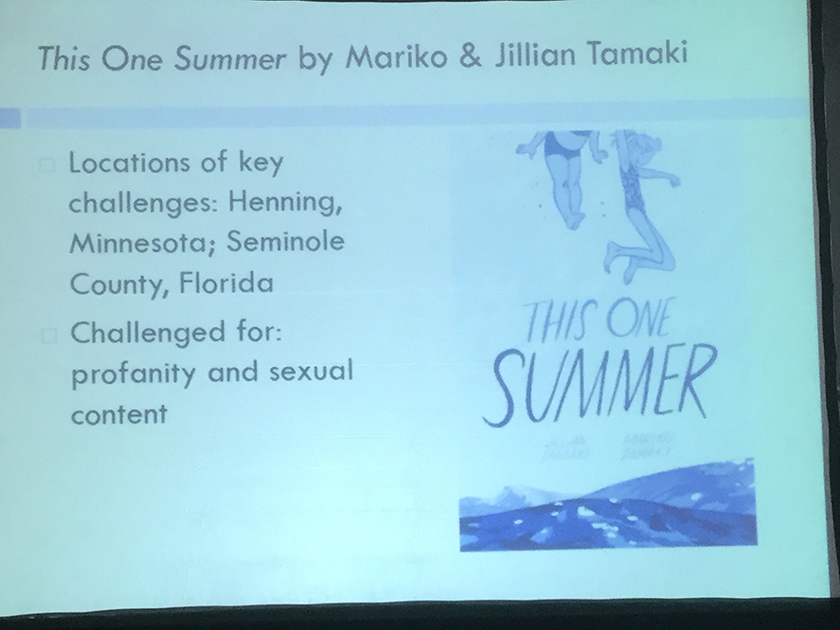 "We've signed onto 15 letters of support this year, so far."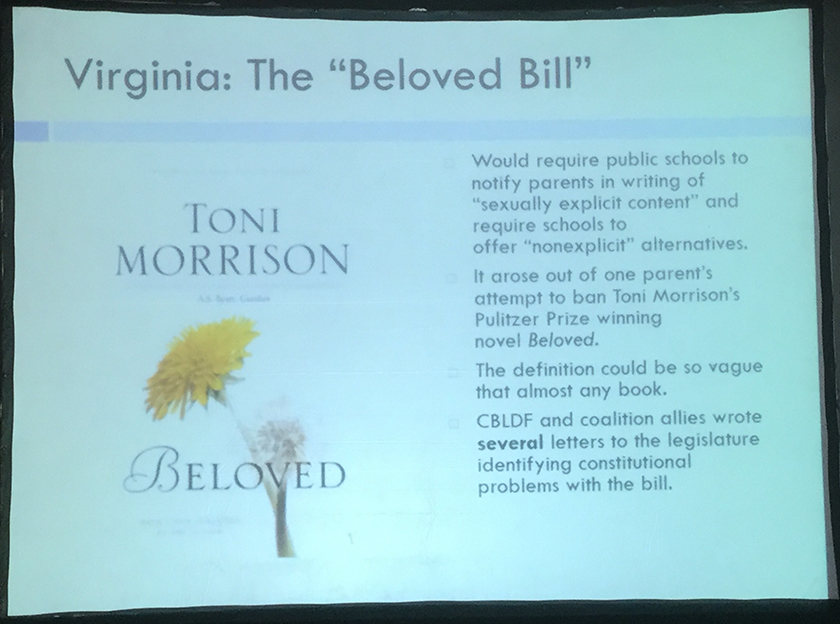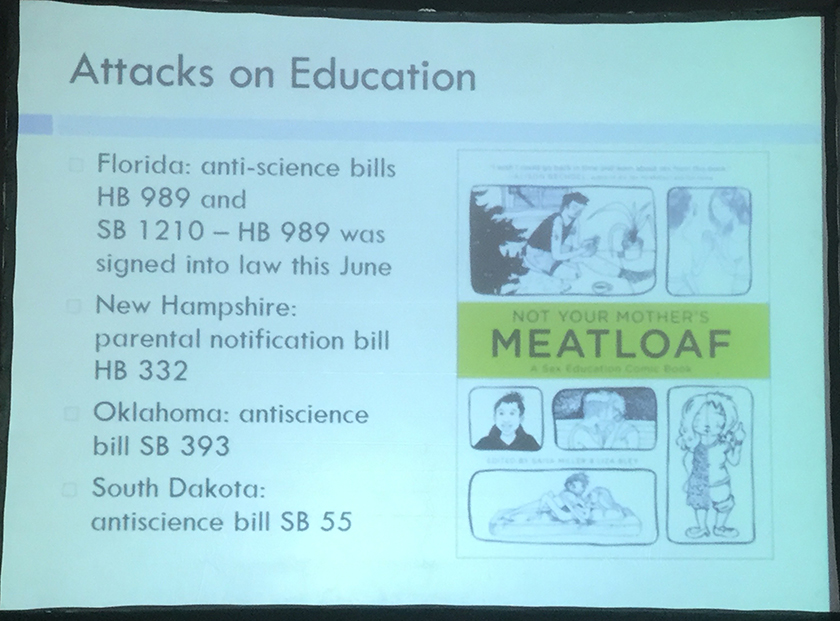 We're seeing a larger trend of parental notification bills — and the language is always vague.
The result of such bills is that it affects what teachers are ultimately going to assign.
Charles Brownstein: "We're in a cold civil war on the culture on that front. There's a lot more stuff happening on the cultural level, things like the filtering bill that I've just described, like the anti-science bill…. using the legislatures to affect speech."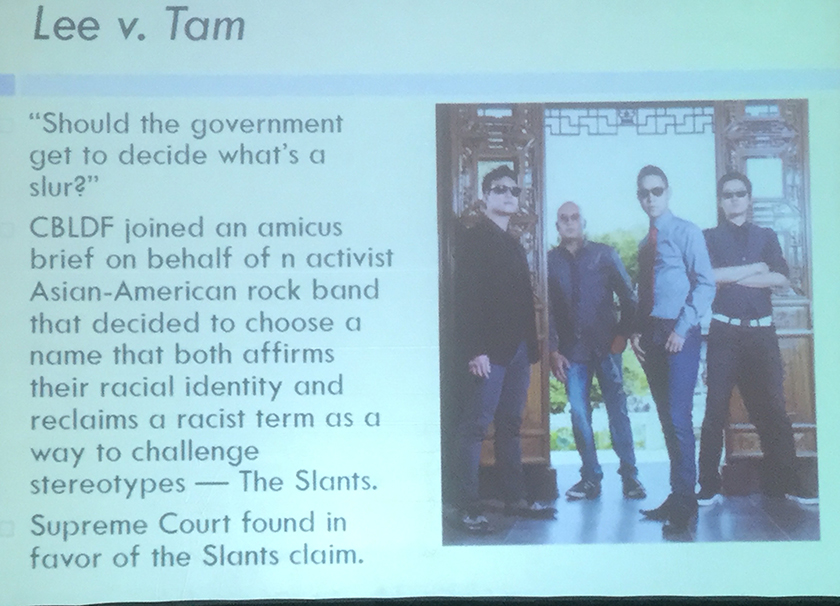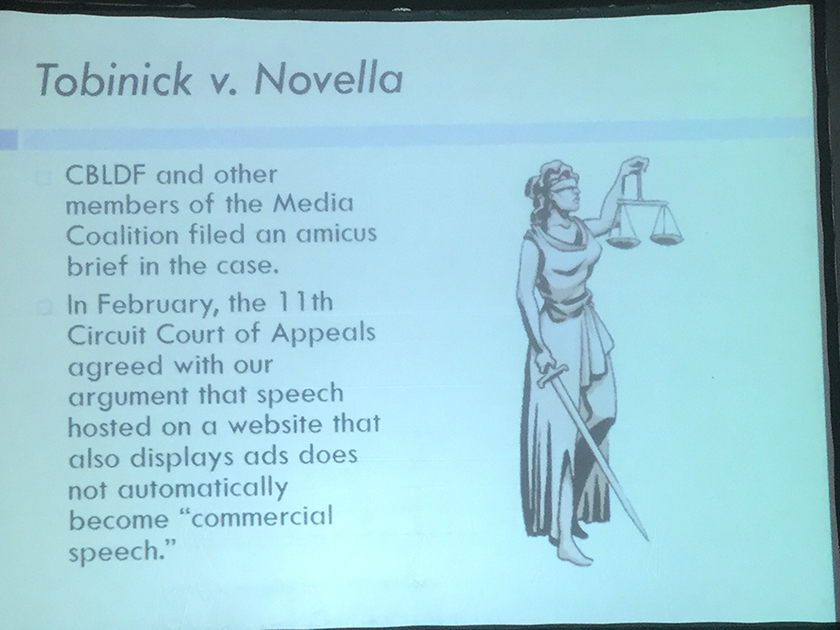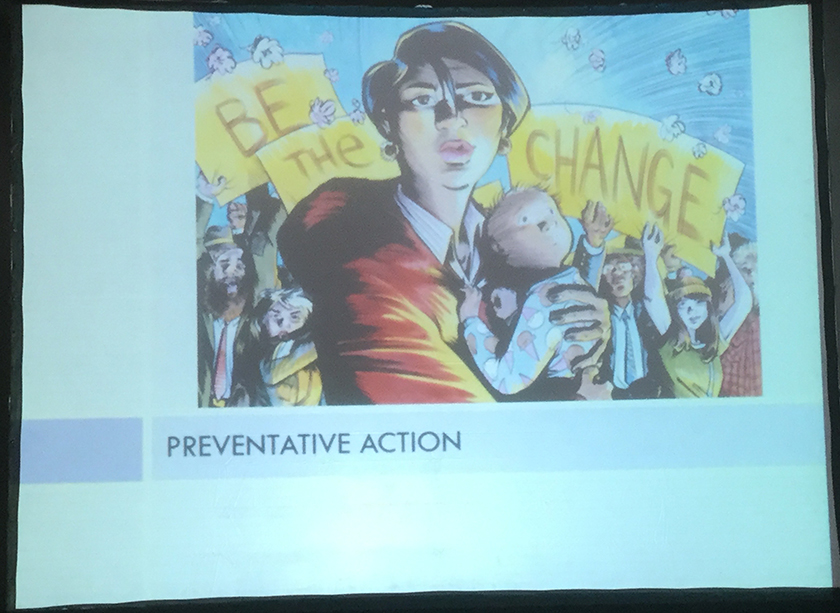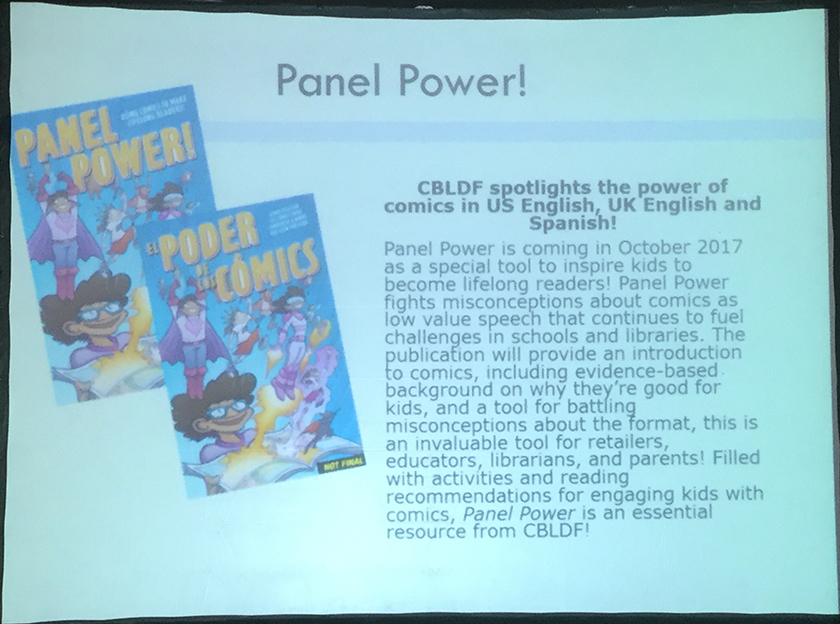 Visit CBLDF's Education Resources!
---
CBLDF: She Changed Comics
Thursday, 20 July 2017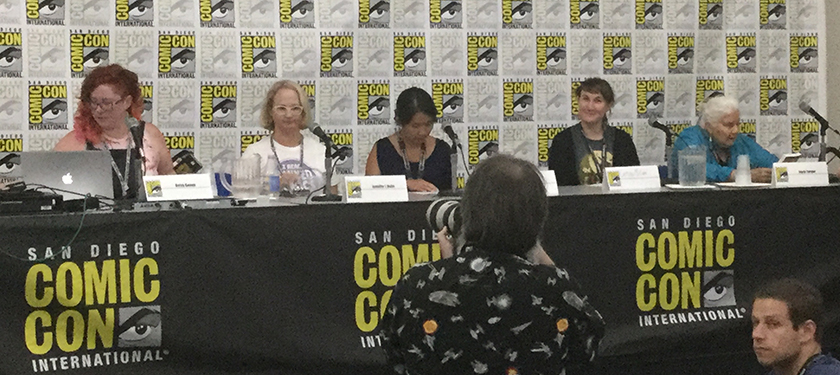 Program description: "Meet the women who changed free expression in comics! From the turn of the 20th century to today, women have overcome censorship and more to make comics, inspiring today's landscape of increasingly diverse and empowering comics storytelling. Join Joyce Farmer (Special Exits, Tits & Clits), Thi Bui (The Best We Could Do), Jennifer L Holm (Babymouse, Sunny Side Up), CBLDF editorial director Betsy Gomez (She Changed Comics), and more for a discussion about the women who changed the format."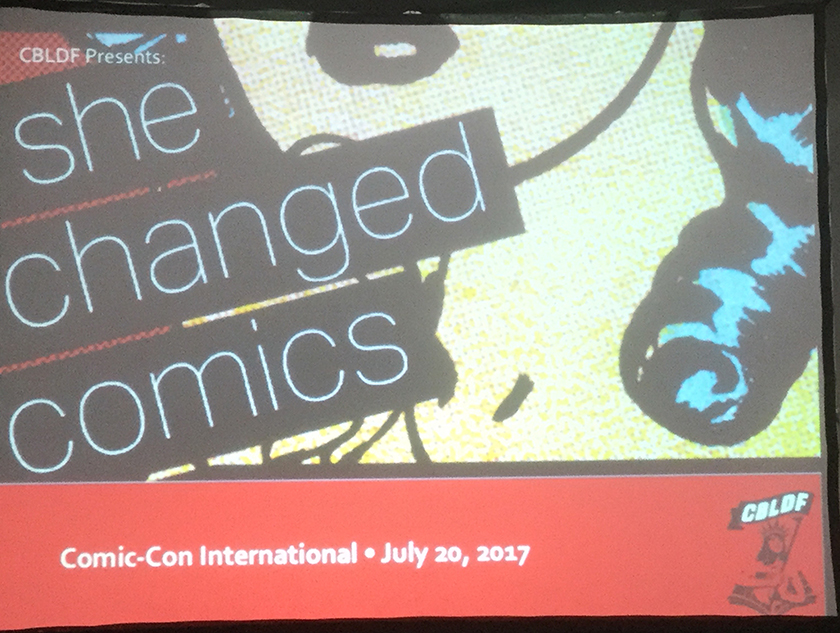 She Changed Comics started as a project during Women's History Month.
Book She Changed Comics profiles 60 women.  Great survey and intro. to women creators in comics.
Betsy: How did you come to comics?
Joyce: started reading 'em at age 1.
Caitlin McCabe: I come from an unusual family. My dad introduced me (as a child) to works of R. Crumb. I grew up reading a lot of things I didn't realize were controversial.
Thi Bui: I didn't read a lot of comics as a kid, but when I was a child especially those written by women. Elf Quest. As a grown-up, Marjan Satrapi's Persepolis was a huge inspiration.
Jenni Holm: I'm one of five children. Our father loved comics. We had collected volumes of Prince Valiant and Flash Gordon.
Joyce Farmer: When I was a kid, I liked Little Lulu.  I was sort of androgynous. I read superheroes and Donald Duck. My mother died when I was 11, and my father gave me an allowance, and I'd buy five candy bars and five c
Jenni Holm: I wanted the girl version of Peter Parker, but those were few and far between.
Betsy Gomez: I was once asked which female comics artists influenced me, I said Terry Moore (who is not a women), but wrote Strangers in Paradise, which has two main female characters. I also read a lot of Vertigo, an imprint which was run by women.
Joyce Farmer: Wrote Abortion Eve, post Roe v. Wade, because had been working as a counselor for women considering abortion.
Joyce Farmer: For Tits & Clits, I actually had to hide copies of the work, and records of having sold it.  This made her change the works she was doing — did mediocre stuff. "Censorship damages the creativeness of the people who are working."
Joyce Farmer: "When you're responsible for two older people who don't want you to help them, and they don't want you doing it, they …"  Dad had a sarcastic Danish sense of humor. Book is Special Exits: A Memoir.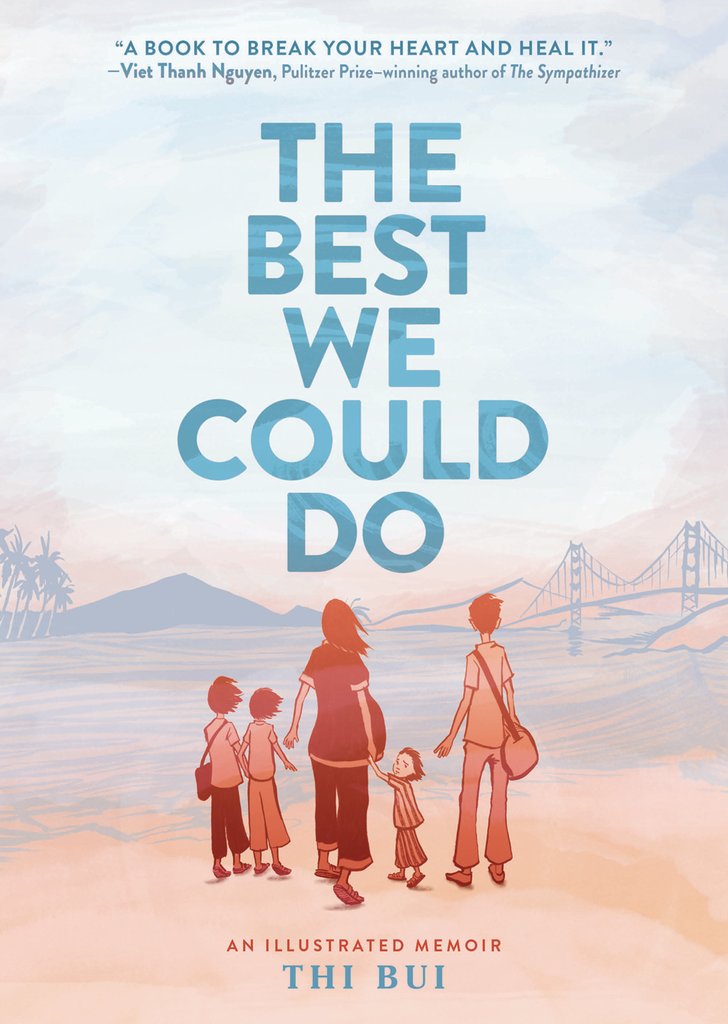 Thi Bui: I started this in my 20s, and was angry about the misrepresentation of Vietnamese people and the Vietnam War. I wanted them not to be allegory, but to be real people. I had access to those stories through my family.  I was also trying to figure out my own origin story at the same time. It took me about 15 years total to write it, and I became a parent in the meantime, which unlocked a lot of empathy for my parents….  and that's how the title changed from Refugee to The Best We Could Do.
Thi Bui: It's comics because it's revenge against Hollywood. I didn't have a Hollywood budget, but I could draw.
Thi Bui: My book is not the first to come out about Vietnam American stories. GB Tran's book came out in 2011. And when I found that out, I was discouraged, but then I realized that we need more stories — this, as we know, is the danger of a single story.
Jenni Holm: The comics you read as a kid stay with you your whole life.  Also, I remember everything from elementary school.
Betsy: Do you prefer prose or comics?
Jenni Holm: I prefer comics because I collaborate with my brother.  He does the majority of the art, and I do the writing.  I also do the layout. I like the collaboration.
Betsy: A lot of women work in kids comics.  Why?
Jenni Holm: More opportunity for women.  I think we will look back at this period and see this as a renaissance for kids' comics.  My latest series is called Sunny Side Up.  The elevator pitch is this is a girl in 1976 who goes to Florida and spends the summer with her grandparents in a retirement community. Would DC or Marvel ever publish this?  No. But children's publishers are willing to take risks.
Betsy: Women are overrepresented as far as censored books go. Why is that happening?
Joyce Farmer: Because women see thing differently.
Jenni Holm: A lot of the books are getting attention because they're New York Times best-sellers. They're big shiny targets.
Betsy: Books by (or co-written) by women that have been challenged: This One Summer, Drama, Diary of a Teenage Girl, Fun Home, Persepolis, Saga, Stuck in the Middle.
Thi Bui: Censorship being used as a weapon.  It seems to come with the territory of getting a bigger voice — people trying to shut you down.
Betsy: How will women continue to affect comics in the future?
Jenni Holm: We're raising a new generation of comics readers, girls and boys. This generation is growing up known that there are women creators, and that is normal.
Thi Bui: And that there's more than one way to do it.  There's more than one way of being a feminist, and more than one ways of telling a story.
Betsy: What are you working on? Where can we find you at the convention?
Nancy Farmer: Special Exits in translation in 5 languages.
Thi Bui: Best We Could Do is at the Abrams booth. I'm working on a PEN America comic on refugees.
My next project is on climate change & Vietnam, which is the country in world with largest percentage of population at risk of coastal flooding.  Only other country with higher percentage of population at risk is the Netherlands.
---
Writing from Life: Turning Personal Experience Into Relatable Stories
Thursday, 20 July 2017

Program description: "Poignant stories often come from a place of truth, but once you've lived through something, how do you turn it into a piece of art that you can share with the wider world? Moderator Jessica Tseang (comic book historian) aims to find out with panelists Sonny Liew (The Art of Charlie Chan Hock Chye), Eduardo Risso (Dark Night: A True Batman Story), Gemma Correll (The Worrier's Guide to Life), Lewis Trondheim (Poppies of Iraq), Brigitte Findakly (Poppies of Iraq), and Tillie Walden (I Love This Part)."
Note: Tillie Walden was not here. And, left to right, Jessica Tseang (moderator), translator, Eduardo Risso, Sonny Liew, Gemma Correll, Lewis Trondheim, translator, Brigitte Findakly.
Another note: I loved that the panel had people who speak French as native language and Spanish as native language, and translators for both, and even people asking questions in French. This was the most international panel I attended at this year's Comic-Con.
Gemma Correll: The book is a collection of comics made over several years, some of which were made for herself. I can see the ridiculousness of a lot of the anxieties I have.
Jessica Tseang: Did you find it relatable to make it relatable to everyone?
Gemma Correll: It's all personal. But the overall theme of anxiety you can relate to. Modern life is anxiety-provoking.
Jessica Tseang: Did you have anyone personally talk to you about the book?
Gemma Correll: Yes. I wish it were a book that had existed when I was younger.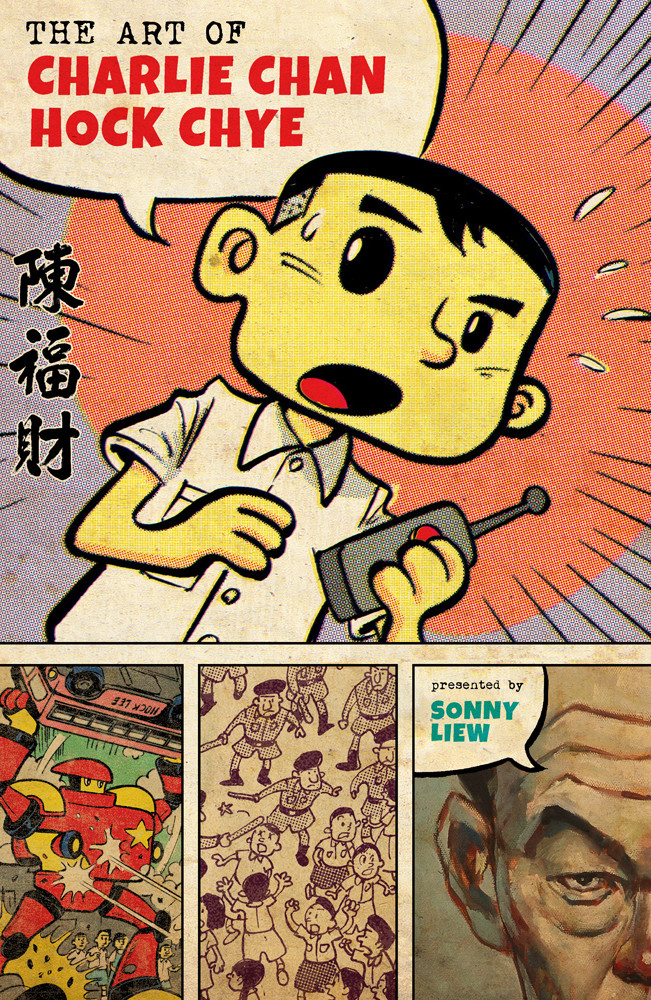 Sonny Liew [re The Art of Charlie Chan Hock Chye]: It's a book that's about Singapore's history, done in form of real art book ostensibly done by Charlie Chan Hock Chye (fictional character) — and is derived from a Wayne Wang film. This book is a different perspective on Singapore's history. I wrote the book mainly for Singaporeans at first.  Singapore is a unique country, and has had one ruling party since its independence in 1965. Imagine if the US had been ruled by Republicans for all its history: think about how that affects what gets told, and what gets left out.
Lewis Trondheim: The book is about my wife Brigitte Findakly's experience; she was born in Iraq in 1959.
Brigitte Findakly: I wrote the book when I realized I would not be returning.
Lewis Trondheim: But it's also funny.
Brigitte: I wanted to talk about the good times I had there.  Iraq is a different country than what it is perceived today.
Jessica Tseang: How did you make it relatable to others not form Iraq?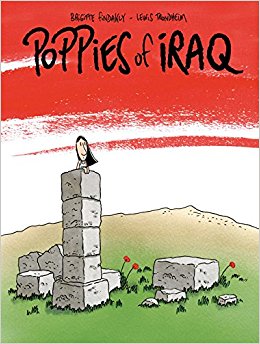 Brigitte Findakly: People can better understand when it is an autobiography.  Several people said they learned more about the Iraq reading the book because it's an autobiography than from the other theoretical books they read about Iraq.
Lewis Trondheim: You don't need to have a traumatic childhood to write a memoir.  You have to find a way to write it, get a point of view that's interesting — with humor or not.
Jessica Tseang: From an artist's point of view, how did you get involved in the story?
Eduardo Risso: For me, it was a difficult subject to draw, because he's not used to drawing along these kinds of themes. I was creating the art and trying to experience Paul's attack as Paul experineced the attack himself. [Dark Knight: A True Batman Story was inspired by writer Paul Dinello's mugging]
You as the readers will probably the best judges to tell if he did a good job with the art, but it is Paul's gift to be the storyteller, and all he could do was do his best to draw the art.
Sonny Liew: If we only wrote about what we know, we live to 68 and maybe have two books in us.  Because we are all human beings, we can all relate to others' experience.
Brigitte: I wanted to keep my memories because Isis was destroying everything over there.
---
Moonlight and Magic: Black LGBTQ Contributions to Sci-Fi, Fantasy, Comics, and Genre
Thursday, 20 July 2017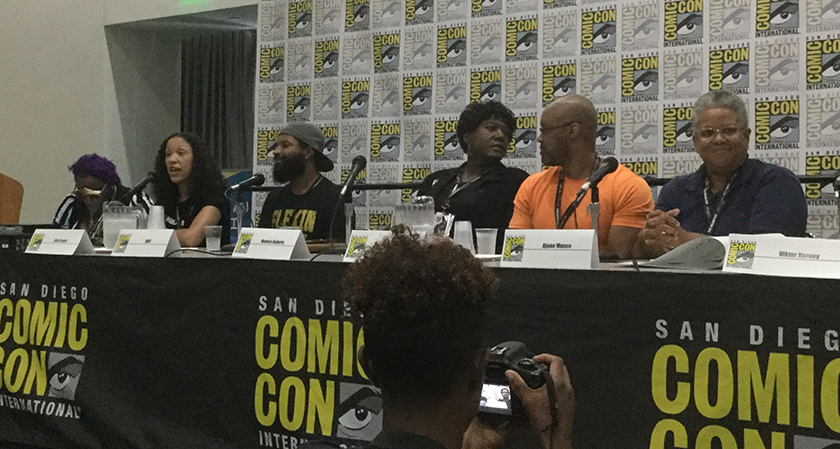 Program description: "The Black LGBTQ experience has brought unique and significant intersectional perspectives to our society and popular media: Black Lives Matter was founded by three black queer women; Black LGBT authors Octavia Butler and Samuel Delany created legendary works; bisexual writer Roxane Gay brought Marvel's Black Panther to deep critical acclaim; and Moonlight won the Oscar for Best Picture. Join Prism Comics with moderator Faith Cheltenham (BiNet USA VP, Tor.com co-creator) and panelists Viktor Kerney (Prism board member, GayMediaSoWhite creator), Ajuan Mance (8-rock.com), Sean Z. Maker (Bent-Con), Monica Roberts (TransGriot, National Transgender Advocacy Coaltion), William O. Tyler a.k.a. WOT (Queerbait), and Eliot Sutler, Esq. (BiWoCC) as they discuss the power of the Black LGBTQ experience and its positive effect not only on popular media but on society and the world at large."
Faith Cheltenham asks the panel: What are some tips?
Monica Roberts: I've been me for 25 years, but only recently I've had the gender marker that matches my gender. One tactic I've used to combat that. Flipping the gender script. If person is female, and let's say her name is Jacuqeline, I'll say "OK, Jack" or call them "sir."
Victor Kerney: As a creator, in my long life I've learned (I'm in my 40s), I've learned you can't ask for permission — just do what you want to do. Growing up, Lamar Latrell — black gay character from Revenge of the Nerds — was a role model to me. Still is. I created my web comic because I wanted to see a black queer person in the lead….. Don't ask. Just do it. We have always waited and asked, and have always had to wait for our turn.  My tip is don't wait, don't ask, just do it.
WOT: To add to that, be unapologetic about it.
Ajuan Mance: I want to give a shout-out to Essence magazine. That said, my way into doing art and illustration is just what …. Essence celebrates well-dressd black men — and it's OK to celebrate Idris Elba…. But I wanted to draw black men just as they are, and show all other black media how it's done. In the process, I learned a lot about my own biases.
Sean Z. Maker: Ramonah Rising — black Cinderella sci-fi story. Was trying to develop it, but studio said "urban markets weren't interested in science fiction." [So, he's instead published them as comics]
A few notes from later in panel –
Viktor Kerney: I want to get back to your point of how we are limited to certain things. We're not in fantasy unless it's voodoo. … We should be able to do all types of things.
WOT is working on a comic about seeing Moonlight for the first time. "In Moonlight I saw a black gay person who like me was shy, very interior. The experience of seeing yourself on the screen for the first time… is indescribable."
Faith is creating a site called Yes, Black People. We're bringing The Green Book back.  A non-profit social experience.
---
Women of Color in Comics: Race, Gender, and the Comic Book Medium
Thursday, 20 July 2017
Program description: "The Women in Comics Collective (WinC, pronounced "Wink") is an international organization that highlights the merit and craft work of women working in the comic book and multimedia industries. Their membership is made up of artists, writers, educators, filmmakers, show producers, art gallery directors, cosplayers, game developers, bloggers, and toy makers. Focusing on female and racial representation in comics, fandom, and the industry, panelists include moderator Regine L. Sawyer (writer, publisher, WinC founder), Jewels Smith ([H]afrocentric writer and creator, activist), Vanee Smith-Matsalia (writer, educator), Jay Justice (cosplayer, activist), Alice Meichi Li (comic book artist, illustrator), Leen Isabel (cosplayer, artist, creator of Pole Dancing Adventures), Jazmine Joyner (comic book store owner), and Jules Rivera (comic book artist)."
Encouraged by the moderator – who provided the hashtag #WinCpanel – I decided to Tweet this one, which means that I took fewer notes.
"Unless we get change at the creator levels, we're not going to see change."
–@AliceMeichi on diversity in comics#WinCpanel #SDCC17

– Philip Nel (@philnel) July 21, 2017
"We've gotten to the point where 'OK, we need one brown person or the show's gonna look weird' –Â tokenism." –Jay Justice #WinCpanel #SDCC17

– Philip Nel (@philnel) July 21, 2017
#HawaiiFiveBye –Jay Justice on #HawaiiFive0's unequal pay for Daniel Dae Kim & Grace Park #SDCC17 #WinCpanel

– Philip Nel (@philnel) July 21, 2017
"Why do you think so many children of color struggle & there's a huge achievement gap?"–Vanee Smith-Matsalia on why #WNDB #WinCpanel #SDCC17

– Philip Nel (@philnel) July 21, 2017
---
Biographical and Autobiographical Comics
Friday, 21 July 2017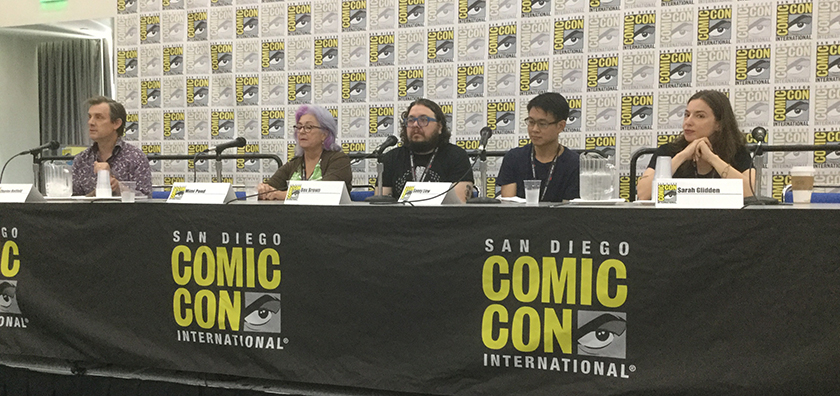 Program description: "Charles Hatfield (comics professor, CSU Northridge) leads a spirited conversation about the spaces between fiction and nonfiction with cartoonists who have worked in fictionalized memoir (Mimi Pond, The Customer Is Always Wrong), fictionalized biography (Sonny Liew, The Art of Charlie Chan Hock Chye), biography (Box Brown, Andre the Giant), and memoir (Sarah Glidden, Rolling Blackouts: Dispatches from Turkey, Syria, and Iraq)."
Charles asks what does it mean to talk about non-fiction in comics, since they are all drawn?
Mimi Pond on her book's disclaimer: episodes in The Customer Are Always Wrong are true, but they've been assigned to characters to whom they did not necessarily happen.
"You can't capture reality. You have to shape it" — Jules Buck, quoted by Mimi Pond.
Sarah Glidden: "I think about this a lot.  You're forming a narrative, even of your own life.  Whether you're telling a story of someone else, or your own life — of how I missed the bus this morning. … Storytelling is a very human way of understanding the world.  Because there is lots of chaotic things happening."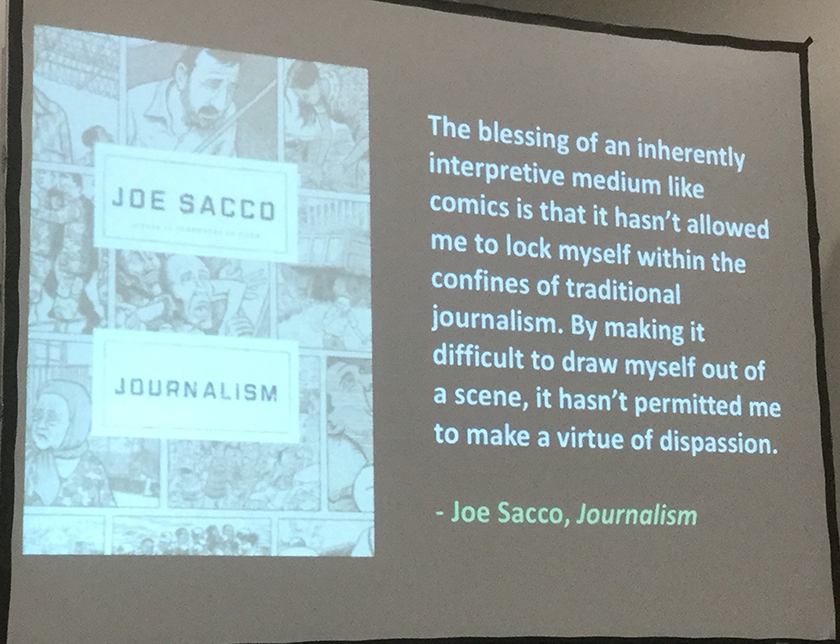 Box Brown on his forthcoming Andy Kaufman book… and the research.  He prefers talking to sources because of affect — hearing the emphasis, the nuances conveyed by the source.
Sonny Liew: "This book was tricky because a history of Singapore had to be factual…." "I did a timeline of Signapore history and a timeline of comics history, and tried to figure out where they match up."  What comics were popular at a certain time?
Sonny Liew faked the children's drawing by drawing with his left hand.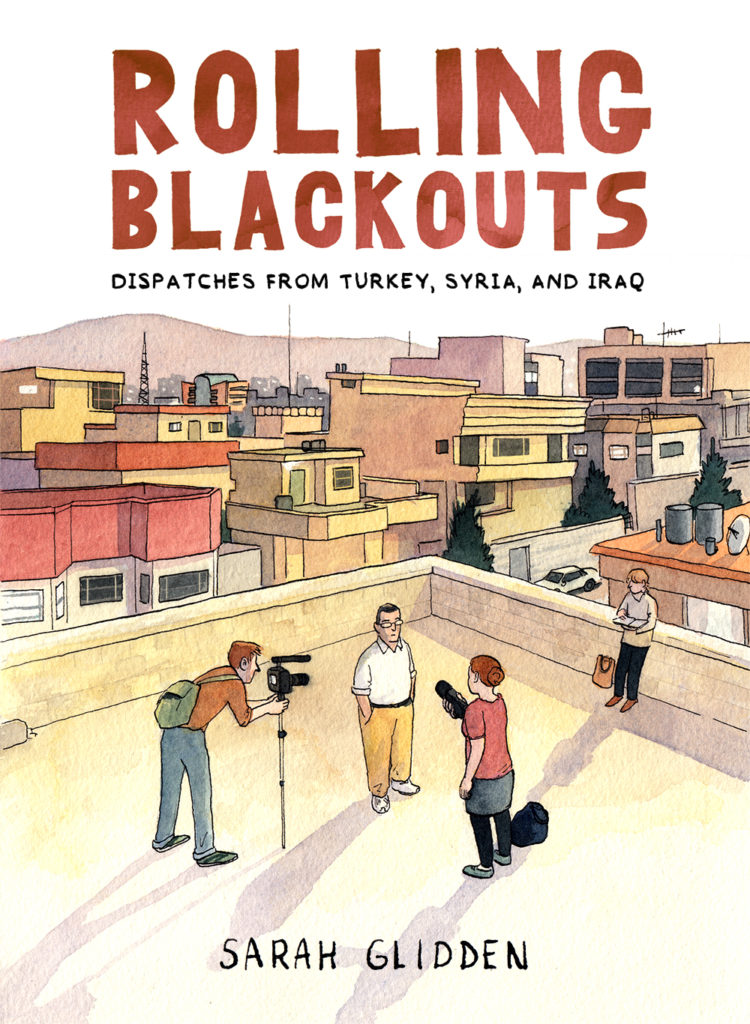 Sarah Glidden: "I was always recording, whenever someone was talking.  I transcribed everything, which maybe is not the most effective use of my time. Maybe that's why it took 5 years. But it was really important to me for this to be as close as reality as possible."
Charles asks if, for writing non-fiction, the medium of comics is advantageous or a curse.
Sarah Glidden: "Comics the way that I figured out how to tell stories best."
Mimi Pond: "The great thing about being a cartoonist is that you're the screenwriter, production designer, casting director…. You have complete control."
Sonny Liew: "I was going to make the book a coffee table book, but then I realized that I would only dip into a book like that.  I wanted people to read the story, and that's where comics came in."
Singapore's National Arts Council withdrew its grant for Sonny Liew's book, on the day it was published.
Sonny Liew, on the creative process: "You walk around with all these narrative structural knots in your head," and wait for them to work themselves out
---
Diversity in Comics
Friday, 21 July 2017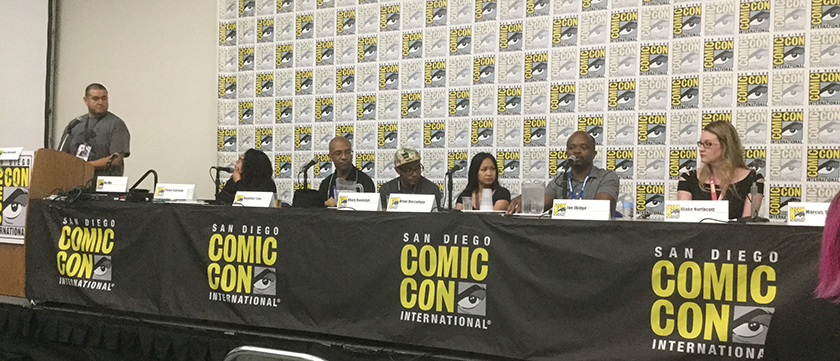 Program description: "Brian Buccellato (Detective Comics, The Flash), Elena Salcedo (editor-in-chief, Top Cow Productions), Joe Illidge (senior editorial manager, Lion Forge), Ani-Mia (international cosplayer), Blake Northcott (Michael Turner's Fathom), Hannibal Tabu (CBR's The Buy Pile), Marcus To (Joyride, Red Robin), and Khary Randolph (Mosaic, The Amazing Spider-Man) discuss the shifting landscape of diversity in modern comics. Moderated by Vince Hernandez (VP/editor-in-chief, Aspen Comics)."
Joe Illidge: "People think diversity is anti-white, and that's pretty ridiculous…. To me, the fictional universes that you're spending your time and money on should reflect the world. And if it doesn't, then that's the failing."
"Part of a panel about diversity is about making the term 'diversity' obsolete."
Hannibal Tabu tells a story of going to an invitation-only reception at a major comics company he declines to name – he accompanied a charismatic white-guy friend (who talked their way into the reception). While there, an exec asks Hannibal: Were you invited? Hannibal says: No. The exec says: Well, you know, you have to build an audience before blah blah blah. Hannibal realizes that this guy is going out of its way to tell him that the door is closed – and he hasn't even asked Marvel for anything….  In the process of telling the story, he accidentally names the comics company (Marvel).
Khary Randolph notes that black artists get asked to do black characters — and only black characters. "But I like drawing Spider-Man, too."
Joe Illidge: "It's progressive segregation. It's putting all the black people into Wakanda."
Joe Illidge: "You can't just look out for yourself.  We have to look out for each other…. If anything, being black has given me more empathy for others" — specifically other underrepresented groups.
---
Behind the Music: Fantasy, Fiction, and Fandom
Friday, 21 July 2017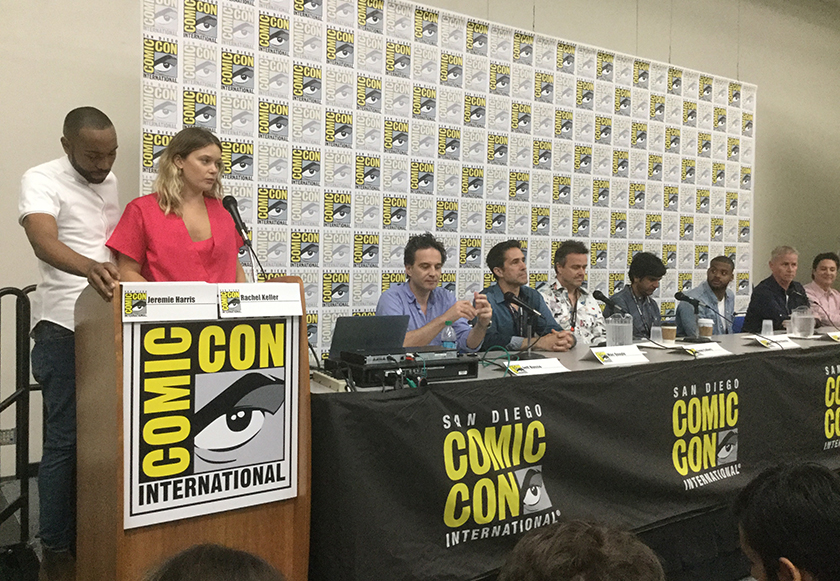 Program description: "Fantasy Fanatic or Composer Connoisseur? Come join CW3PR and Impact24 PR to hear about what makes your favorite fiction stories so FANTASTIC. Some of the top composers around will give insight on how they contribute to many of the most popular fantasy/fiction titles in the TV and film worlds. This will be a can't-miss, colorful, fascinating journey into the minds of the industry's most imaginative! Panelists include Jeff Russo (composer, Legion, Fargo), Sean Callery (composer, Jessica Jones, Homeland, 24), Mac Quayle (composer, Mr. Robot, American Horror Story, Feud), Kris Bowers (composer, Dear White People), Siddhartha Khosla (composer, This Is Us, The Runaways), Joseph LoDuca (composer, The Evil Dead series, Spartacus: Blood and Sand), and Blake Neely (composer, The Flash, Arrow, DC's Legends of Tomorrow, Riverdale) with celebrity moderators Rachel Keller (Legion, Fargo) and Jeremie Harris (Legion, The Get Down)."
On how they compose music for film & TV –
Jeff Russo (Legion): "I start with a good healthy dose of self-doubt. I then move on to self-loathing. Then I move on to my instinct — how does it make me feel?"
Mac Quayle (joking): "I haven't mentioned this anywhere before, but Mr. Robot is basically just Feud played backwards, and pitched down a little."
Advice for aspiring film/TV composers (advice which, I think, works well for many other professions)
Jeff Russo: Never say no.
Mac Quayle: It's not necessarily about what you can do, but it's about how fast you can do it.
Sean Callery: I think when you're playing back your music for a showrunner and they say "I don't know about this," you say, "Oh, cool" – even though your night is just beginning.
Siddhartha Khosla: The most important thing is investing in the relationships you have with the people you work with.
Kris Bowers: Being a good person. Most of the work I've got has been through a friend.
Blake Neely: Trust your instincts.
Joseph LoDuca: I agree with the "never say no" part. Everyone who is here is here because they said "yes" no matter how anxious they were when they said it.
---
Comics as a Force for Social Change
Friday, 21 July 2017
Program description: "Panelists discuss the importance of comics in today's turbulent political landscape and how comics authors and illustrators can foster social change both by creating work that gives underrepresented communities a voice and bring new diverse talent into the spotlight as well as by using their influence to shake up the culture and norms of the literary world. Thi Bui (The Best We Could Do), John Jennings and Damian Duffy (Kindred: A Graphic Novel Adaptation), Rachel Ignotofsky (Women in Science), Kate Schatz (Rad Women Worldwide), and Miriam Klein Stahl (Rad Women Worldwide) share their ideals with Dr. Travis Langley (Wonder Woman Psychology: Lassoing the Truth)."
This panel featured great panelists and a moderator who seemed unaware of the panel's topic. Rather than ask his panelists about the subject, Dr. Travis Langley instead genially lobbed them very general questions. To their credit, the panelists managed to steer us back towards the panel's ostensible topic.
Damian Duffy: Comics allow you to take control of images, as a reader, in a private space.
Thi Bui: We have a problem in the US with forgetting history. My son is 11 and I can have deep conversations about history with him because he's read Shigeru Mizuki's Showa series about 20 times, and Nathan Hale's Hazardous Tales.
John Jennings: Literacy is not just reading and writing. It's multimodal.  Political literacy, social literacy.  …. It's very empowering because anyone can make a comic. You can draw it, take it to a copy shop and make a comic.  It's subversive that way.
Thi Bui: One of the reasons that I gravitated toward comics is because I was making sculpture, and no one I knew could afford to buy them. But if I make comics, and I make them cheap, then everyone can get in on that and buy it.
John Jennings: Comics are real. They're sequential images.
Rachel Ignotofsky: Comics are fun. And they represent who people are or who they want to become. And because comics represent who you are, it's important to tell different kinds of stories.
Damian Duffy: There's a deeper honesty to comics because of presence of author/artist — sense that they're there telling you a story.
Thi Bui: I made my comic in response to movies about Vietnam — but for really cheap. Comics are helpful for revisiting familiar narratives. You become callous when you think you know something, and comics can give you a different perspective.
John Jennings: I think comics are inherently surreal, and I think that's an advantage.  Comics speak symbolically.  Because everything in a comic is a picture, comics can…
Kate Sanchez: The community of comic-book makers.  Comic-Con was a place for socially awkward comics creators to interact…. Comics are an intense craft.
John Jennings on comics: Insiders see content; outsiders see form. And form is a lot easier to push than content.
Man in audience from UN [who also has a panel on Sunday]: The UN in 2015 launched 17 sustainable development goals — gender equality, climate action, ….  And we've created a website called Comics Uniting Nations.  We're doing one on Syrian refugees. If there's a way we could connect with you on these…?
---
Spotlight on March creators Congressman John Lewis, Andrew Aydin and Nate Powell
Saturday, 22 July 2017
Program description: "The record-breaking success of the March trilogy by Civil Rights icon John Lewis, Andrew Aydin, and Nate Powell has pushed the comics medium to incredible new heights. March is the first graphic novel to win the National Book Award, Coretta Scott King Book Award, or Robert F. Kennedy Book Award, the first graphic novel since Maus to reach the New York Times Nonfiction Best Seller list, and the first book in history to receive four simultaneous awards from the American Library Association. Now, join the authors for an emotional look back at their stunning accomplishment-and the way it's inspiring new generations to speak up, speak out, and move their feet."
This was the best panel that I saw. They spoke the truth, and they did so eloquently, passionately. Congressman Lewis spoke with clarity, compassion, and the conviction that comes from having faced violence for his beliefs. Both Aydin and Powell spoke with an emotional vulnerability that was very moving.
John Lewis: "We're three southerners — we grew up in the deep south.  But we've been touched by the spirit of history."
John Lewis: "I come here today because I'm very hopeful and very optimistic about the future.   In spite of it all, we must never ever give up.  We must never ever lose that sense of hope — that we can overcome, that we can prevail, and that we can win a victory for all humanity"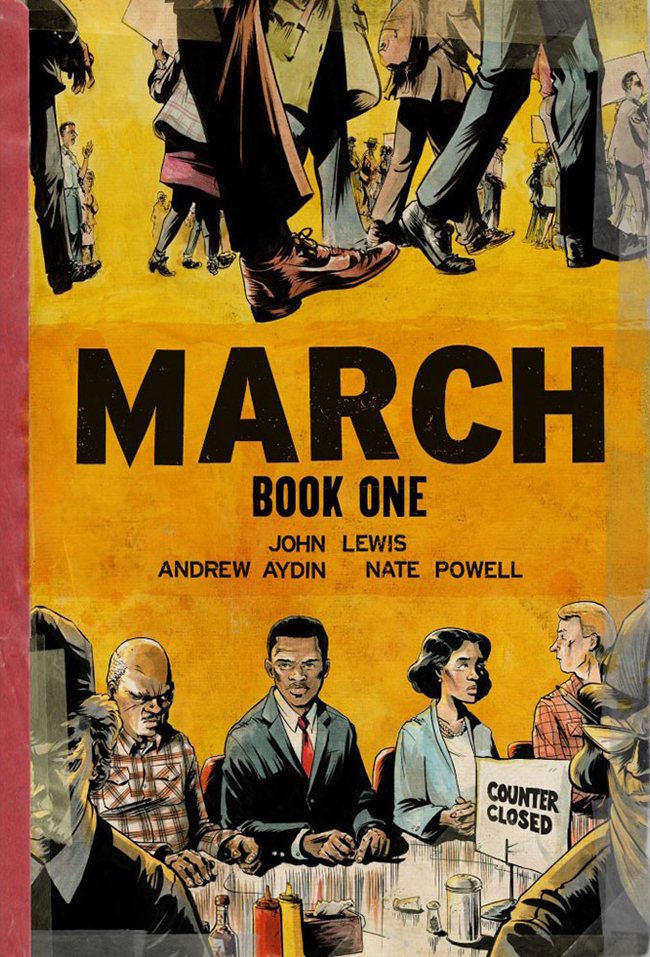 John Lewis: "Dr. King inspired me to get in trouble — what I call 'good trouble,' necessary trouble.  And now more than ever before, we need to get in trouble.  When you see something that is not right, not just, we have a moral and mission and a mandate to speak up — and get in trouble.  And come to that point when you will not let anything turn you around."
John Lewis: "I meet a lot of people who come up to me and they say 'Congressman Lewis, I need a hug,' and I say 'well, we all need a hug.'"
John Lewis: "We are never too young, too old to March"
John Lewis: "I got arrested 40 times in the '60s, and another 5 times since I've been in Congress."
Audience applause followed this statement.
Andrew Aydin, whose mother died a few weeks ago, speaks of the people who aren't on the stage, but who enabled them to be up on the stage.
Andrew Aydin: "We need a new generation who will stand up and will not follow this leader [Trump]."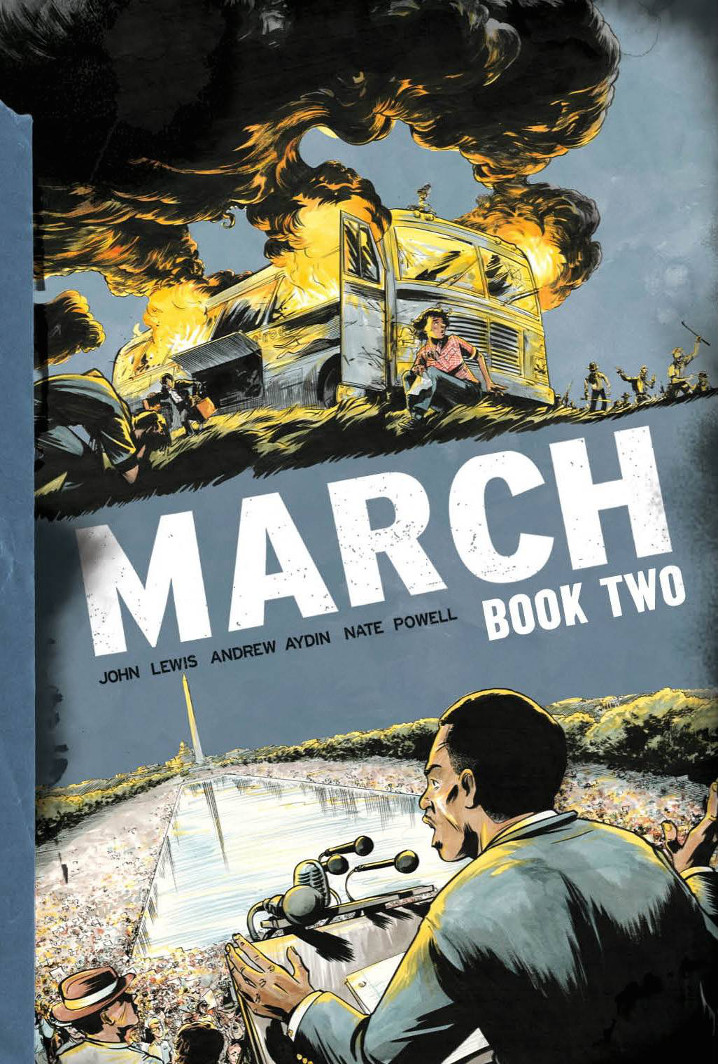 Andrew Aydin says of John Lewis he "showed me that the Civil Rights Movement was filled with nerds."
Andrew Aydin: "Today is a celebration of all the outsiders.  Today is a celebration of what can be done with no power, no money, no ideas.  Just a piece of paper and some ink."
"The last thing I said to my mother was that I promise to do good with my life."
"When you see something like March happen, you know it is because of someone's love."
Not a dry eye in the house after — and during — Andrew Aydin's speech.
Nate Powell is grateful for librarians and teachers who have made March part of the curriculum.
Nate Powell: "Young people hunger for what is just out of reach.  Young people hunger for a map to get there."
Nate Powell: "It's been a weird year to be a parent… . Seeing social and legal progress get undone."
Nate Powell: "It's not that March works despite being a comic.  It works because it's a comic.  We've all had our lives transformed by comics.  It's an honor to be able to contribute."
Nate Powell: "As we were dong March, we realized that the story we were telling was less about 1964 1965 and more about 2016, 2017, 2018…."
"We are amidst an information war.  … No matter what happens, remember what you know is true in life. There are things called facts.  I did not anticipate that we would have to rekindle a fight for the legitimacy of these accounts."
Nate Powell: "If you have been inspired by March, now is the time to take that forward, now is the time to remember that you are far from alone.  This is not a drill.  Thank you for doing everything you do to stay loud, to stay vocal, to show up.  Thanks."
A surprise for the @MARCHTrilogy team: @Comic_Con officially presents them with Inkpot Awards for their contributions to the world of comics pic.twitter.com/cBSEO2s10R

– Top Shelf: SDCC 2743 (@topshelfcomix) July 22, 2017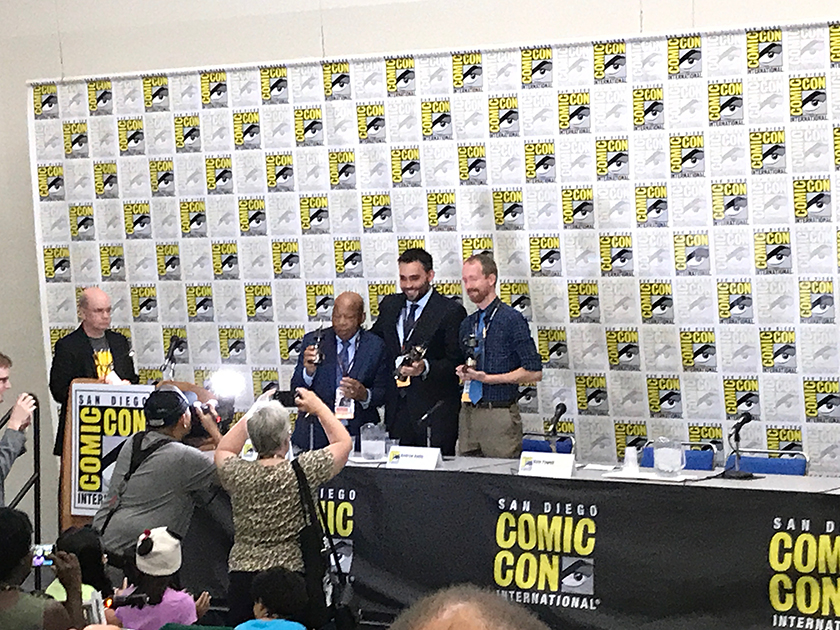 They emphasize that they'd like questions from young people and educators.
First question is from a Bernie bro, who asks: why did you support Hillary Clinton instead of Bernie Sanders?
Crowd grumbles audibly. Andrew Aydin offers brief answer, noting that Sanders poached some of Congressman Lewis's staff and, upon seeing Lewis one day, shouts down the hall at him, "Any more staff that I can steal?" He doesn't elaborate. Bernie bro wants to ask another question, but he is asked to stand aside.
Q: how can we move hearts and minds now?
John Lewis: "It is very important that we tell the truth…. make it plain, make it clear."
John Lewis: "During the Civil Rights movement, before they would beat us and jail us, they would beat the reporters, beat the photograpehrs."
Andrew Aydin: "If we don't have a shared understanding of truth, if we don't have a shared understanding of how we got here,… if we let the lies stands, then we're ceding the first battle.  And that's the big one."
Question from Ebony Elizabeth Thomas: "The barrage of fake news and lies, that divide us from one another.  One of my mother's points is that fake news is not new.  How can we help young people distinguish fake news from real?"
John Lewis: "We have to make truth available to young people, but also to their parents.  We need to have people tune in and not tune out."
Heidi Tandy captured Lewis's full answer:
Student asks for way to make difference on college campuses.
John Lewis: "We shouldn't be afraid to talk about love, and say 'I love you.'  I see members of both the Democratic Party and the Republican Party, and I say 'I love you brother,' 'I love you sister.' 'How was your break?' We shouldn't be afraid to be more human — we all need to be a little more human."
College student asks how we can transform people from slacktivists into activists.
Nate Powell: "Use that [sharing on social media] as a stepping stone to show up in real life.  ….There is value in spreading things on social media, but that's only the first step."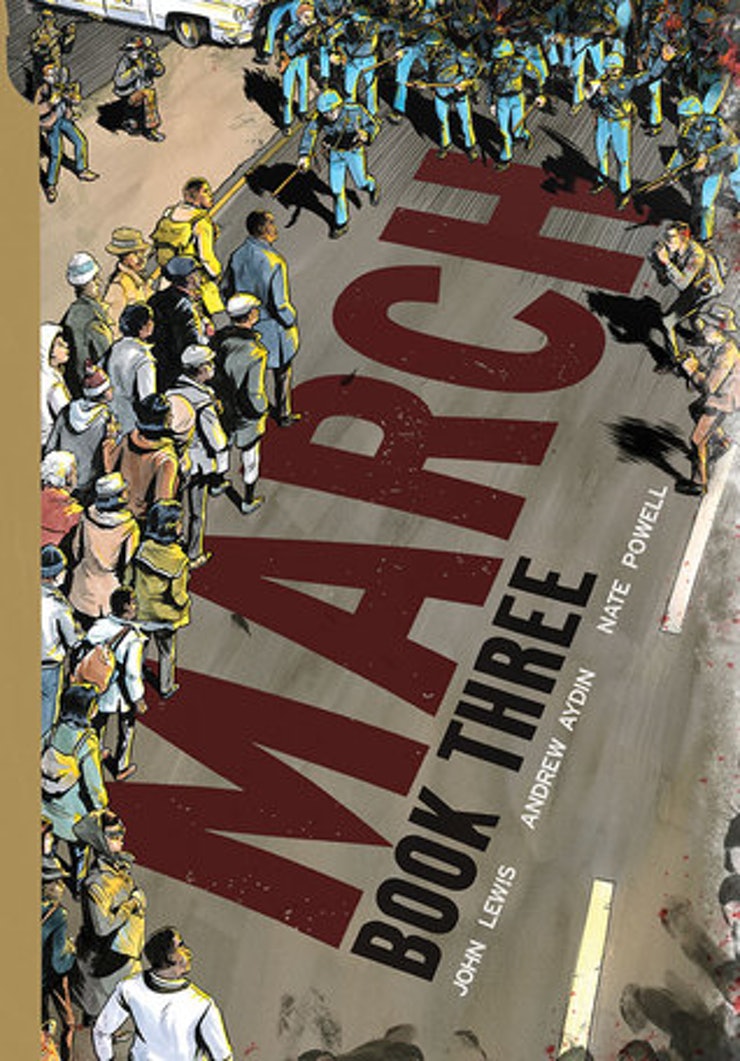 Andrew Aydin: "It takes about 300-500 votes to get elected to most municipal posts.  It's easy to get that many likes on Facebook.  Imagine if people put that energy into organizing races."
Q: "I'm a high school student and I have two questions for you guys.  What do you like about your jobs?"
John Lewis: "I love my job. I love meeting people. I love trying to make things happen.  I love speaking up for health care. I happen to believe that health care is a right."
Q: "My second question: in September, can you come to my school to tell my classmates how we can change the world together?"
Andrew: "We can work something out."
Student says "In case you're wondering, I go to Gabrolina [? I didn't catch the name] High School."
John Lewis: "We have a right to know what is in the water we drink, what is in the air we breathe, what is in the food we eat."
Nate Powell: "Activism works because people are thinking creatively and nimbly and doing things that folks don't anticipate…. What is going to work is almost always the thing that has not been considered yet."
African American woman in audience, standing next to her son (who is tall): "I worry every day that my son is not going to come home, that some barbarian in a uniform is going to mistake my son for a 20-year-old or a 30-year-old…."
Journalist from Mexico asks for encouraging words.
John Lewis responds: "People who make sacrifices for justice will be remembered. Their story will be told."
John Lewis: "You must never ever give up — never lose that sense of hope. You must believe deep within that you will have that victory.  …Some people may be murdered.  That happened during the civil rights movement.  Build a strong movement, and you will overcome."
Civil rights icon @repjohnlewis leads a march through the San Diego Convention Center at #SDCC https://t.co/0aZa2CEFJ5

– Sandy Cohen (@APSandy) July 22, 2017
---
Spotlight on Brigitte Findakly and Lewis Trondheim
Saturday, 22 July 2017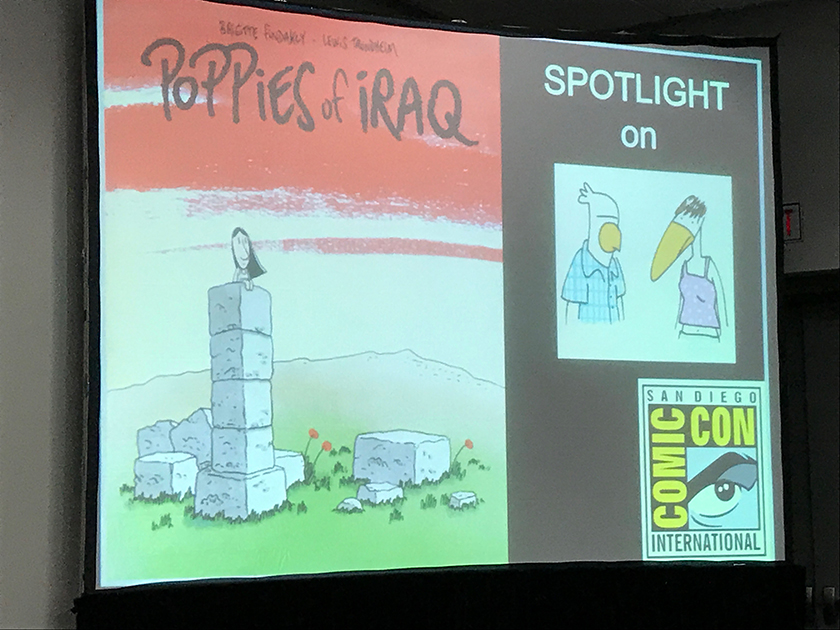 Program description: "Legendary French cartooning couple Brigitte Findakly and Lewis Trondheim are the duo behind Poppies of Iraq, a nuanced and tender chronicle of Findakly's relationship with her homeland, Iraq. Trondheim brings Findakly's memories to life in a poignant family portrait that covers loss, tragedy, love, and the loneliness of exile. Join Findakly and Trondheim for their spotlight session, moderated by Karen Green (curator for comics and cartoons and librarian for ancient and medieval history at Columbia University)."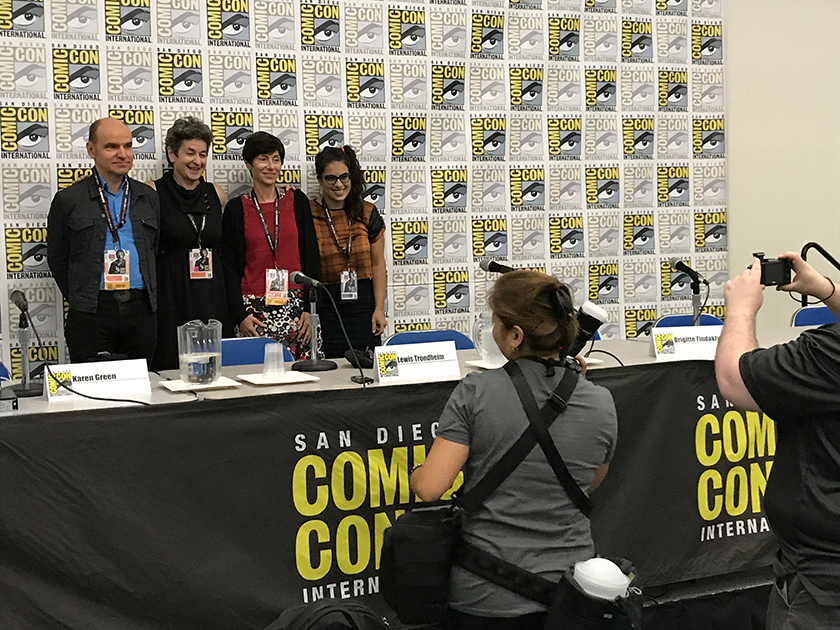 Karen Green: Marjane Satrapi's Persepolis, Zeina Abirached's A Game of Swallows.  Why is it women who are telling these stories?
Lewis & Brigitte both mention Riad Sattouf (who is male, and thus a counter-example).
Brigitte: There's something about these kinds of stories where you're not necessarily ready to tell them immediately.  You need the chance to digest and to crystallize, and for the story to become clearer.  For me, it was what was going on in Iraq in the past few years that made it necessary to tell these stories.
Lewis: Sometimes people say, "Is there a need for any more books about the middle east?"  I say "Is there any need for R. Crumb if Art Spiegelman is also doing autobiography?"
Karen: Why the photographs?
Lewis: The photos were on the website of Le Monde; it was never our intention to include them in the book.
Brigitte: I felt like putting the photos in made it feel like the person was sitting next tom me, I like I was showing them a family album or something along those lines.
Brigitte: You'll notice that most of the photos that are in the book are from an older time. It didn't feel right to put the more recent photos in the book.
Karen: scattered throughout the book, you have these "In Iraq," you have these little interludes"
Lewis: A spotlight.
Karen: A spotlight.
Karen: There is this breakneck contrast between memory and the present.  There's almost like a constant punctuation of destruction. Was this an attempt to unsettle the reader?
Lewis: It was not our intent. We started to do the story for Le Monde.  And then things happened in the news.  I wanted to link the past and the present together.
They started to work on the book when Isis invaded Mosul.
Lewis: One of the things that happened was when the Paris attacks happened is that everyone called to see that we were OK.
Lewis: Even if we are living in the south of France, they are worried.
Brigitte: Only when I came to France did I learn how dangerous Iraq was — both because of news and because my parents could talk openly.
Brigitte: As a child in Iraq, there were many coup d'etats.  And the consequence — as a child — was that there was no school the next day.
Karen: What country do you think of as home, when you think of home?
Brigitte: I don't think of myself as Iraqi or as French.  I don't have that sense of home with either place.
Lewis [joking]: We've lived in the same place for 17 years, and one reason is she doesn't like the house very much.  I think she likes nothing.
[Audience laughs, as does Brigitte.]
Brigitte: I do like change, I like travel.  Whenever I go somewhere, I like to learn about it.
---
Unconventional Comics
Saturday, 22 July 2017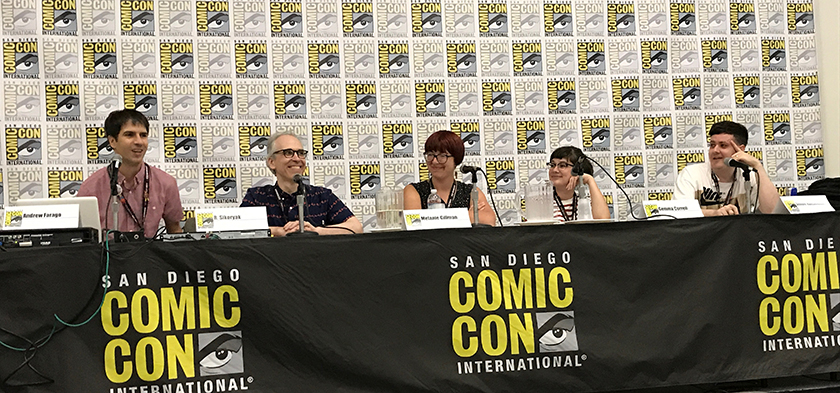 Left to right: Andrew Farago, R. Sikoryak, Melanie Gillman, Gemma Correll, Simon Hanselmann
Panel description: "Comics are all about super powers and saving the world, right? Discover the rich and growing market for comics that may lack super-powered heroes but are super all the same. Moderator Andrew Farago (Cartoon Art Museum) discusses with panelists R. Sikoryak (Terms and Conditions), Simon Hanselmann (Megg & Mogg), Gemma Correll (The Worrier's Guide to Life), and Melanie Gillman (As the Crow Flies) how they were inspired to write their unconventional books and why the comics format was right for their work."
Andrew Farago: Do you consider yourselves to be unconventional comics? 
R. Sikoryak: All comics are unconventional.
Melanie Gillman: The word "unconventional" often gets applied to experiences that don't get represented in "mainstream" circles — non-binary, queer people, people of color — maybe that's what we're talking about.
Gemma Correll: That word offers a narrow definition of what comics are.
Simon Hanselmann: I think I'm on the wrong panel. I was supposed to be on meat-and-potatoes comics. [On his comics:] It's essentially just The Simpsons with more drugs.  Should I go?
Andrew Farago: Did you all grow up as comics readers? And were they conventional?
R. Sikoryak: I grew up with mass-market mainstream comics.  I grew up reading Peanuts, newspaper comics, superhero comics, Marvel comics.  But I was a weirdo.  Maybe the comics were conventional but I wasn't.
Melanie Gillman: My household we didn't have comics.  So for me, early comics were comics sold and marketed as picturebooks.  The Raymond Briggs books, some Maurice Sendak books were comics.
Gemma Correll: Raymond Briggs, Posy Simmonds, Beano, Bunty.  But I read more history.
Simon Hanselmann: I grew up with Asterix, Tintin, Garfield, Punch, lots of manga.  I went through a Marvel trash period.  Then I found Black Hole and Eightball….
Andrew Farago: [question on influences]
R. Sikoryak: Things are different than they were in the early '80s.  There were definitely trailblazers for me. I was lucky to work with Art Spiegelman and Francoise Mouly when they were putting out RAW magazine, and they were pushing boundaries.
Melanie Gillman: I was indebted early on to queer women web cartoonists. Lucy Knisley
Gemma Correll: Julie Doucet.
Simon Hanselmann: Self-publishing since the '80s, and smoke a lot of weed.  So,… pffff.
Audience
R. Sikoryak says his audience includes "people who like to waste their time on the internet."  Melanie Gillman agrees, and notes that lack of gatekeepers have helped them get their work out there.
On-line audience
Simon Hanselmann: I've gotten a couple of death threats.
Gemma Correll: Me, too.  My friend actually went to the trouble of finding the mothers of the teen-age boys making the death threats.
Andrew Farago: reason that people made death threats?
Gemma Correll: Feminism.
Simon Hanselmann: cross-dressing.
"Fetishism is keeping the book industry alive" – Simon Hanselmann
---
Spotlight on Sonny Liew
Saturday, 22 July 2017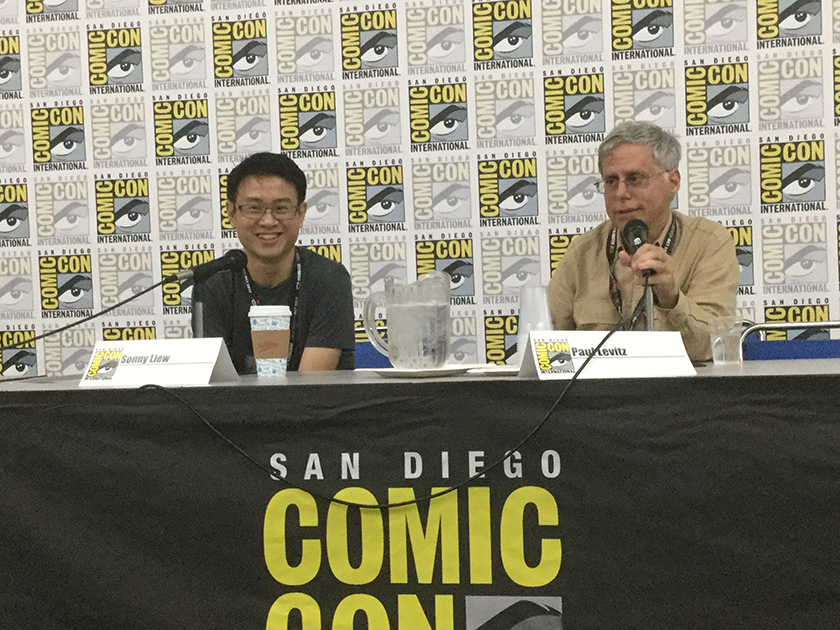 Panel description: "Sonny Liew discusses his Eisner-nominated The Art of Charlie Chan Hock Chye, his three-continent journey to find sources of creativity, the comics culture in Singapore, and his collaborations with Gene Luen Yang (American Born Chinese, Superman) and Paul Levitz (former DC publisher), who will moderate the conversation."
Sonny Liew: My first big comic was with a Singapore newspaper, a daily tabloid. I was a philosophy student at Cambridge, and on holiday, when I sent my strip to the paper.
By the time I was 19, we had email. (Sonny Liew is in his early '40s. )
Sonny came to RISD to learn to draw to paint. Didn't take art courses at Cambridge.
Sonny Liew: My parents were always very supportive of what I wanted to do.
The Flight anthology helped established me here in the U.S.  A popular anthology.
I had done Frankie, … [and others] that all featured female protagonists.  So, I ended up doing Jane Austen adaptations at one point.
My heroes at the time were Chester Brown, Dan Clowes.
Paul Levitz compares Charlie Chan to Chris Ware's Building Stories in its scope and ambition.
Initially, Sonny Liew had thought that other friends would illustrate parts of the book [The Art of Charlie Chan Hock Chye] in different styles, but he couldn't explain it in a way that would convince them.  He couldn't initially interest a publisher in it.
Paul Levitz: So… how do you do it?  You get a grant from the government to insult them?
Sonny Liew initially thought he could finish in a year, but he couldn't. So, the Singaporean publisher redrew the grant — applied for a new grant.
Paul Levitz: Which artist's style you had Charlie work in at different times?  Carl Barks, Walt Kelly, who else?
Sonny Liew:
Frank Miller
Kurtzman, Kirby, and Tatsumi (combined)
Herge
[others I failed to note]
Audience question on use of humor.  Why Liew used humor — why silliness –?
Sonny Liew: I don't think about adding humor in a conscious way. So, humor and comics seems to me very much part of its language.
Paul Levitz: What's next?  You should be positioned to do anything you want at this moment in your career.
Sonny Liew: I want to do a book on capitalism, but it's a lot of research.  I'm maybe three months into the research, and it's a lot of research.  [Thomas] Piketty — I'm reading around in the book.
The next project isn't quite concrete yet, and so he's not sure which publisher.
Audience question: What would you like other artists to take away from your work?  What would you like them to be inspired?
Sonny Liew: Comic art in Singapore — showing people in Singapore that they can get published and create comics.
---
That's all. Apologies for errata – I did edit my notes, but only lightly.  If you spot errors, feel free to point them out and I'll make corrections.
---
My previous years' reports from Comic-Con: